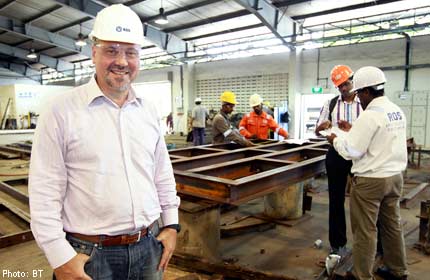 When oil and gas consultancy ROS Engineering set up shop last July, it was with little input from nine-year-old holding company Rotating Offshore Solutions.
The latter company provides the oil and gas industry with hardware for their operations, while ROS Engineering focuses on offering front-end engineering (FEED), cost reduction analysis, and project management design and solutions.
Even on its own, ROS Engineering managed to turn over $3.3 million in revenue in less than a year.
Both companies are independently run, says group financial controller Michelle Kuah, before adding: "Hopefully in the years to come we can complement both sets of services."
She attributes the company's success to its small but dedicated team of 14, which mostly comprises engineering and project management consultants.
According to managing director Elias Xanthopoulos, he wants to make a name for the company as a "big idea factory" in Asia, because "out in this part of the world, companies are more well known as fabricators, constructors".
"These kinds of projects are very specialised, and we're looking to be a niche player."
The company's structure is modelled on having a core team of engineers whose work can be built upon through a network of external contractors.
"There's a lot of good, bright engineers in this part of the world, and a lot of expats," says Mr Xanthopoulos.
With ROS Engineering aiming for "smart, organic growth", making human resources decisions heavily informs their expansion plans:
"We don't want to just add bodies."
Because ROS Engineering operates on a project basis, he believes that hiring contractors only when needed allows the company to cut down on operating costs while still delivering the necessary engineering solutions to clients.
Having completed mostly FEED projects so far, the management team's ambition is to handle a full floating production, storage and offloading project (FPSO) by themselves, Ms Kuah shares.
In the offshore industry, FPSO units are floating vessels which receive, process, and temporarily store oil and gas. The oil and gas is then offloaded onto a tanker or pipeline.
The projects ROS Engineering wants to undertake will involve the design of standardised FPSO modules, as well as engineering work for fully functional operating FPSO topsides.
Given the scale of an FPSO project, it will be a challenge for a young company like ROS Engineering to attempt to tackle one solo.
However, Mr Xanthopoulos is upbeat about the idea.
"Singapore is the FPSO capital for the world," he says. "A large number of these FPSO conversions are carried out here in Singapore shipyards."
He also says: "We're not very high-tech or new-school, but we are providers of these services to our clients here in the region."
The main obstacle which the company has identified is the difficulty in finding the talent for an FPSO-ready engineering team.
Ms Kuah says: "It's not something a typical engineer can do. It's really hard to find talent like this in Singapore, or in this area."
Hence, to supplement its Singapore operations, ROS Engineering opened an office in Chennai, Tamil Nadu this February, which it is planning to grow into a full engineering centre.
Engineers in Chennai will be able to do the number-crunching work "to support the team in Singapore", says Ms Kuah, while the Singapore office continues to deliver engineering concepts and other front-end services.
And once they clear the FPSO hurdle and prove themselves, says Mr Xanthopoulos, the business is expected to grow and both offices' headcounts along with it.
While he concedes that "resourcing is one challenge, the other is getting them to work for a start-up." He feels that the abundance of engineering graduates in India will mean a wide pool of potential hires for the Chennai outfit, while Singapore is already "a natural attraction to the type of resources we need".
He elaborated: "That's the beauty of Singapore. Everybody wants to come and live in Singapore, and that's why it's a good location."
He feels that engineering consultancies in Singapore tend to be "the local office of a big conglomerate", but he envisions ROS Engineering as a homegrown alternative.
"Here we're a start-up with almost the same sort of capability. Maybe not with the same financial might," he admits, but insists that ROS Engineering can produce innovative engineering concepts nonetheless.
That does not mean the ROS Engineering team is ruling out the possibility of expanding its operations beyond Singapore and Chennai.
"We're always on the lookout for business alliances and partnerships to feed the proposal pipeline," he explains.
Furthermore, because projects in the shipping industry go everywhere, from neighbouring countries like Indonesia and Malaysia to farflung places like Australia and Brazil, Mr Xanthopoulos characterises the company's model as a worldwide one, even though it is based in Singapore.
By next year, says Ms Kuah, the company will move from its two-storey Benoi Road premises, into a new five-storey office in Offshore Marine Centre that will give it the room to increase their headcount.

Get The Business Times for more stories.