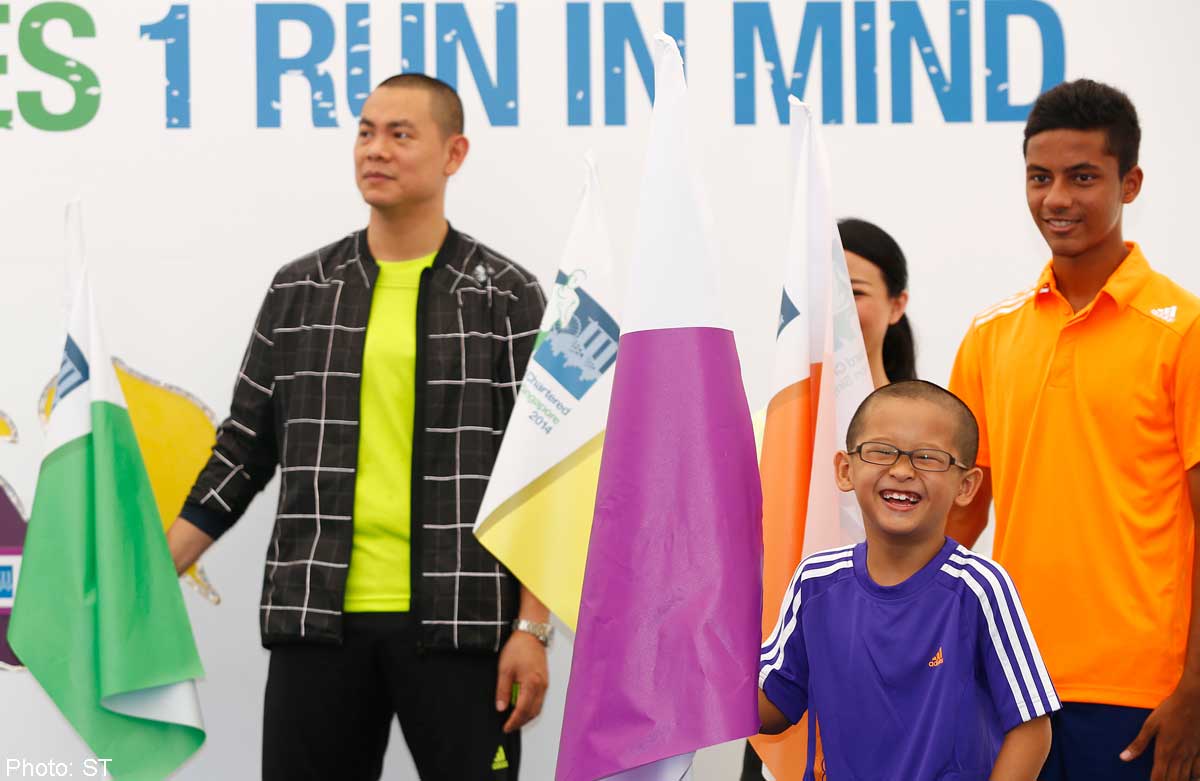 Better known as a globally-acclaimed chef, Andre Chiang will be wearing a very different hat come Dec 7.
He is one of the five ambassadors for the 2014 Standard Chartered Marathon Singapore.
"I want to send out the message that keeping fit is extremely important," said the 38-year-old owner and executive chef of Restaurant Andre.
"We all say that we have busy schedules and don't have time to do sport but if I can make time for it, anyone can."
Joining Chiang as #TeamSCMS ambassadors are Chua Jin Sen (of YouTube star Dr JiaJia fame), Zouk's head of business development and public relations Sofie Chandra, national Paralympian Theresa Goh and SportCares beneficiary Abdul Thaslim.
Each has been assigned to lead one of five running communities, as part of a new programme targeted at fostering team spirit and establishing friendly rivalries.
With the East, West, North, North-east and Central zones all represented, participants at this year's SCMS can look forward to regular clinics and runs in their districts.
The running community programme will culminate in a competition, which will take into account criteria such as the number and performance of runners, attendance at clinics and runs, and success in fundraising efforts.
"This is very much about taking the race to the community," said Chris Robb, managing director of event organiser Spectrum Worldwide.
"One of the challenges is trying to get spectators out on a Sunday morning. Hopefully, we can garner more interest and get the community to come down."
He added that while this year's race route has yet to be decided, runners will likely pass by the Singapore Sports Hub on their way to the traditional finishing point at the Padang.
"It's probably a couple of months before we'll be ready to announce that," Robb said.
"But with the number of runners we have, it won't be possible to finish within the stadium."
He was speaking on the sidelines of the launch of registration yesterday at Ion Orchard, where the first 100 runners to sign up enjoyed a S$1 entry fee.
At the head of the line was Gerrard "Ah Siao" Lin, who made headlines in March when he ran 31 marathons in as many days to raise awareness for the Bone Marrow Donor Programme.
"I have never won anything in my life before so I decided to do something worthwhile and be number one in the queue," said the 31-year-old, whose wait began before 10am on Tuesday.
By 3pm yesterday, over 800 participants had signed up in person for slots, with 58,300 available.
Participants can expect an improved experience, said Robb.
A glitch in last year's timing system led to 3,782 runners being either unfairly disqualified or given inaccurate timings.
"We've done a thorough review of timing and appointed a new company whose team has over 60 years' combined experience," he said in reference to Multisport Australia.
"I believe they will provide a fantastic solution for the event.
This article was first published on July 19, 2014. Get a copy of The Straits Times or go to straitstimes.com for more stories.