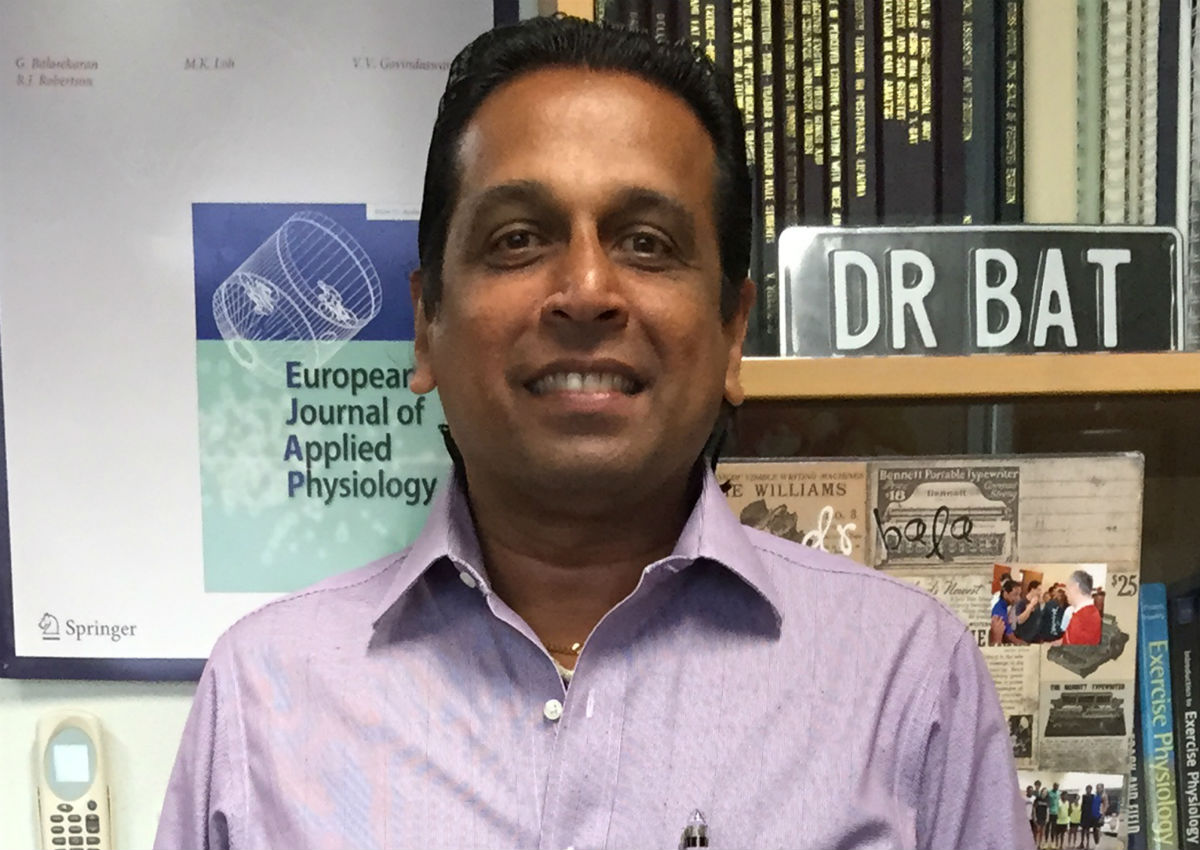 In a room at the end of a long corridor in one the National Institute of Education's (NIE) buildings sits Prof G. Balasekaran.
The room is filled with memorabilia collected over the years.
Portraits of late singer Prince and images of Genghis Khan vie for space with that of the professor in his younger days - a slim figure with long hair.
That hair has since become shorter and Prof Bala (as he is popularly known) has put on some weight.
He is 53 but the former Singapore national champion in the 3,000m steeple chase still runs five to 10km four times a week.
Running is his passion.
He does it not just to keep himself fit.
He runs with his trainees who he wants to become champions in long-distance running.
Prof Bala is the Head of Department of the Physical Education and Sports Science (PESS) Academic Group, NIE and Programme Director of Sports Science and Management, NTU.
Trainee teachers with diploma, graduate and post-graduate qualifications are trained at PESS to teach physical education in the schools here.
The Sports Science and Management students are trained for the sports industry.
Some of the trainee teachers are taken under Prof Bala's wings to train in long-distance running.
This is something that he has volunteered to do. And it has brought in good results.
One of those who trained under him, Eliza Ng, qualified for three events; 800 metres (6th), 1500 metre (6th) and 3000 metre steeplechase (8th) in last year's SEA Games.
Said Prof Bala: "At NIE I teach anything to do with physiology.
So performance, adaptations, and ways to increase muscles and fitness are all part of it.
Now as part of my volunteer effort, I am nurturing a few youngsters.
This volunteer coaching helps me to know the ground as well as helps me to keep fit as I run with the athletes when they warm up and cool down."
Running is something that Prof Bala has been fond of since his school days.
He used to play hockey and take part in track and field meets during his primary school days.
While at Anglo Chinese School he won the 3,000m and 2,000m steeple chase.
During his junior college days, he decided to focus more on running although he was still playing hockey.
He gave up team sports after NS to concentrate on running.
His logic: "I could control why I lost and won as opposed to a team sport where one is dependent on 10 other players to win or lose."
So he trained hard in running.
Once he finished his NS he took part in the national athletic meet and was Singapore champion in the 3,000m steeple chase for five years.
He also represented Singapore in the 1,500m, 4x 1600m relay, 5000m, 10,000m and marathon races.
During this time he also took up a diploma in PE and taught at his alma mater, ACS.
But he felt he needed advanced training and also improve his educational qualification.
So he applied to the Indiana University of Pennsylvannia in 1987. Why this university?
"I had met a lecturer Ms Helen Gilbey who studied there and she advised me to go there to do a degree. I was about 22 then and I bought a one way ticket. The only problem was money," he said.
His parents, from Thanjavur in Tamil Nadu, moved here and his dad worked in the Public Utilities Board.
To overcome the problem of money, he trained harder.
The university told him that if he finished in the top two in his pet event and the top seven in the cross country team, he would get a fee waiver.
He did it and became part of the university's travelling team.
"This fee waiver helped me a lot and eventually I qualified and represented and ran in National Collegiate Athletic Association (NCAA) cross country championships in the USA," said Prof Bala with pride.
He was away for five years finishing his degree and masters in sports science.
Once he finished his studies, he did not have a full-time job but worked in the college lab and also trained the local police in fitness.
That was when he got a call from ACS asking him if he was interested to take up a job at the school.
So he returned and taught again but not for long.
He headed again to Pittsburgh to do his PhD.
This time he got a Singapore government scholarship which meant he had to return to fulfil his bond.
After five years teaching at NIE the itch to learn more about sports science and improve his skills grew and he headed back to Pittsburgh to do post-doctoral research in molecular genetics with a world renowned professor.
Almost three years later, he got an email from NIE asking him if he was keen to come back to join the faculty and so he returned in 2006.
Teaching sports science and training athletes at NIE is not all what he does.
Prof Bala is also the vice-president (training & selection) of Singapore Athletics Association.
He feels Singapore needs to nurture a large pool of youngsters, especially from the schools.
With that strong interest and passion, Prof Bala set up the Cougars Athletics Association which is a non-profit track and field club that helps to groom, develop and nurture young athletes in Singapore.
He strongly believes in developing these young athletes to be the future stars of Singapore.
He added that sports in Singapore is on a steady rise and there is a need to train the next generation of Singapore athletes and provide them holistic development.
The animal that represents the association is cougar, which he said is mysterious and magical and also similar to symbol of Panthers of his alma mater University of Pittsburgh.
"Cougars are hard to spot in the wild. They are smart and amazing hunters. The athletes who are Cougars will possess such aptitude, values and qualities.
"I believe Singapore has the talent but we also need to encourage youngsters to stay in the sport for some time after their school days are over. We have to look into their career path and provide them with incentives," said Prof Bala who is of the view that more money needs to be invested in getting specialised coaches for each category of athletics.
He said that the best time to start training youngsters is from the age of eight.
The trouble with training students who come to NIE, he said, is that they already have running habits "which I have to change".
He added that in the US, when it comes to training children in athletics there is lot of parental involvement.
"If some parents here come up to me and ask me to train their children then I will be willing" he said.
Prof Bala has worked on human performance predictions for the last six years and has come up with a unique model to predict performance.
"I am in the midst of publishing these findings and I hope to use them in athletes in Singapore and the world in the future."
But how long can athletes break records, is there a limit?
"Human beings evolve and adapt. I think they can go far but there are limitations."
patrickj@sph.com.sg

Get a copy of tabla! for more stories.