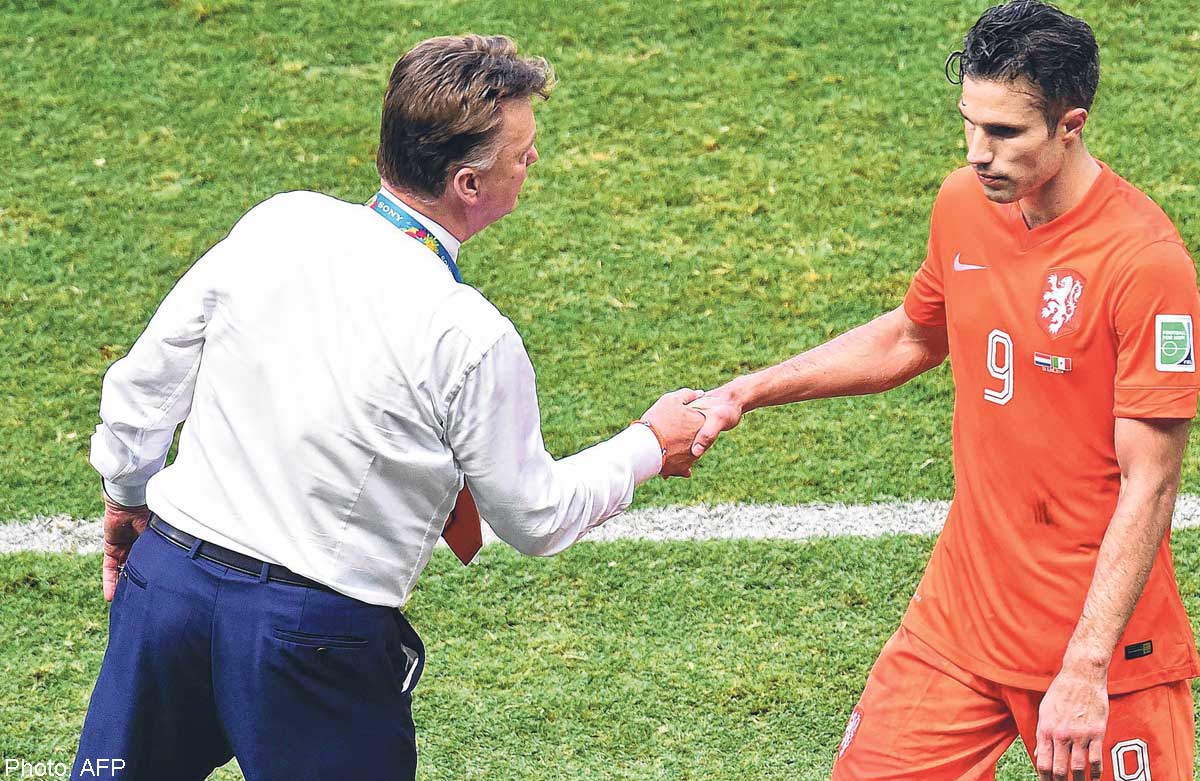 Our analyst tells David Lee that by taking off his captain van Persie, van Gaal shows that no one is indispensable in the Dutch team.
With the benefit of hindsight, Louis van Gaal got his tactics spot on in this late 2-1 win over Mexico, didn't he?
Parker: To be honest, I was surprised he started with three at the back, with Dirk Kuyt and Paul Verhaegh deployed as wing backs.
Kuyt and Verhaegh worked hard and did a lot of running, but they were not convincing while defending.
Maybe van Gaal wanted two centre backs to protect Ron Vlaar, who was part of an Aston Villa defence that conceded 61 goals last season.
But this defensive ploy didn't work. In the first half, Mexico were getting through and had more shots on goal in the first half.
Van Gaal did impress in the way he was ruthless and fearless when making the changes.
He wasn't afraid to take off Robin van Persie, who had a poor game. And he was the one who reinstated Wesley Sneijder after dropping him from the squad previously.
That's what top managers do. Not every manager or coach will be as brave to make the necessary changes when things go wrong. David Moyes, for one, never made such big decisions.
It was 39 deg C in Fortaleza. Many expected Holland to struggle later in the game, but they were a different beast in the second half. Do you think van Gaal asked his men to hold back in the first half before going all out in the second?
He can blame the heat and say that Mexico are more used to this climate.
But Holland were expected to keep the ball at least, but they couldn't retain possession in the first half, and they couldn't create.
They got back in the second half because they were chasing the game after Mexico got the first goal.
When you are in such a predicament, you can do amazing things.
Suddenly, there is energy in your lungs and power in your legs. And they went on to turn the game around.
What do you make of Arjen Robben's performance? And did he win a legitimate penalty for the winning goal?
He made two or three good runs, of which the first came only after 60 minutes. But it takes just one moment of magic to change a game.
That said, I don't think Rafael Marquez fouled Robben for the penalty.
There was no contact initially and Robben played for it by running into Marquez's outstretched leg.
If there was a penalty, it should have been given in the first half when Robben was taken out by a combination of Marquez and Hector Moreno.
Were Mexico hard done by?
Definitely. They deserved to win. But they have to remember they rode their luck - needing the United States to score two late goals against Panama - to get to the World Cup, and now they're going out with some bad luck.
The World Cup is not a marathon, it is a sprint. There is no next game to get back into it.
Holland take on Costa Rica in the quarter-finals. Surely, they must be favourites to make it to the semi-finals. Can they go all the way and win it?
Costa Rica will cause Holland problems with their movement, especially with the Dutch defence lacking pace.
But Costa Rica will miss suspended defender Oscar Duarte and Holland have got a great opportunity to get to the final again because they have had good luck with this great path to the semi-finals.
One good game or another moment of good fortune can get them into the final.
They definitely have the attacking players to beat any team in this competition.
-Paul Parker is a former England and Manchester United defender who won two EPL titles and earned 19 caps for his country

This article was first published on JULY 1, 2014.
Get The New Paper for more stories.