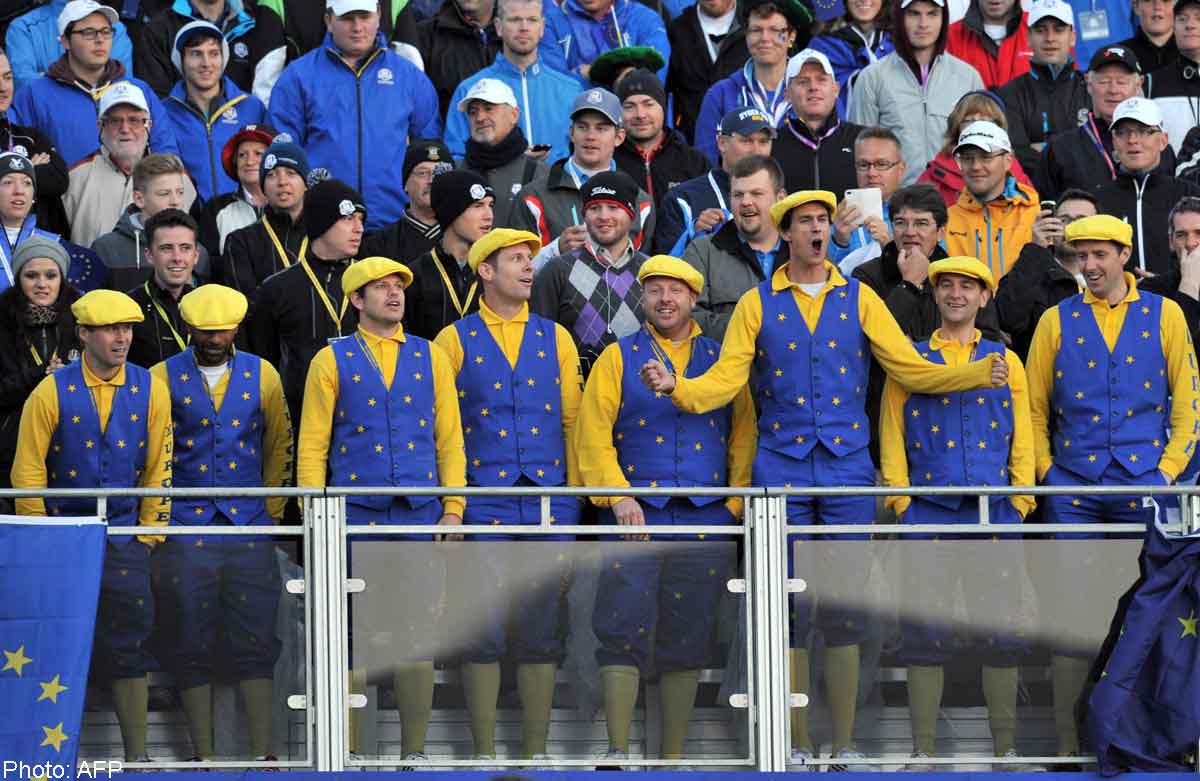 GLENEAGLES, Scotland - The 40th Ryder Cup began on Friday amid scenes that would have been unimaginable for those playing the first in 1927 as a packed amphitheatre produced a spine-tingling cauldron of noise and colour.
Thousands packed in and around the monster grandstand on the first tee as the morning fourballs swung into action to start three days of battle between the hosting Europeans and an American team seeking their first away victory since 1993.
On a chilly, breezy morning, the first players emerged from the specially-built tunnel to a rousing welcome, with the ubiquitous chant of "Yu-roop" ringing loud in the air from every quarter.
The tension filtered through to veteran starter Ivor Robson as, despite Bubba Watson owning the most recognisable pink-shafted driver in the game, he managed to get him mixed up and announced Webb Simpson's arrival with the words: "On the tee, Bubba Watson."
Simpson, the 2012 US Open champion, laughed it off but was obviously not so calm inside as he got things going with what is likely to be the worst drive of the weekend, a 190-yard (174 meters) effort that dribbled into the rough.
US Masters champion Watson then reprised his antics of 2012, whipping the crowd into a frenzy of noise and happily lashing his drive at the top of the crescendo - though he too missed the fairway.
Leading the choir in the grandstand were the "Guardians of the Ryder Cup", an eight-man group resplendent in tailor-made yellow and blue outfits who had personalised chants and songs for almost every player. "Bjorn v the USA", their variant of Bruce Springsteen's anthem, greeted Dane Thomas Bjorn after an eerie silence had descended for Justin Rose and Henrik Stenson's opening drives for Europe.
Robson was not allowed to forget his gaffe as the next two fourballs were greeted with an "on the tee, Bubba Watson" shout from a crowd comedian.
LIFETIME AMBITION
The noise was cranked up to new levels when debutant Stephen Gallacher, the only Scot in the home team, arrived on the tee alongside crowd favourite Ian Poulter for match three.
"It's been his lifetime ambition to make it and hats off to him," his uncle and former captain Bernard Gallacher said.
"I asked him if it would make a difference if I walked around with him because he might see me. But he said no. So he's quite calm at this moment."
American rookies Jordan Spieth and Patrick Reed were greeted by chants of "Who are ya?" while their every practice swing was followed by 3,000 shouts of "fore!"
But it was the debutants who were smiling on the first green when Poulter, seeking an eighth successive victory in the competition, missed what should have been a tap-in putt, to lose the hole.
The morning's final group featured the heavyweights of world numbers one and three Rory McIlroy and Sergio Garcia against Keegan Bradley and Phil Mickelson.
Mickelson is appearing in an American record 10th Ryder Cup team and was given a rousing ovation from the home fans.
Captain Tom Watson too was greeted like a returning son, his strong association with Scotland forged by his winning four of his five British Opens at the Home of Golf.
"It's amazing - we didn't even have grandstands in 1977, it was just the gallery ropes," Watson said of his first taste of the Ryder Cup at Royal Lytham in England.
Europe are looking to retain the trophy they won in the 'Miracle at Medinah' where they clawed their way back from 10-4 down to win by 14-1/2 points to 13-1/2.