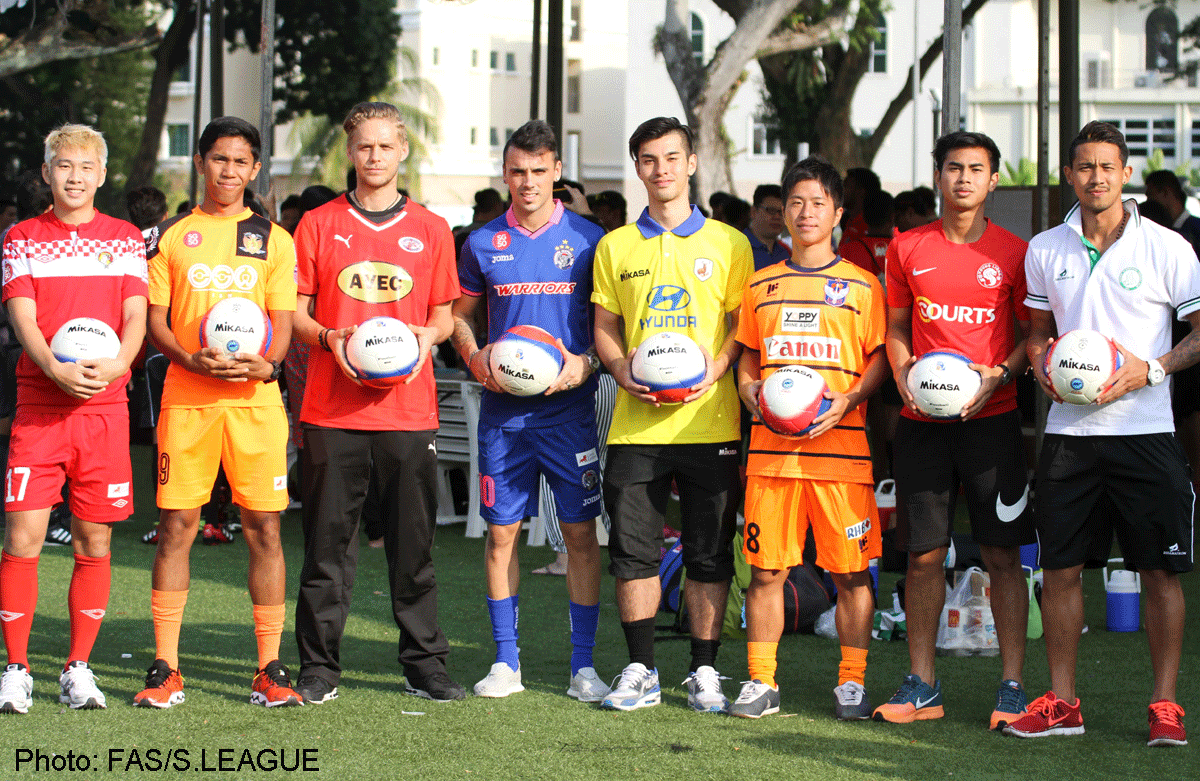 The football fraternity can look forward to a number of activities linked with the Great Eastern-Yeo's S.League in the competition's 20th season this year, which coincides with Singapore's 50th year celebrations.
Football Association of Singapore (FAS) president Zainudin Nordin officially launched the 2015 season yesterday with a fanfare and football fiesta at the Home United Youth Football Academy (HYFA) at Mattar Road.
The event also saw the renewal of Polar Natural Mineral Water sponsorship deal with the S.League for another five years (see right for report) and the unveiling of the new jerseys for the upcoming season.
The season will kick off with the Great Eastern SG50 Charity Shield clash between champions Warriors FC and RHB Singapore Cup winners Balestier Khalsa at the Jalan Besar Stadium on March 1.
The match will double up as a league clash, with three points going to the winners in regulation time.
Speaking at yesterday's launch, Zainudin said: "If (clubs) continue to fight hard for Singapore in competitions, with spirit and commitment, the fans will see the effort and they will be there for them.
"We've had a longer pre-season than usual this year, teams have been travelling and playing pre-season friendlies, and preparing themselves hard for the upcoming season.
NEW HOMES
"They can (also use this extra time to) engage the fans and the community."
He pointed out that clubs like Tampines Rovers, Warriors and Home United have had to work their ground harder because they've moved to new stadiums due to preparation work for this June's South-east Asia (SEA) Games.
The Stags moved from Clementi to Jurong West, while the Warriors shifted from Choa Chua Kang to Woodlands.
Long-time Bishan-based Protectors have set up shop at Yishun.
Home chief executive Azrulnizam Shah Sohaimi said they have been pounding the ground in Bishan, Yishun, and the Circuit Road area - where their youth academy is - to build up their fan base.
He added: "We are also looking at organising a nationwide futsal tournament later this season here at the HYFA and we will release details later on."
Similarly, Hougang United are looking to bring back their Challenge Trophy tournament for the community, which was last held in 2012.
Cheetahs chairman Bill Ng is also looking at establishing a scholarship for players and coaches, details of which will be released after the Lunar New Year holidays.
He said: "We are looking to help groom our next generation of players and coaches who want to develop themselves overseas."
Earlier this month, Singapore Cup champions Balestier held their Harmony Games at Guangyang Secondary School to reach out to their community.
Tigers general manager Cheng Tim Nee said: "We have partnerships with several local organisations, like the ITE, and will be working with them in the coming months on activities."
As for the S.League's CEO, he preferred to keep 20th anniversary events as a surprise.
"We are going to have a few celebrations this year. Work is in progress and we will make the announcement in due course," said Lim Chin.

This article was first published on Feb 16, 2015.
Get The New Paper for more stories.