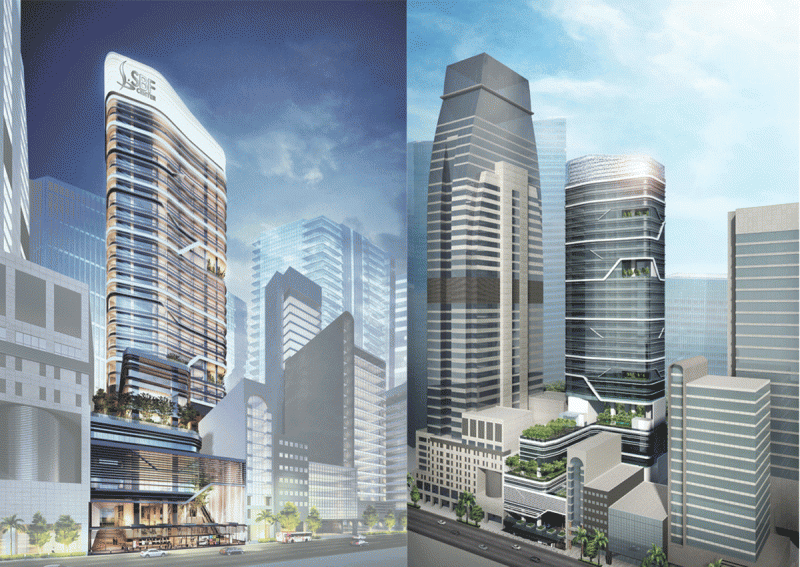 Singapore
An S$85.46 million transaction of office space at SBF Center, which is coming up near Tanjong Pagar MRT Station, has taken place, according to caveats information. The deal reflects a price of S$3,125 per square foot. The space transacted adds up to about 27,350 sq ft, covering all of levels 29 and 30 and eight smaller units on levels 27 and 28 of the 31-storey building.
A breakdown of information listed in the caveat showed that Level 29 was sold for slightly over S$32.78 million while Level 30 went for S$33.53 million. The sale and purchase agreeement between the project's developer and the buyer was inked this month although the transaction was entered into some time ago.
The buyer is a unit of the Asia-Pacific arm of Scor Reinsurance. Scor occupies leased premises at Asia Square Tower 2 and is expected to eventually move to SBF Center. Scor Reinsurance Asia-Pacific could not be reached for comment on Tuesday.
SBF Center is being developed by Far East Organisation and listed arm Far East Orchard Limited. The project, which is expected to receive Temporary Occupation Permit in the third quarter of this year, is being built on a 99-year leasehold site which the duo clinched at a state tender in 2011.
They paid S$311.78 million or S$882 per square foot per plot ratio. The project's total development cost including land has been previously reported as around S$520 million.
The top floor of SBF Center was sold in 2014 for S$35 million or S$3,255 psf to a Japanese shipbuilding company, according to caveats information. In all, 191 of the 200 strata office units in the development have been sold at an average price of around S$3,100 psf. Most of the strata offices range from 592 sq ft to 1,475 sq ft; the top three levels have just one unit per floor, of 10,850 sq ft each.
The asking prices for the nine office units that are still available start from S$2,990 psf for a 753 sq ft space.
SBF Center also has 48 medical suites ranging from 678 to 1,302 sq ft. Of these 47 have been sold at an average price in the region of S$4,000 psf. The remaining unit of 1,302 sq ft has a price tag of S$4,375 psf.
Far East began sales in the development in 2013. It has also gifted 22,000 sq ft of space in the project to SBF Foundation under the Community/Sports Facilities Scheme. SBF Foundation is an institution of public character set up in 2013 by the Singapore Business Federation.
The project, which will have Greenmark Platinum status, will also have food and beverage outlets on the street level. There will be a sky terrace on Level 9. The project's total gross floor area is 353,476 sq ft.

This article was first published on January 27, 2016.
Get The Business Times for more stories.