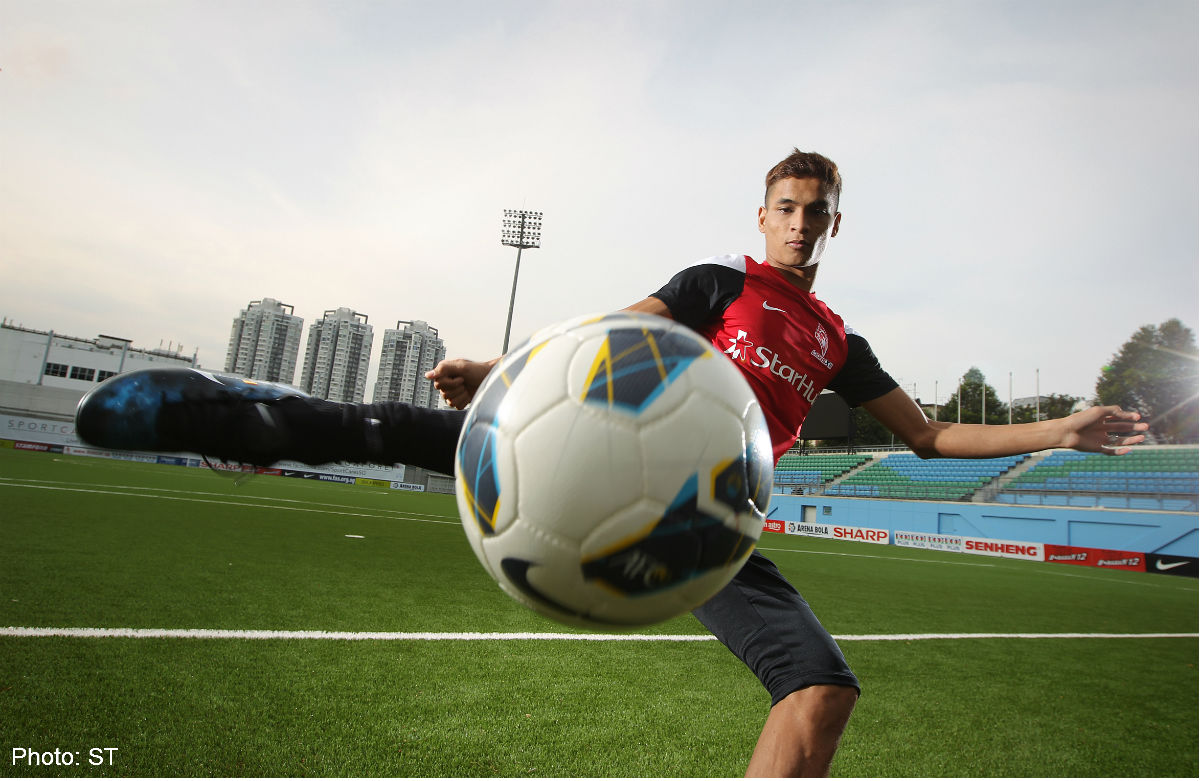 SINGAPORE - Safuwan Baharudin's outstanding memory of 2013 kicks off with him vomiting in front of 7,000 people at the Jalan Besar Stadium.
The LionsXII centre-back was struck by nausea and nerves on the touchline just before the second half of a crunch game against Johor Darul Takzim last June.
But the youngster soldiered on and barely 45 minutes later, he created another mess - but this time it was for his opponents.
The 22-year-old ghosted into the box for a late equaliser that effectively crowned his team as the Malaysian Super League (MSL) champions in their second season.
"It was an unforgettable night," he told The Straits Times.
Safuwan will go down in local football folklore as a cornerstore of the side that returned to the pinnacle of Malaysian football after a 19-year absence.
With no foreign players and a largely Under-23 outfit, V. Sundramoorthy's troops triumphed on the back of a watertight defence that leaked just 15 goals in 22 matches.
Safuwan & Co were unbeaten on home soil for 18 months, a 16-match run that was snapped by Pahang last week.
While his last-ditch tackles and astute reading of the game will not be forgotten, the battering his body went through may slip under the radar.
He has played in games when team officials called for rest and insisted on training when he should have been in bed.
He was back on the field within days of twice clashing heads against Perak while his forehead was still throbbing.
"I know my body best. When the pain is unbearable, I know when to stop," said Safuwan, who is short-sighted and plays without contact lenses.
In 2012, he featured in half of the LionsXII fixtures despite suffering torn and strained ligaments, and a dead leg which required surgery after blood built up in his thigh, leaving behind a long scar of more than 20 stitches.
But unflinching courage is not the only reason for his nomination for the ST Athlete of the Year 2013 accolade.
Making his final SEA Games appearance in December, Safuwan also inspired the Republic to a creditable bronze, denying defending champions Malaysia a medal.
Singapore U-23 coach Aide Iskandar said: "Safuwan hardly put a foot wrong and was an inspiring figure in the dressing room, keeping heads up in difficult moments."
Off the field, he is known to be mellow and fiercely protective of his private life. A prolific year was capped by his marriage to Alia Qistina, an air stewardess, in November.
Lucrative offers came in from several MSL clubs but the defender chose to stay with the LionsXII, inking a two-year deal reportedly worth $15,000 a month.
"Now that I'm settled in my personal life, I hope to do the same on the field," said Safuwan, formerly a striker during his Singapore Sports School days.
That means finding a stable position for club and country. After netting six times for the LionsXII last year, new coach Fandi Ahmad has pushed his charge up front this season in search of late goals.
In Tuesday's 1-3 Asian Cup qualifying loss to Jordan, Safuwan even found himself in central midfield, having been described by national coach Bernd Stange as "very fit, very sharp and very aggressive".
Safuwan said: "I'll be 23 this year, which is when most footballers find their best role and stick to it. I have no preference, but I'm happier the closer I am to goal."
This season, he has targeted a second MSL trophy and a historic fifth title for Singapore at the year-ending AFF Suzuki Cup.
Fandi expects big things from the LionsXII vice-captain, saying: "If Safuwan works hard and keeps progressing, he will be one of the best defenders Singapore has ever produced."
nsanjay@sph.com.sg

Get a copy of The Straits Times or go to straitstimes.com for more stories.