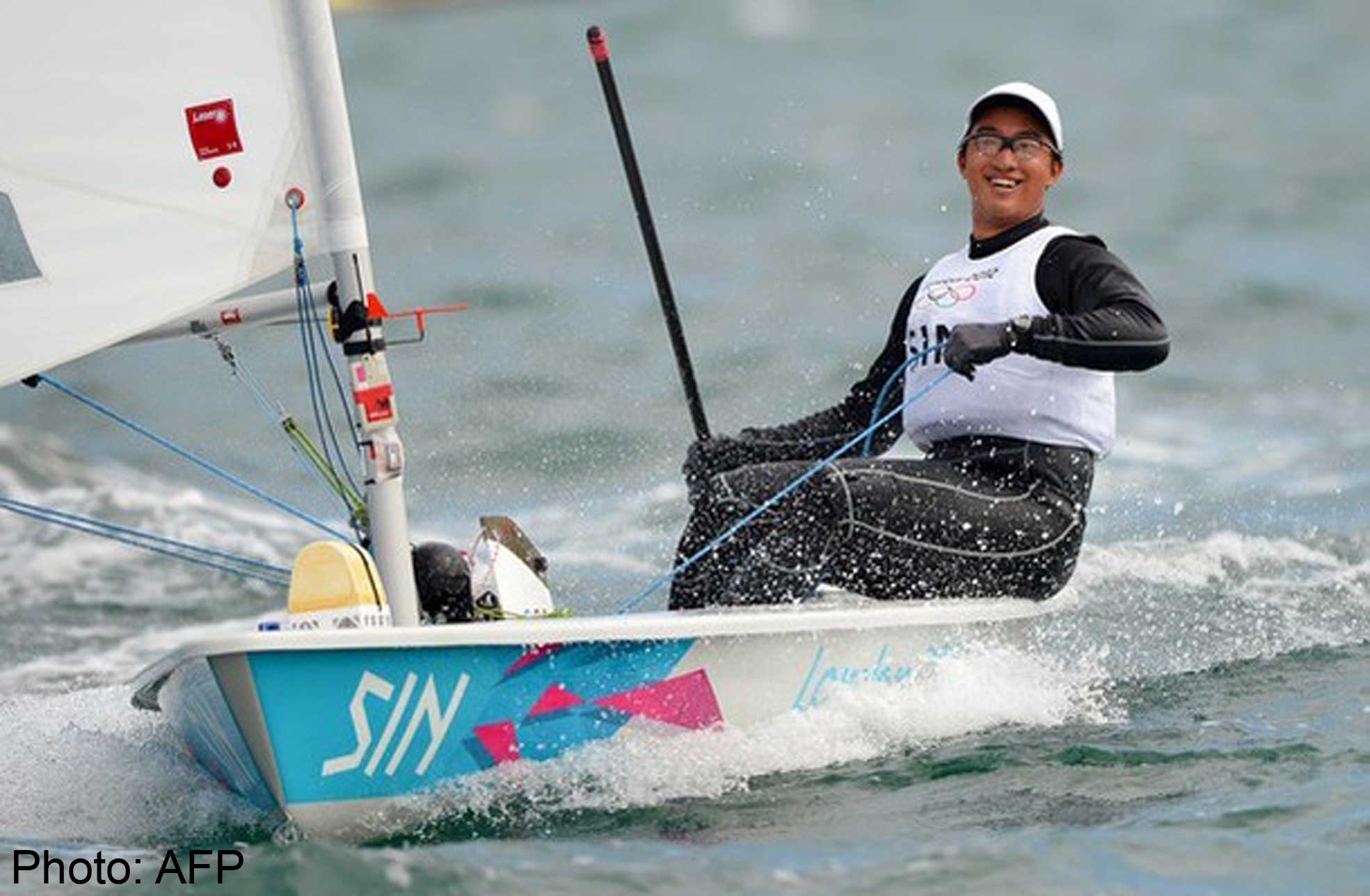 He was the best Asian sailor in the Laser Standard class at the 2012 Olympic Games in London, finishing 15th out of a 49-strong fleet.
While that accolade makes Colin Cheng the de facto favourite to strike gold at this year's Asian Games in Incheon, the national sailor might not even head for South Korea.
The Asiad's sailing events are scheduled to begin on Sept 20, just two days after the conclusion of the Laser Standard event at the Isaf Sailing World Championships in Santander, Spain.
Even though an Asian Games gold medal could net Cheng a cool $200,000 payout under the Multi-Million Dollar Award Programme, the Isaf Worlds is one of three qualifying events for the 2016 Olympics in Rio de Janeiro.
While he wants to add to his Asian Games medal collection of one gold (2006 Laser Radial) and one silver (2010 Laser), Cheng told The New Paper he is looking at the bigger picture.
The 24-year-old said: "Missing the world championships would have a big impact on my campaign in my opinion. There are only a few big competitive events every year when we can get a good measure of where we are at relative to everyone else.
"The (Singapore Sailing) Federation would obviously want to do well in both, but the bigger picture is that I want to go to the Olympics.
"In the big scheme of things, the Asian Games isn't as important as the world championships.
"We're still discussing with (SSF high performance manager Chung) Pei Ming and we'll see what happens."
Cheng, who flew back to Sydney early this morning to resume his final semester at the University of New South Wales, was in town on holiday while putting pen to paper for the Sports Excellence (Spex) Scholarship.
GOING FULL-TIME
After completing his studies, the nanotechnology undergraduate will sail on a full-time basis in Australia under coach Brett Beyer.
While 2013 was a relatively quiet year after his Olympic exploits as he focused on his studies, Cheng is raring to go for a jet-setting 2014.
Apart from the Isaf Worlds, Cheng is looking to participate in regattas in New Zealand, France and Brazil.
The Brazil regatta is a test event for the 2016 Olympics.
"It has definitely been a quiet year after 2012, but that's understandable and exactly what I wanted," he said.
"I like having something outside of sailing as I've seen sailors burn out. Now that I'm older and more mature, I can manage the stress of a campaign better and understand what's required.
"I feel driven and I'm still hungry to keep sailing."
It's between competing against 100 of the best sailors in the world versus competing with the best three sailors in Asia. — Colin Cheng (above), on the difference between the Isaf Worlds and the Asian Games

Get a copy of The Straits Times or go to straitstimes.com for more stories.