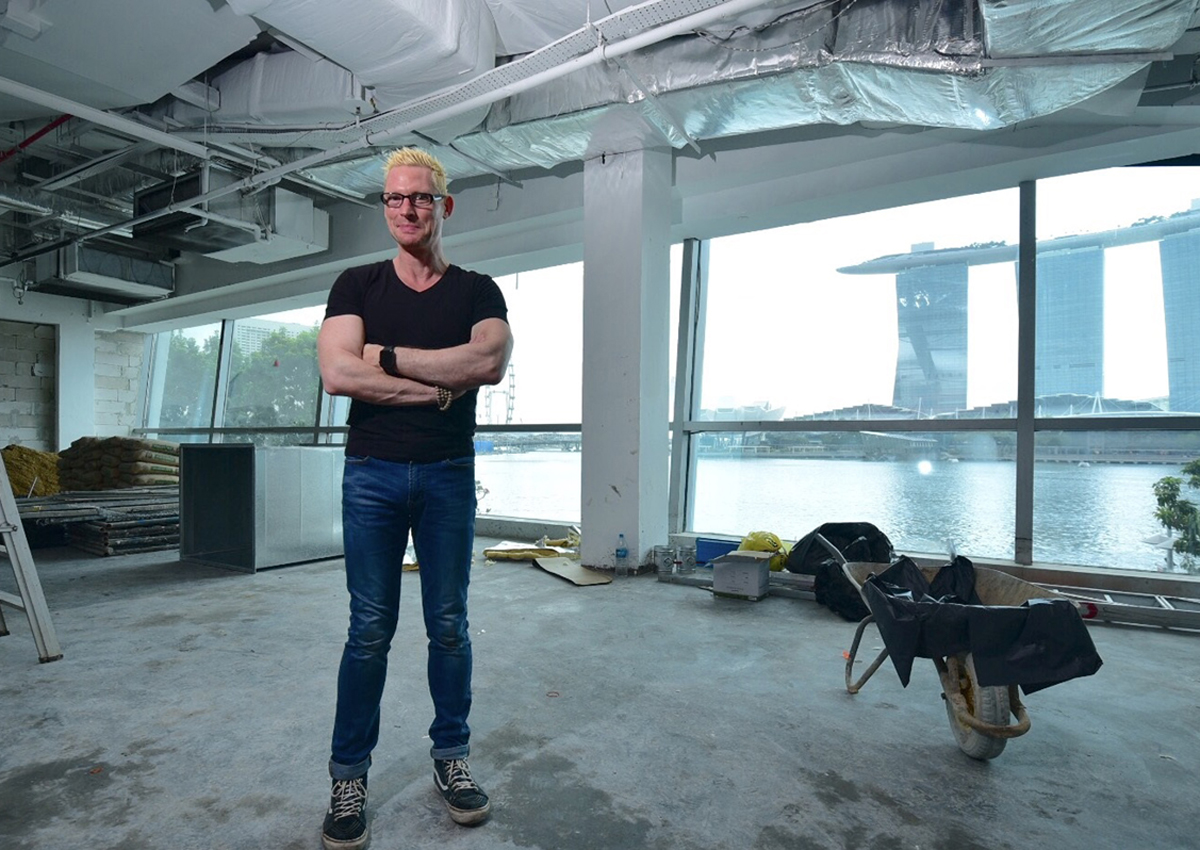 After taking his restaurant from a posh setting to a more casual one, Belgian chef Emmanuel Stroobant is returning to his fine-dining roots.
The 47-year-old chef's French restaurant, Saint Pierre, will open at One Fullerton on March 14, taking over a 2,000 sq ft space vacated by the Butter Factory nightclub.
The restaurant opened in 2000 at Central Mall in Magazine Road and moved to a more casual setting at Sentosa Cove's Quayside Isle in 2013.
Ms Edina Hong, 43, Stroobant's wife and co-owner of the restaurant, says they had initial plans to revamp Saint Pierre at the current Quayside Isle location. But when the offer came up to open at One Fullerton, the deal was closed in 10 days in December last year.
At the new space, Saint Pierre will seat 30 diners, a stark contrast to the 100 seats in Sentosa. Its Central Mall location had 60 seats.
Stroobant says: "Sentosa was a bigger space and we could have up to 120 people for functions. But I realised that this was not what I like to do. I prefer cooking for smaller groups of people, to focus on high quality and make it more personal."
The menu at the revamped Saint Pierre will also be reduced. There will be no a la carte menu, just two six-course menus ($158++) and two 10-course menus ($188++) for dinner, including a vegetarian option each.
Some of the offerings include lobster with clams and milk rice; carrot with orange, cacao and tonka bean; and a chocolate dessert with vanilla and passionfruit. He also uses Asian ingredients, such as tamarind, ginger, kaffir lime and lemongrass.
The chef says the dishes have been streamlined to focus on key ingredients, and laughs about writing a much shorter menu now compared with a long list of ingredients before. He says: "Now when I write the menu, it's like something is missing. But sometimes, more is less. You can hide anything with spices and sauces."
Saint Pierre will open for lunch as well, with meals priced at $85++ or $100++.
And unlike many fine-dining establishments that do not welcome children, the father of two girls aged six and four has a special kids' menu to encourage children to dine out, teach them fine-dining etiquette as well as educate them on flavours and where their food comes from.
On how he has come full circle, Stroobant, who has been a vegetarian for more than six years, says: "French chef Alain Passard said to me previously that a chef never fully matures until he turns 50.
"As a young chef. you have so many influences, from friends and travels. You are not yourself, but an accumulation of different trends. But at some stage you realise, this is what I am and what I do."
The restaurant's space in Quayside Isle will be a production kitchen for the restaurant group's catering business, which accounts for about 70 per cent of revenue.
The group also owns eateries such as the recently opened Saint Pierre Market at Ngee Ann City; Brussels Sprouts at Robertson Quay and Sentosa Cove; and Rocks Urban Grill + Bar at The Sail @ Marina Bay.
When asked if the Michelin Guide's debut in Singapore this year is the reason for the return to fine dining, Ms Hong says: "We've been hearing rumours of Michelin coming for many years. But since June last year, we've been thinking of shrinking the restaurant. With the buzz of Michelin, we thought we'd actively look for something."
euniceq@sph.com.sg

This article was first published on February 22, 2016.
Get a copy of The Straits Times or go to straitstimes.com for more stories.