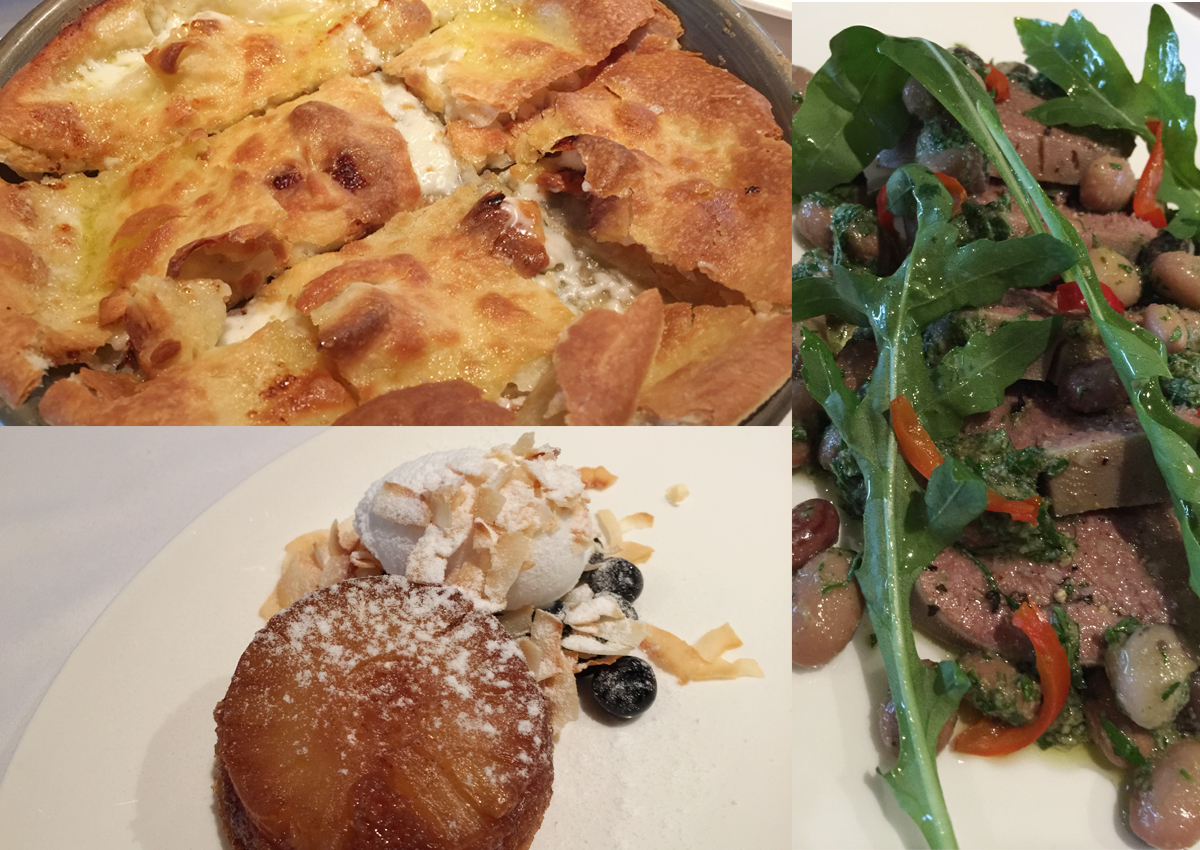 YOU don't go to a restaurant to ponder the mysteries of the universe, but at Angeleno, two suddenly pop up to gnaw at our brains, but mostly our palate. One is: why are Singaporeans so averse to salty food? And the other: what exactly is American-Italian food?
Angeleno is named after the people who reside in Los Angeles (whom we hitherto thought got most of their nutrition from acai bowls, not pasta carbonara), and is also where head chef David Almany - ex-Osteria Mozza - comes from. The restaurant sits in Gemmill Lane, where you normally find people who like to eat what Americans, French, Italian, English and similar expats like to eat. These people also like to sit close to strangers, which is why Angeleno packs its tables tightly, so you need to watch your elbows if you are prone to excitable debate.
Angeleno serves Italian food, but since chef Almany is a true-blue Californian with no relatives in Piedmont, he qualifies his cooking as American-Italian. It's a bit like saying Jamie Oliver cooks British-Italian, not just Jamie's Italian. We are about to launch into a debate of how one defines American cuisine and its audacity to claim ownership of a cuisine it neither created nor re-invented - but the food is very salty so we get distracted.
Foreign chefs are well aware of Singaporeans' lower tolerance for salt, and enough have bristled at having to adjust their recipes to accommodate this. Why our palates differ so much from even other Asian countries is a quirk we have no explanation for. One theory is that past government campaigns to train us to eat less salt, drop the lard and ask the hawkers for more vegetables have finally seeped into our DNA. It doesn't stop us from avoiding veggies and worshipping hawkers who still cook with pork fat, but salt? It's complicated.
Our meal at Angeleno starts off encouragingly, with the chef himself bringing out a couple of arancini or fried risotto balls as a complimentary snack. A warm veal tongue ($18) is tender albeit a little bland, relying on surrounding salsa verde and pickled chillies to add a bit of kick. Instead, the attention-grabber is the signature crispy flatbread - a marvellous, forward-thinking quesadilla that marries crackling crisp wafer-thin dough with gooey, stringy melted cheese. A shower of salt crystals on the surface is a taste of things to come, and the S$32 price tag an indication of our bill.
At our server's insistence, we order the house special meatballs (S$22) - which are fat and agreeable tasting, but squishy in a way that is hard to compliment given our illogical distaste for loosely packed ground meat and sodden bread cubes. The tomato sauce they sit in, though, is lovingly made and you can enjoy it with the creamy polenta on its own.
Angeleno's pastas are said to be house-made and artisanal. Our server tells us that her personal favourite is the Maine lobster spaghetti (S$48) - but our less-expensive tastes lead us to pick the rigatoni amatriciana (S$28) with its promise of cured pork, roasted tomatoes and spicy chilli. We can literally feel our kidneys being salted and cured as we eat the rigatoni, wondering why they go to so much trouble hand-making rigatoni that tastes just like supermarket pasta.
Our USDA Prime New York strip steak (S$65) is nicely done medium rare and sliced in the kitchen because there's a special way to cut it so the meat stays tender, according to our server. And it is, but first we have to cut off the crust of salt that's burnt into the surface. The smashed and fried potatoes that come with it, though, is great.
Desserts are the saving grace with a fluffy upside-down pineapple cake (S$15) that's not too sweet and paired with coconut sorbet, toasted almonds and blueberries. The tiramisu (S$15) is one up on a lot of its local counterparts with its extra boozy sponge and a nice balance of cake and cream.
(Clockwise from top left) Artemis Grill's endive, radicchio and date salad; char-grilled Spanish octopus; organic corn-fed spring chicken - featuring a meaty, sous-vide tender chicken breast seared and sliced atop a bed of couscous studded with dried fruit spicy and spicy Iberico pork presa. Photo: Artemis Grill
A lighter hand and a tweak of culinary approach could well set Angeleno on the same track as Artemis Grill - a CBD corporate eatery that has no problems catering to its demographic of power lunchers in its swish rooftop digs.
Set high on the manufactured roof garden of CapitaGreen, Artemis - an offshoot of Bistecca Steakhouse - stays pretty true to its concept of using only sustainable food sources. The flavours are fresh and clean and even if it doesn't break new ground in technique or cuisine, there's a minimum standard of quality to go with the impressive view.
A near full-house at lunchtime makes it clear that Artemis is filling a need for business dining options in the city. A good value S$50 three-course set lunch helps too, with dishes that can hold their own against the ala carte options.
An endive, radicchio and date salad is a happy-looking starter of crisp leaves tossed in a refreshingly zesty dressing and sweetened with strips of Medjool dates. The main course is a very substantial organic corn-fed spring chicken - featuring a meaty, sous-vide tender chicken breast seared and sliced atop a bed of couscous studded with dried fruit. Streaks of spicy harissa finish it off nicely. The accompanying yoghurt cucumber tzatziki is nice but unnecessary.
From the ala carte menu, the char-grilled Spanish octopus (S$22) is one of the more successful versions - sous-vide whole leg is thick and meaty without any inkling of mushiness, although we could do without the spray of lemon that distracts with its acidity, especially when the pickled padron peppers already do a good job as an able sidekick.
The best dish of the meal would be the spicy Iberico pork presa (S$40) - thin slices of tender meat that tastes almost like lean beef tenderloin. Despite the leanness, it's moist with a good bite and is coated with fiery smoky chilli powder that sneaks up on you without warning. Fried green chillies and sugary-sweet braised cherry tomatoes are all that's needed to complete this.
Desserts are less precise, with the pineapple rum baba taking on the form of booze-soaked blobs of sponge filled with fruity cream and topped with exceedingly sour shredded pineapple. Too many elements include rum and raisin ice cream and a pineapple-stuffed fried spring roll "cannoli". A chocolate trio of sticky chocolate layer cake, coffee ice cream and a chocolate mousse-passion fruit ensemble passes muster but doesn't hit any high notes. Unfortunately, the fried doughnut "bombolini" that we really want isn't available at lunch.
It might be a good excuse to come back for dinner - if only to escape the greenhouse heat effect in the day time and to enjoy the view of a night sky against the city's lights.
Ratings:
Angeleno: 6.5
Artemis Grill: 7
WHAT OUR RATINGS MEAN
10: The ultimate dining experience
9-9.5: Sublime
8-8.5: Excellent
7-7.5: Good to very good
6-6.5: Promising
5-5.5: Average
NEW RESTAURANTS
Angeleno
20 Gemmill Lane
Tel: 6221 6986
Open for lunch and dinner: 12pm to 2.30pm; 5pm to 11pm (Mon to Wed). 12pm to 11pm (Thurs to Sat). Closed on Sun.
Artemis Grill
CapitaGreen Rooftop
138 Market Street, Level 40
Tel: 6635-8677
Open all day: 11.30am to late (Mon to Fri); 6pm to late (Sat). Closed on Sun.
jaime@sph.com.sg

This article was first published on January 11, 2016.
Get The Business Times for more stories.