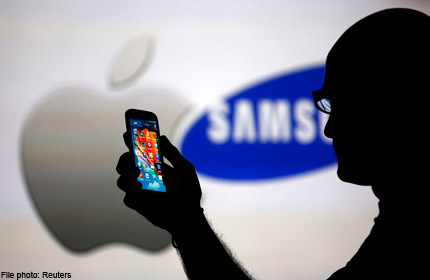 SEOUL - Samsung Electronics overtook its rival Apple in operating profit share in the world mobile market, according to leading research institute Strategy Analytics, Monday.
Despite shipping the largest volume of handsets in the world market, Samsung has been behind Apple in terms of operating profits.
Samsung sells a wide range of mobile products from high to low-end, while Apple had mainly focused on a premium strategy until the California-based firm unveiled the low-budget iPhone 5C last month.
Samsung accounted for 48.8 per cent of operating profits of the world's mobile makers in the second quarter this year, while its American rival secured 48.3 per cent, according to the leading research firm.
The two add up to 97.1 per cent of global operating profit.
In 2011, Apple took up 61.6 per cent of operating profits and Samsung 19.1 per cent.
"Samsung's recent catch-up seems to be attributable to the boosted sales of the firm's high-end models such as the Galaxy S lineup, and the lackluster sales of Apple's handsets," said a market analyst declining to be named.
LG and Sony followed, each taking up 0.5 per cent of the operating profits.
Samsung Electronics is scheduled to release its earnings report for the July-September period on Friday, and Apple will release its own report Monday.
According to Samsung's earnings guidance earlier this month, the Korean firm is expected to post 59 trillion won in revenue and 10.1 trillion won (S$11.78 billion) in operating profit during the July-September period. Sales went up 13 per cent and operating profit rose 25 per cent compared to the same period last year.
The market research firms project that the mobile business unit of Samsung will likely post around 6.5 trillion won in operating profit, up from 6.3 trillion won in the third quarter.
During the April-June period, Apple posted a quarterly net profit of US$6.9 billion (S$8.56 billion) and quarterly revenue of US$35.3 billion.
Apple earlier guided expected revenue of US$34-$37 billion and gross margin between 36 and 37 per cent for the third calendar quarter ending in September.