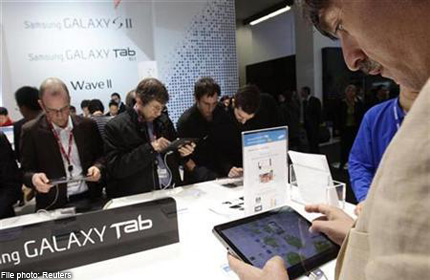 Samsung Electronics appears poised to appeal should US President Barack Obama fail to veto a ruling from the International Trade Commission to ban imports of its products.
"We plan on taking all necessary measures, including legal action, for our demands to be reflected in the ruling," said one Samsung official of the company's stance on the issue.
On Aug 9, the ITC ruled against Samsung to accept Apple's complaints filed in 2012.
Some of the Samsung devices that allegedly violate Apple's patents include the Galaxy S 4G, the Galaxy Tab and several smartphones and tablets launched in 2010 and 2011.
However, Samsung will have more time to prepare for the appeal since it won't be eligible until the US president has fully deliberated over the issue for a period of 60 days.
This means Samsung would appeal no earlier than early October, sources said.
The latest ITC ruling was a double-whammy for Samsung, as the Obama administration has recently also overruled a ban on the imports of a number of older but still popular Apple products such as the iPhone 4S and the iPad.
Samsung had sought the ban based on claims that Apple infringed on its wireless communications patents.
With the ITC ruling accepting Apple's demands, the Cupertino-based company is now seen to have scored several legal victories, but industry sources said it is difficult to predict the turnout.
"There is still much to be decided, and the legal teams of both companies are doing all they can to ensure at least a partial victory, so it would be hard to say which side has or will end up as the ultimate victor," said one source, declining to be identified, citing the sensitivity of the issue.
Meanwhile, the Korean public opinion has been souring over Obama's recent move to exercise his veto authority - for the first time since 1987 - to disable the ITC from blocking the imports of Apple devices.