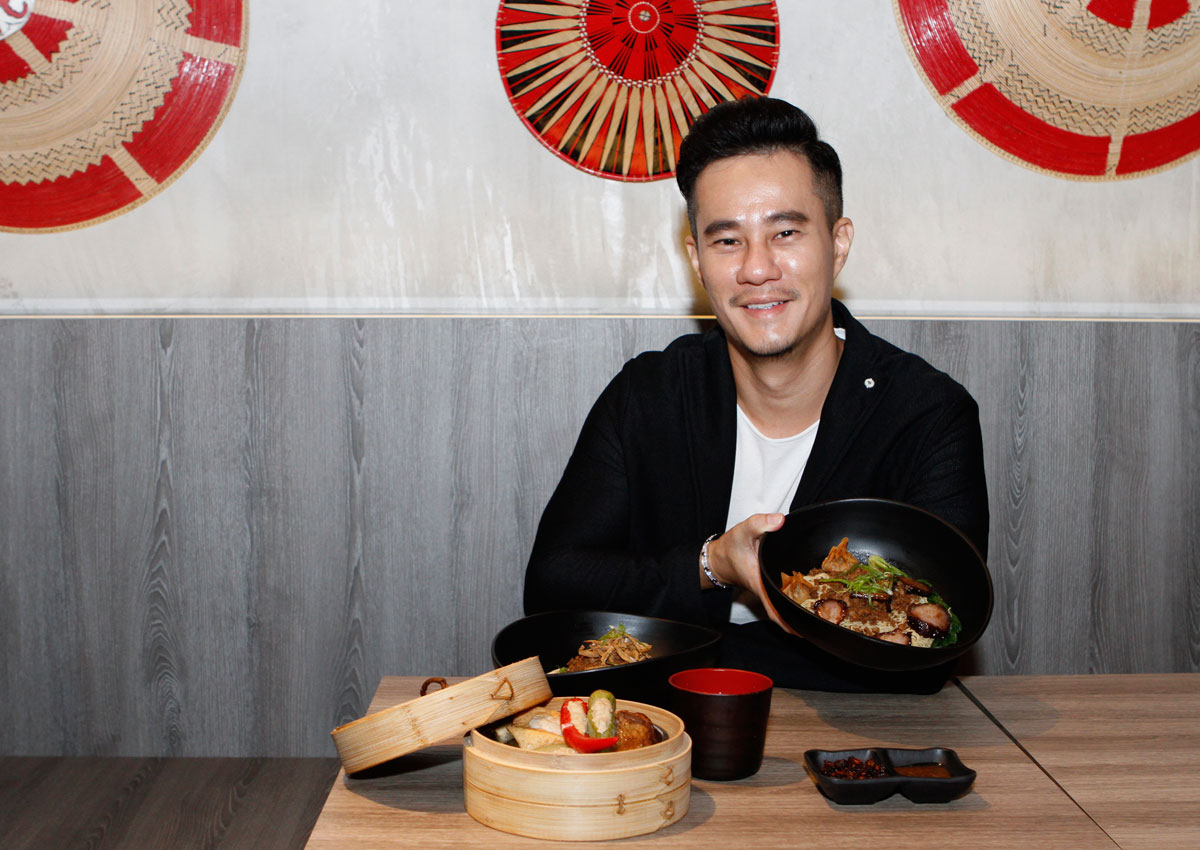 A set of heirloom recipes not only saved Mr Aidan Goh's family from hitting rock bottom, but also gave them a new lease of life.
He used recipes, passed down three generations of his family, to start a hawker stall that has grown to become one of Malaysia's most popular noodle chains, Face To Face Noodle House.
The 39-year-old Sarawak native says he was "forced to start a business out of a desperate need to survive".
In 1997, his father, who ran a hotel and banqueting business, became bankrupt, owing about RM$10 million (S$3.5 million) after his investments in stocks went south during the Asian financial crisis.
Overnight, the family's possessions and cars were seized by the banks, and the family "almost had to sleep on the street".
Then 22 and at his wits' end, Mr Goh, who has been working as an assistant chef in his father's restaurant, turned to comfort food that he grew up with.
His grandparents used to run a stall selling Sarawak kolo mee, dry-tossed noodles served with minced meat, barbecued pork slices and fried wonton dumplings, and they also cooked pan mee at home. Pan mee, more commonly known here as ban mian, is a dish of soup noodles with fried anchovies, minced pork and egg. He borrowed RM$2,000 from a friend and opened a noodle stall in a run-down coffee shop in Miri, Sarawak, in 1999.
Mr Goh says in Mandarin: "My parents were too embarassed to work and my three siblings were either too young or living overseas. It was down to me to use my grandparents' recipes to make ends meet."
His 12-hour work days as a hawker paid off as word about his noodles spread around Sarawak and business doubled year on year. To expand his business, he relocated to Kuala Lumpur in 2006 and started Face To Face Noodle House. The name is a play on the Chinese word for noodles, mian, which also means face.
The chain, which serves Sarawak kolo mee and pan mee, has 30 outlets across Malaysia, with an annual turnover of more than $9 million, and sells more than two million bowls of noodles, among other dishes.
The chain opened its first overseas outlet in City Square Mall in November last year. The 62-seater offers seven types of pan mee, including black pepper pork chop and curry chicken, and Sarawak kolo mee. The menu features the chain's best-selling dishes, about 20 per cent of the full menu in Malaysia.
Mr Goh chose to open in Singapore as there has been a healthy demand for his noodles from diners here.
"Over the past four years, I have received more than 400 franchising requests from Singapore, and Singapore tourists frequent our shops in Penang and Malacca on weekends."
Prices of the noodles here are more than three times higher than in Malaysia.
A bowl of pan mee starts at $8.90 here, while it starts at RM$7.50 (S$2.50) there.
Mr Daniel Tan, 39, co-owner of the Singapore outlet, who is also Malaysian and has been working with Mr Goh for eight years, says that the price difference is due to higher manpower, rental and food costs here.
He says that ingredients in Malaysia are ordered in bulk for its central kitchens and rental here is about 10 times higher. The restaurant here has an "upmarket, cafe-like decor" to match its shopping mall location, which is different from Malaysia, where most outlets are located in shophouses.
To maintain the taste of his noodles, Mr Goh has been based here for three months to re-engineer recipes, using ingredients available here.
The noodles are made in-house daily, with two eggs used for every 1kg of flour and a bit of alkaline lye water.
He says: "This makes the noodles softer and more springy, instead of hard and chewy."
The other key ingredient is the fried chilli paste, which takes up to six hours to make. The stock is simmered for two hours with soya beans, pork ribs and anchovies.
An exclusive dish here is Hakka yong tau foo ($7.50), which is made from a recipe by Mr Goh's maternal grandmother. The vegetables and beancurd slices are slathered with fish and meat pastes and steamed in bamboo baskets.
He hopes to open 15 outlets here within five years and says that he would rather be recognised as a chef than an entrepreneur.
"I am heartened that the brand has come such a long way," he says. "Cooking has always been my interest and I get more satisfaction in seeing customers enjoying my food."
Face To Face Noodle House is located at 180 Kitchener Road, City Square Mall, 02-23, open: 11am to 10pm daily, go to facetoface.com.sg
kengohsz@sph.com.sg

This article was first published on April 3, 2016.
Get a copy of The Straits Times or go to straitstimes.com for more stories.