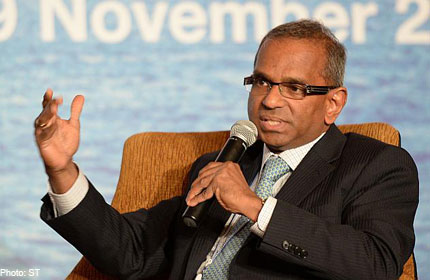 The United States economy looks headed for a recovery that will give a boost to South-east Asia, whose growth prospects are looking bright with investments flowing into the region.
Speakers at the ST Global Outlook Forum last Friday noted that the green shoots of recovery in the US - the uptick in consumer spending and the housing market as well as the shale gas boom among other things - were improving the prospects of the world's largest economy as well as those of its trading partners in the region.
Giving his take, Mr Manu Bhaskaran, partner and head of economic research at Centennial Group, said he had a very positive view of the US economy.
"I think it will surprise very strongly on the upside," he said. He saw the growth across various sectors feeding on each other to produce a much stronger recovery than is being forecast.
An additional impetus will be that US companies, currently sitting on US$2 trillion (S$2.5 trillion) of cash, will begin spending on capital goods and provide a real kick to the economy.
"The effect on Singapore will be very powerful," he added. The US is the most important consumer for Singapore, as well as for other South-east Asian nations.
Lately, the region has been getting bullish reviews, with some forecasts predicting resilient growth into 2017 driven by robust demand from an expanding middle class. Research firm IHS projects that ASEAN's gross domestic product (GDP) in 2020 will be close to US$4.7 trillion, double the size last year.
"I am very optimistic about ASEAN. It will not be a year of living dangerously for ASEAN, with a little bit of luck," Mr Bhaskaran said, drawing attention to two trends that he saw as boding well.
One is that a bigger share of GDP is being devoted to investment across the region. This builds capacity for the future, thus promising higher growth rates in years to come.
Importantly, the investment is being driven by sustainable factors like the pent-up demand for infrastructure. "Things are beginning to move, whether it is mass transit systems in Kuala Lumpur, Bangkok and Singapore, a huge infrastructure programme in Thailand, or the new governor of Jakarta unlocking mega projects," he said.
According to an Asian Development Bank estimate, the 10 member countries of ASEAN will need to invest approximately US$60 billion per year in infrastructure to improve roads, railways, ports, energy, water and sanitation facilities.
The second trend with potential to boost regional growth, Mr Bhaskaran said, was that towards greater economic integration within ASEAN. "I know a lot of people start yawning when they hear of ASEAN initiatives," he said, drawing laughter as he noted the ASEAN tradition of "over-promising and under-delivering".
"But I think this time is different," he said, referring to plans for the launch of an ASEAN Economic Community (AEC) by 2015. "A lot is happening under the AEC process, hundreds of measures to ease movement of goods, services, capital and people are being put in place. A lot of synergies will come from that."
In addition, he said, pay-offs will come from other forms of integration that are currently under way. "There is a lot of cross- border integration now," he said.
He cited examples, including the Iskandar project in Malaysia's southern state of Johor that has drawn substantial support from Singaporean investors. He also noted the rising trade between north-east Thailand and Laos, which sparked off a boom in what used to be the backwater of Thailand. Similarly, there was huge scope for trade between Thailand's Kanchanaburi province and Myanmar, he added.
"So I see a lot of positives coming into play," he said, agreeing with ST foreign editor Ravi Velloor's observation that ASEAN was entering a "golden age".
bhagya@sph.com.sg

Get a copy of The Straits Times or go to straitstimes.com for more stories.