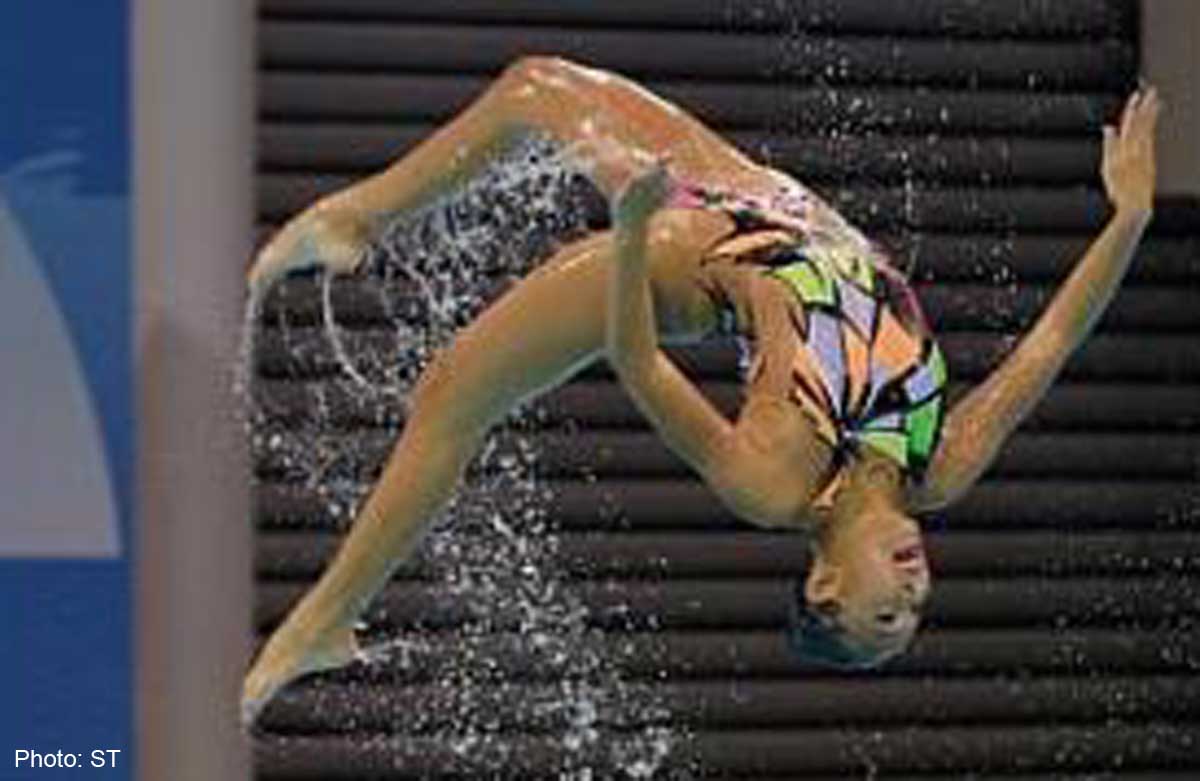 They smiled for the cameras, penned autographs and waved to their adoring fans, all the while looking as pristine and perfect as when they claimed their second gold of the SEA Games.
But not many in the OCBC Aquatic Centre knew that just moments before the Singapore synchronised swimming team celebrated with the home crowd, the 10 girls were in tears.
It was an unusual sight for a team who had been the epitome of confidence and poise at these Games.
But after last night's final event and with gold No. 2 in the bag, as well as the title of ASEAN's best synchronised swimming nation, tears were understandable.
Grooving to Benny Goodman's Sing, Sing, Sing last night, Singapore's swimmers boosted and flipped with all their might to take the team free combination title, and end Malaysia's 14-year reign in the sport.
The win over Malaysia was especially sweet as the score, 77.0667 points, was a new best for the squad.
"I think we're very proud of ourselves - we trained really hard for it and are satisfied," said captain Stephanie Chen, 19.
Training six days a week, seven hours a day, Singapore's synchronised swimmers have come a long way in just over a decade, when they were unplaced at the 2001 Malaysia SEA Games.
At that time, support for the sport at the national level was almost non-existent, with only a few swim clubs active in looking after their athletes.
It was not until the mid-2000s that the sport was taken a bit more seriously, hiring its first national coach Yumiko Tomomatsu in 2009. She now trains the Italian national team.
It would take time before the concerted effort paid off and three silvers and a bronze at the 2011 Games were a sign of things to come.
"The 2011 SEA Games were a breakthrough point for us," said Stephanie. "When Singapore actually broke the 70-point barrier, which means on the international level - everyone starts to recognise Singapore's synchro as on a par with the international level, and able to compete with others."
With Singapore winning two team golds (team technical and free plus team free combination) and a silver (duet technical and free) by Stephanie and Crystal Yap, the Singapore Swimming Association is hoping that the success at these Games will help get the sport more recognition at the schools level, said its acting vice-president (synchronised swimming) Tay Chin Joo.
The association has struggled to bring the 20 schools needed to make synchronised swimming a recognised co-curricular activity, often falling short. Chen had participated in both rhythmic gymnastics and synchro while she was still in secondary school, a situation many interested students also find themselves in.
But if the past three days at the OCBC Aquatic Centre are anything to go by, the sport might just be in for a change in fortunes.
The arena's terraces were close to capacity on the last two nights, with fans young and old cheering themselves hoarse.
"We love the crowd. When the girls hear them, they're really encouraged and are energised," said Tay, looking on as Debbie Soh and Tay Aik Fen posed with the crowd for a picture.
For Debbie and her team, smiling, as is required in the sport, comes naturally.
But the events of the past few days have definitely made it easier to show off their pearly whites - even when tears are rolling down their cheeks.
gohruiqi@sph.com.sg

This article was first published on June 05, 2015.
Get a copy of The Straits Times or go to straitstimes.com for more stories.