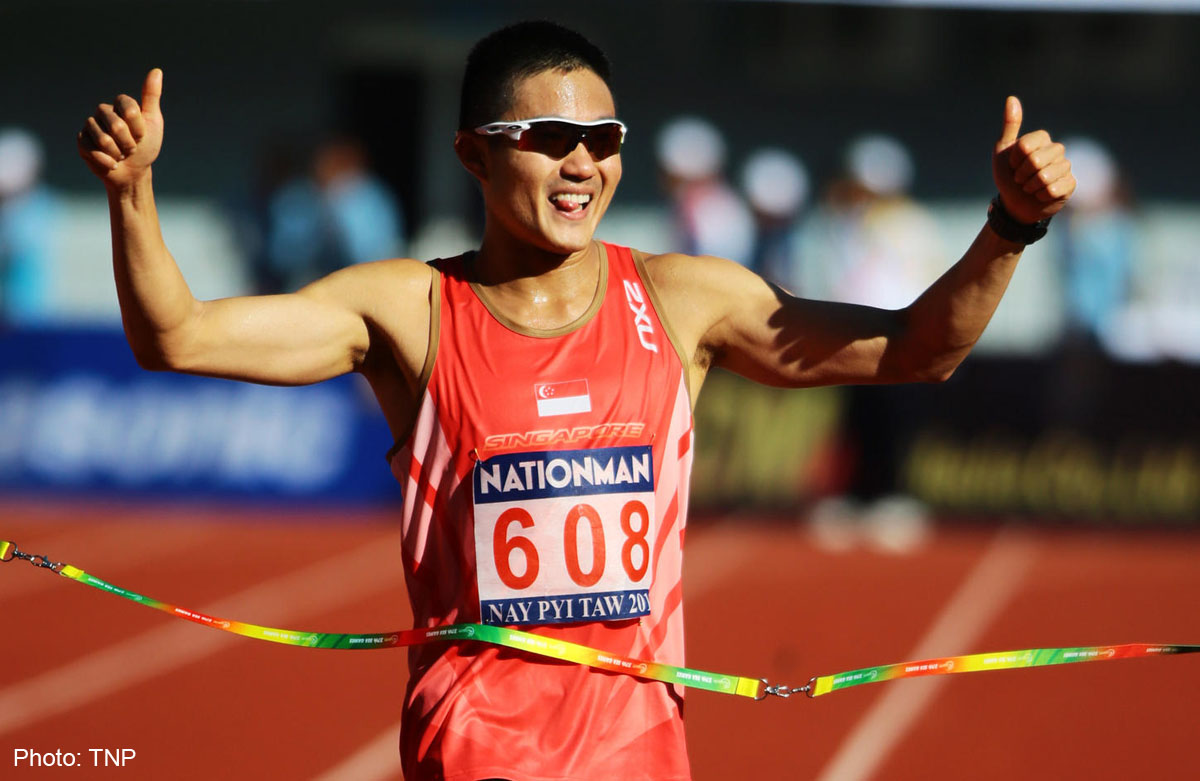 Veteran sports administrator Loh Chan Pew was on the verge of tears at the Wunna Theikdi Stadium on Monday morning.
The Singapore Athletic Association (SAA) interim chief of Sports Development and Performance had just seen marathon runner Mok Ying Ren create South-east Asia (SEA) Games history by becoming the first Singaporean man to win gold in the event.
Mok, 24, clocked 2hr 28min 35sec, ahead of Myanmar's Thaung Aye (2:29.49) and Philippines' Eric Panique (2:30.29).
Loh told The New Paper: "When I saw him (Mok) run into the stadium, I wanted to cry.
"I'm so experienced and I've been to so many track meets, but this is the first time I'm so emotional.
"I've seen him grow since he was 10 at the Red Swastika school, where I was the track and field coach. He wasn't my athlete, but he was always active. He's a first-class role model. Look at the way he has balanced his studies and sport.
"Our (the SAA's) faith in him has paid off."
Mok is currently going through a Medical Officer's course as part of his National Service (NS). He arrived in Myanmar a day before the race and will return to his unit in Singapore today.
The 2009 SEA Games triathlon winner told the media that he had not expected to win after less-than-ideal preparations.
The "strenuous" MO course, coupled with a persistent cough and a thigh strain, meant he entered Monday morning's race without high hopes.
Mok described his run as a "tactical race" that focused less on timing, which explained why he was some way off his personal best (2:26.33) and M Rameshon's national record of 2:24.22.
Noting the hilly terrain of the course, he said: "I did a recce of the course yesterday, so I knew I should not go too hard in the first two rounds. I knew I had to save myself for the last stretch."
While he stayed with the second pack of runners for most of the race, he caught up with the leaders in the final seven kilometres.
POLE POSITION
He claimed pole position by overtaking Aye with about just 1.5km to go.
"I thought he would put up a fight on his home ground. But when I passed him and he didn't put in any effort to follow, I knew I got the gold," he said.
Rameshon, who was at Wunna Theikdi as the coach of Singapore's other marathon representative (Ashley Liew, 8th, 2:42.54), congratulated Mok on his patience during the race.
He said: "He was holding onto the second group and controlled his pace... it was a wise move on his part. Around 9km towards the end, the front pack got tired."
Rameshon smiled when TNP asked him if he felt Mok, whose ultimate goal is to qualify for the 2016 Olympics in Rio de Janeiro, could break his record on home soil during the SEA Games in two years' time.
"Well, records are meant to be broken," he said.
---
 DID YOU KNOW...
K Jayamani is the only other Singaporean to win a SEA Games marathon, which she did in 1983. Before Mok's win, bronzes won by Parameswaran Pillai (in 1965) and S Kumaravelu (1977) were the men's best performances.

Get The New Paper for more stories.