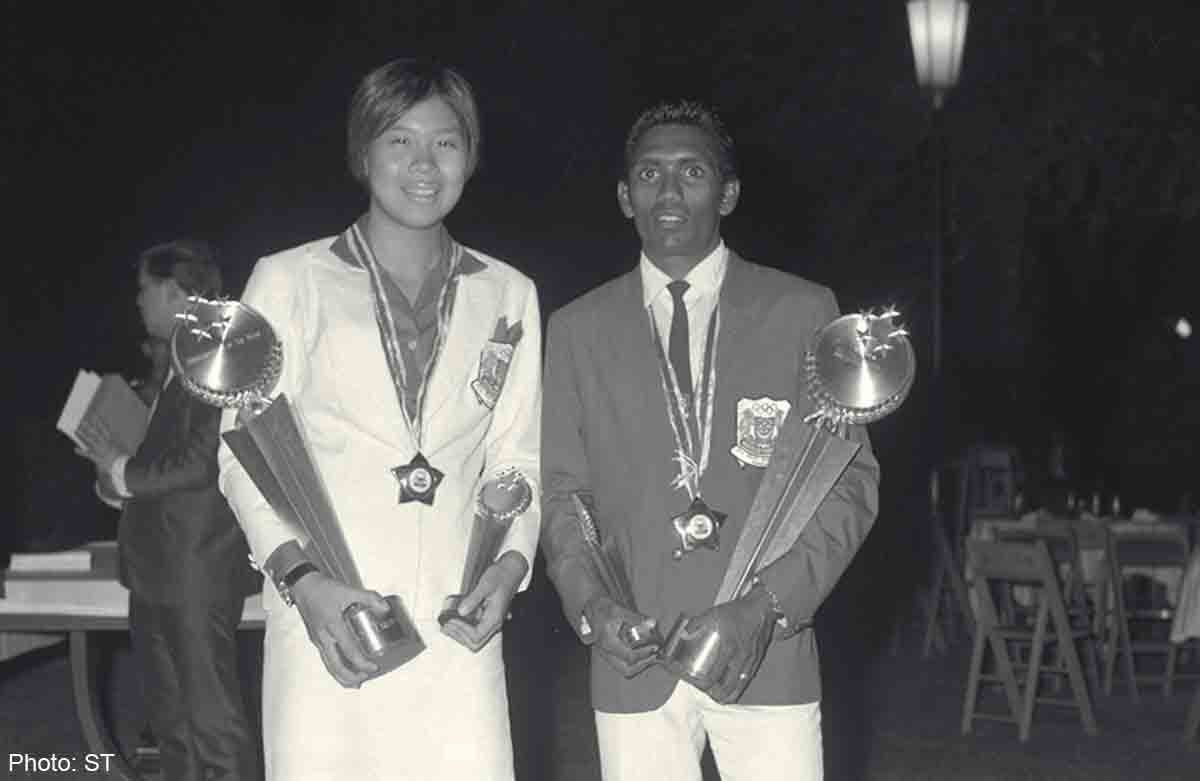 SINGAPORE - Forty-four years ago, at the 6th South-east Asian Games Peninsular Games in Burma, Patricia Chan and Canagasabai Kunalan earned those accolades.
As the curtains are officially raised today for the 27th South-east Asia Games in Myanmar - one among six pioneering countries to have breathed life into the event in 1959 - I am overwhelmed by nostalgia. High on my emotions were special interviews I did with the two legendary athletes in only my first month of sports journalism in November 1969.
And while the newsmakers were affable and accommodating (mind you I was a rookie reporter and they were already icons of Singapore sport), the minutes leading up to the interviews were nerve-wracking. Only weeks to go for the opening of the SEAP Games, I was assigned interviews with Pat and Kunalan. The historic Chinese Swimming Club was swimmer Pat's second home, a five-minute drive from her bungalow at Mountbatten Road.
A dynamic doctor, wearing thick-rimmed glasses, loud-hailer in one hand and stopwatch in the other, was pacing along the perimeters of the Olympic-sized swimming pool.
He was barking instructions continuously as the swimmers went through punishing schedules.
Pat's father, Dr Chan Ah Kow, was a dynamic personality who enjoyed dialogues.
But he was busy at "work", he wouldn't talk and you couldn't disturb him.
So I waited... and waited for the break to approach him and Pat.
He took occasional glances at me, but was focused on the swimmers splashing in the pool.
Then when Pat emerged from the pool, I thought I could make the breakthrough to talk to her.
But no, I was told to wait. For she dipped herself again.
An hour after Pat finally emerged from the pool, Dr Chan granted me the interview.
Of course, he intervened every time I tossed a question to the 15-year-old swimming queen, already dubbed the Golden Girl for her eight gold medals in 1965 and 10 in 1967.
At the end of it all, the good doctor, whose training prescriptions often led to golds, asked me: "You got everything?"
"Yes," I replied, armed with what I thought was the best newspoint from Pat: "I will try and emulate my 10-gold haul won at the last Games in Bangkok."
GOLD TALLY
About three weeks later, Pat delivered to take her personal gold tally to 28 from three SEAP Games. A fortnight after the Pat interview, I was headed for the even-more historic venue, Farrer Park, to buttonhole sprinter Kunalan.
And when I arrived, I saw Kuna throwing his legs forward from knee-high positions as he devoured the metres of the 100-metre stretch of the bitumen track.
Watching him was coach Tan Eng Yoon, who converted the footballer into an athlete at a very late age of 21.
Tan, one of the best track athletes and coaches Singapore has produced, was not a reporter's dream for he gave little away.
If he granted you an interview, his politically-correct answers bordered on boredom.
And he would not easily allow anyone to talk to his athletes.
So, after more than an hour, all I got for my perseverance from Kuna was "I'll do my best at the Games". Like Pat, the 27-year-old teacher delivered too, winning three golds (100m, 200m and 4x400m relay) and a bronze (4x100m relay).
But, unlike Pat, who went on to win golds at the 1971 and 1973 Games to set a victory benchmark for subsequent swim queens like Justina Tseng, Junie Sng and Joscelin Yeo, Kuna's 100m and 200m golds were priceless possessions.
Those were Singapore's only men's sprint golds in the 54 years of the Games.
Those were the heady days when Singapore reigned at the two compulsory sports at any Games - athletics and swimming.
Yangon was Rangoon then. Myanmar was called Burma. The country was then under military rule, and would be until 2010.
Then, the athletes competed for their countries as amateurs. Today, the athletes run, swim, jump and fight as professionals, with rewards like money and endorsements as carrots.
And unlike today, masseurs, physiotherapists and dieticians were non-existent then.
Sport then was about athletics, swimming, football and table tennis. These days you hear of arnis, dancesport and chatek.
But the hunger for victory and the thirst for gold remain. There is still the deep passion and panache of yesteryear.
So my wish for this Games: A women's 50m freestyle swim gold and a men's 100m track victory. For obvious reasons.
godfrey@sph.com.sg

Get The New Paper for more stories.