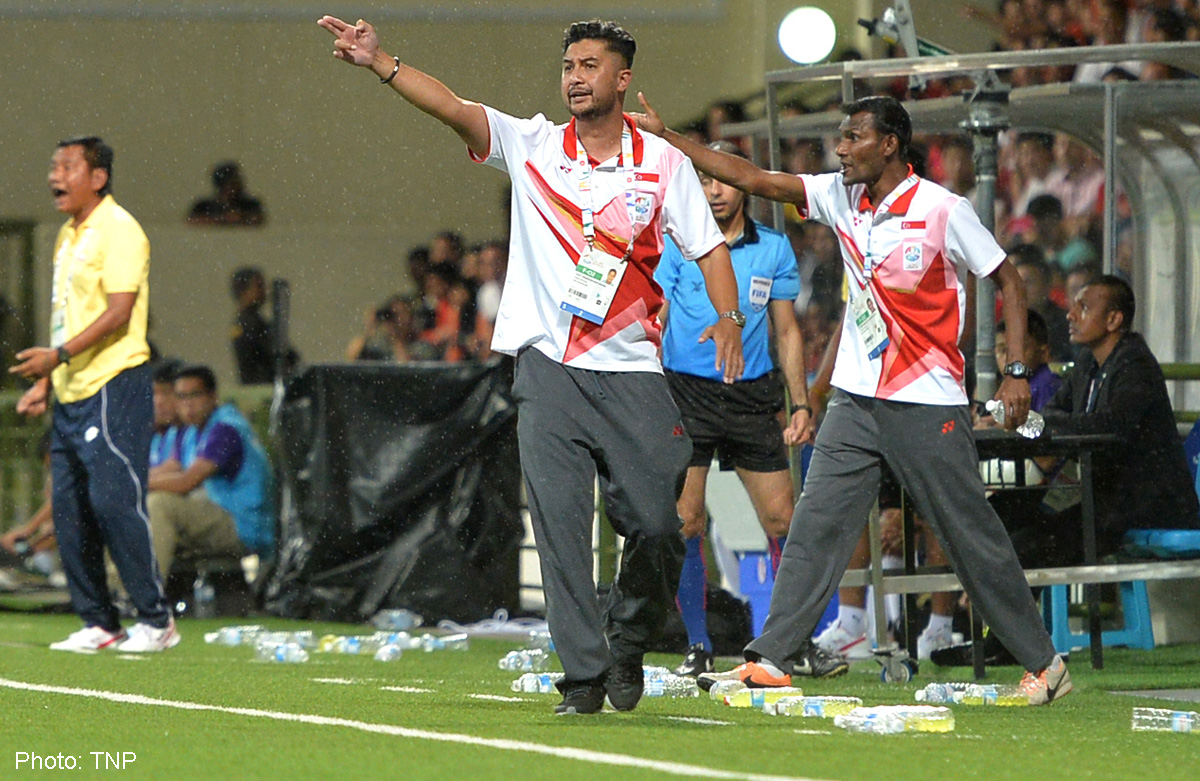 Nothing made me more proud during my playing days than the times I got to represent the Singapore national football team in front of our own fans.
This past week, however, nothing has made me more sad than the abuse I witnessed first-hand from so-called supporters towards our Young Lions.
Aide Iskandar's young team deserve better than to be taunted and ridiculed by some sections at the Jalan Besar Stadium. Even opposition fans have asked me why the home crowd are so aggressive towards their own team.
I was sitting in the grandstand for Singapore's first three games, and the level of abuse at certain players I saw and heard has been unlike any I have witnessed in local football.
We expect first-class football from our players but we need to be educated fans too.
Singapore have won two of their three group matches at these SEA Games. Yes, they weren't entirely convincing and were wasteful in front of goal but, in one year's time, will you remember how many goals they scored?
No. In a short tournament like this - where the top-scoring team do not always come out tops - what's important is that they win and keep progressing all the way to the final.
I agree with Aide's comments to The Straits Times yesterday on backing the boys instead of belittling them.
Hurling abuse at Sahil Suhaimi, a player I rate highly for his work rate and incisive runs, hurts not just him but his team-mates too. Most of them are not accustomed to playing in front of big crowds.
It is no coincidence that as the groans grew louder during the games, the players were more nervous and hoofed long balls out of desperation.
Perhaps due to their lack of experience, they are trying too hard to silence the critics, trying to rush their way to goal instead of the patient, thoughtful build-up play Aide is hoping for.
There are undoubtedly some decent talents out there.
Sahil will lead the national frontline one day if he keeps developing. Faris Ramli shows maturity and skills beyond his age. Adam Swandi has the eye for a killer final pass that most footballers in the region can only dream of.
Let's support them, encourage them, give them the fuel to reach their full potential.
We are asking too much from an Under-23 team, who already face the pressure of winning the gold in our nation's special year.
Can you blame them for panicking and rushing their passes in the final third when they hear taunts almost every time they touch the ball?
Some sections of the Jalan Besar crowd have been great, such as those seated behind the goal at King George's Stand. My challenge to everyone going tonight is to create a cauldron of noise to frighten Indonesia.
Show them what home-ground advantage really is.
Then, I am confident our team will show us what they are truly capable of.
stsports@sph.com.sg

This article was first published on June 11, 2015.
Get a copy of The Straits Times or go to straitstimes.com for more stories.