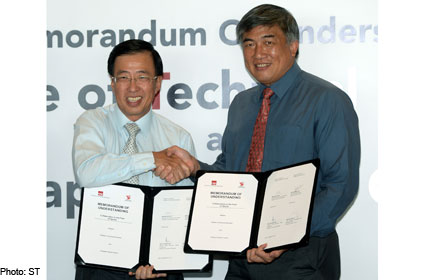 Champion athletes are the stars of any major sporting event.
They make the headlines and hog the limelight while soaking up the adulation.
The volunteers who toil for hours to ensure an event goes off without a hitch almost always operate in the shadows.
They provide the platform for a successful extravaganza.
Volunteers will play a key role when the Republic hosts the South-east Asia (SEA) Games in 2015.
Yesterday, the Singapore Sports Council (SSC) inked a three-year Memorandum of Understanding with the Institute of Technical Education (ITE), which pledged around 1,000 students to serve as volunteers for the 2015 Games.
It was the first MOU signed with an educational institution in relation to the Games.
The Games organisers will also consider the various ITE campuses - East, West and Central - as training and warm-up venues for the biennial Games, which will take place from June 5 to 16.
Speaking after signing of the MOU yesterday, SSC chief executive officer Lim Teck Yin said: "Welcoming over 7,000 athletes and officials to South-east Asia's largest multi-sports extravaganza is a massive undertaking. It will involve many hands to ensure the success of the Games, and it is with this in mind that we're looking to join forces with as many partners and interest groups.
"We will go into deeper discussions as to what fields of work these volunteers could contribute in. For example: I've seen how competent they are in media and show production, perhaps some of these students can be involved in those areas at our sporting events."
ITE director and CEO Bruce Poh said the SEA Games 2015 volunteers are likely to come from first- and second-year students, and will provide some of them with real-life experiences to complement their classroom lessons.
Said Poh: "Some of them will volunteer for tasks such as road marshals, but we have students in sports and events management courses, as well as paramedics.
"These are specialised areas that require training before they can help."
Lim revealed that the organisers are already finalising several aspects of the 2015 Games, including the list of sports for discussion with the other countries, and the official logo.
Venues
He said: "We're also starting to finalise all the venues that we want to use and I am meeting with different parties for venues that are not owned by SSC or the Government.
"We've got approval for the logo and we are now finalising the look and feel of the logo and the tag line. We're working very hard on things such as the theme song, as well as the performance at the closing ceremony in Myanmar."
Singapore will symbolically take over the Games at the closing ceremony of this year's event, which will be held in Naypyidaw, Myanmar, from Dec 11 and 22.
While the inaugural Youth Olympic Games in 2010, as well as last year's London Olympics, saw poor attendances at certain events, Lim said the organisers are brainstorming on how to alleviate this in 2015.
He said: "The challenge of filling your stadia is always something that concerns all event owners, so you've got to look at a few things - ticketing strategy and policy, the scheduling of your events and venue strategy because very naturally some venues are not attractive to spectators.
"Also, we have two weekends during the SEA Games and how we use these weekends would be very important."

Get The New Paper for more stories.