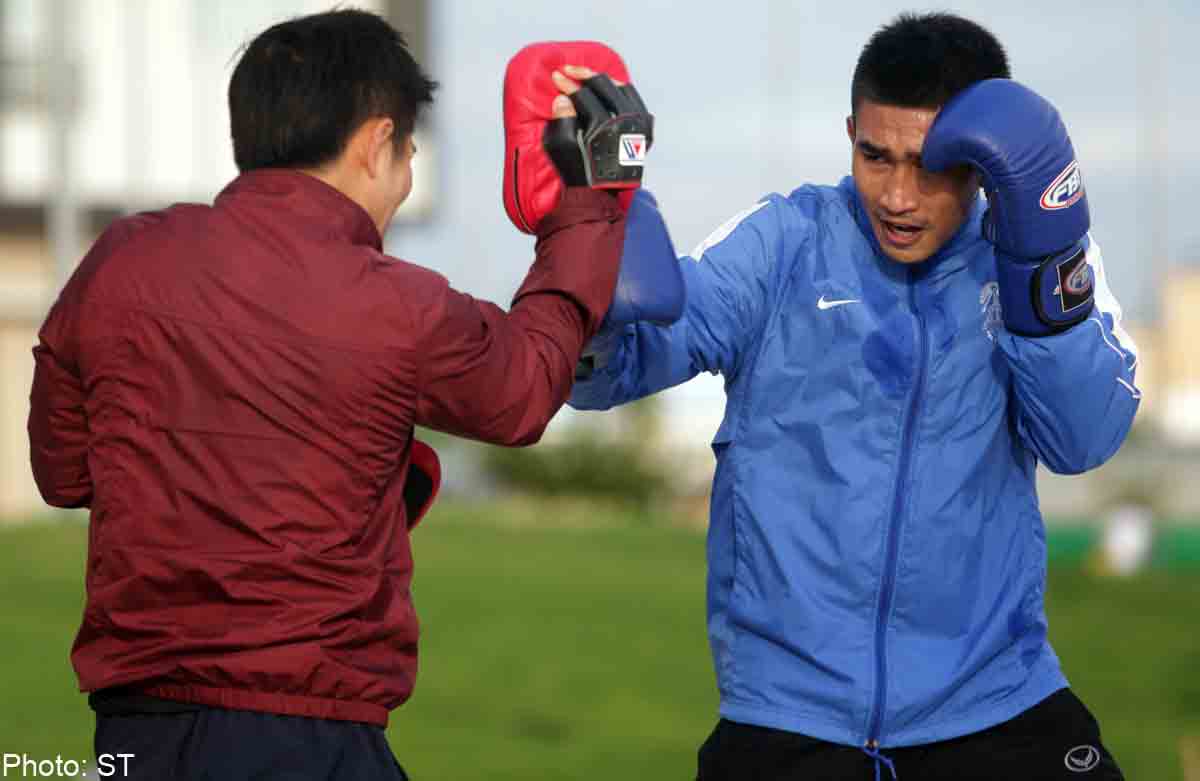 NAYPYIDAW - On the driveway of the Mingalar Thiri Hotel in Naypyidaw, Thai boxers Chatchai Butdee and Saylom Ardee were being put through their training paces.
Saylom shrieked like a young Bruce Lee as he danced excitedly and threw his fists about.
Chatchai, on the other hand, wearing his headphones and a contemplative gaze, exhaled silently as he punched.
They may be worlds apart in temperament but both boxers are part of only a handful of world-class athletes competing at the Myanmar SEA Games.
Most of the region's world beaters have given the biennial competition a miss, for varying reasons. Badminton stars Lee Chong Wei of Malaysia - the world No. 1 - and Indonesians Tommy Sugiarto (No.5) and Boonsak Ponsana (No.7) have decided to focus on the Superseries Finals, which began in Kuala Lumpur yesterday.
Others such as Thai world No.2 shuttler Ratchanok Intanon are out injured, while Singapore's 2012 Olympic bronze medallist paddler Feng Tianwei has given up her place to allow younger talents a chance to shine. For Chatchai and Saylom, who are ranked world No.6 and No.4 in their respective weight categories, answering their country's call comes naturally.
Said flyweight (52kg) Chatchai, 28, a bronze medallist at October's World Amateur Boxing Championships: "When Thailand wants me to fight, I fight.
"This Games is more than a competition. It's about togetherness and friendship.
"The people in Thailand watch the competition. They cheer us on and I am happy to compete."
Along with lightweight (60kg) Saylom, 27 and a two-time SEA Games gold medallist (2007 and 2009), the duo headline a 10-member squad eyeing a seven-gold haul in Naypyidaw.
The nine-day boxing contest started on Saturday and both Thai pugilists are through to tomorrow's semi-finals.
Said Saylom, who will face Malaysia's Alnasrul Osman: "I am confident of winning the gold medal."
But beyond the SEA Games, both men, who participated in last year's London Olympics, have their sights locked on the ultimate prize - a medal at the 2016 Rio Olympics.
Assistant coach Kaew Pongprayoon, the London Olympics light flyweight (49kg) silver medallist after a controversial loss to China's Zou Shiming, is backing his charge Chatchai for a medal in Brazil.
He said: "Chatchai is strong. He has been training very good and he's got a very good chance for a medal at the Olympics. But whether it's gold, silver or bronze, we don't know yet."
Chatchai is employed by the Thai Army while Saylom is in the air force.
Both are training full-time, twice a day in preparation for the Olympics.
Chatchai, a former muay thai competitor who picked up boxing after watching compatriot Somluck Kamsing win gold at the 1996 Olympics, is hoping to replicate his hero's feat.
Featherweight (57kg) Kamsing's feat as the first Thai athlete to win Olympic gold is still fresh in Chatchai's mind.
He said: "I was watching television that day, and all around the country Thai people were cheering 'Somluck, Somluck'.
"So, I started dreaming. It would be good if I could do what he did at the Olympics."

Get a copy of The Straits Times or go to straitstimes.com for more stories.