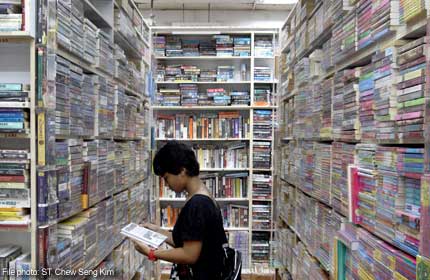 The story is a familiar one. The book business is going bust.
But while much has been made about the closures of behemoths such as Borders and Page One, little notice has been paid to the quiet demise of second-hand bookshops.
For sure, they have not gone unscathed. Just yesterday, a stalwart of the second-hand book business, Pro Saint Book Store, announced that it would be holding a clearance sale from tomorrow, ahead of its last day on Nov 30.
Owner Alley Ong said he decided to close the 22-year-old business at the Bras Basah Complex because of poor sales.
In the mid-1990s, before e-commerce and e-books, the shop was making profits of about $10,000 a month. It makes about $3,000 now.
Mr Ong said: "It is not worth the effort. Our business is in decline. Better run before it is too late."
Pro Saint's announcement came as Mr Alvin Tan, director of heritage institutions at the National Heritage Board, was starting a project to document the second-hand book business before it disappeared. He had noticed that a number of shops were closing.
Over a month, Mr Tan searched the archives and the Internet, and talked to shop owners who pointed him to others.
"Many of them are no longer around," he said, adding that research has been tough because of the very few written records.
"Because of this, we were unable to ascertain how many of these shops existed in the past."
The 1980s and 1990s were their heyday and it is impossible to be sure how many have closed in the past five years or so, when the carnage began.
In all, he tracked down 12 second-hand bookshops, which led him to conclude that there are probably no more than 20 left.
The 12 were: Pro Saint, Sunny Book Store, EMF Book Store, ANA Book Store, Book Point, Evernew Book Store, Knowledge Book Centre, Silver Kris Bookshop and San Bookshop, which has four outlets.
Mr Tan expects more to close as business continues to decline, or when the current owners retire.
Second-hand bookshops generally stock used and new popular romance, thriller and fantasy titles, and operate on a business model of sales or rentals.
Books can be kept or returned, in good condition, for a partial refund, to be sold or rented again.
For example, Sunny Bookshop is currently selling J.K. Rowling's new book, The Casual Vacancy, in hardback at $35, less than the recommended retail price of $48. A customer can either keep it or return it for a refund of $21.
Second-hand paperbacks typically sell for $6 and $4 is refunded upon return.
Regulars of second-hand bookshops said they like them for the cheaper prices, wide selection and personal service.
At these shops, it is not unusual to see customers walking straight to the counter to collect books that were reserved for them, or to hear shop owners promising to call when a book arrives.
Second-hand bookshop owners say they rely on regulars to stay afloat.
Ms Rita Samay, 48, who grew up on a diet of Mills and Boon rented from Silver Kris in Marine Parade Central, said: "I have been coming here since I was a teenager. I think they will still be around for some time."
Second-hand bookshop owners already know what the ending will be. They just don't know when.
Mr Andrew Low, who runs Silver Kris, said: "We can last for a while more but I don't know how long."
kailing@sph.com.sg