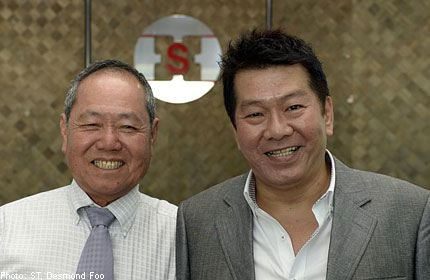 SINGAPORE - The boardroom dispute that has roiled See Hup Seng (SHS) for three months came to an end on Tuesday with the ousting of managing director Jimmy Tan.
The proposal to remove Mr Tan as executive director was backed by 93 per cent of the 254 million votes cast at the extraordinary general meeting (EGM) at the SHS office in Tuas.
Mr Tan, 54, immediately resigned from his post as managing director and as chairman of its Tat Petroleum unit.
He said this would allow SHS, which provides corrosive prevention services, to "focus on the business under a united leadership".
Mr Tan also told the 42 shareholders at yesterday's meeting: "I am not aggressive by nature and have tried my best to resolve this problem in many ways, including my proposal to spin off Tat Petroleum."
Mr Tan's move also triggered other key developments at Tat Petroleum, with vice-chairman Bernard Ang, 55, and chief executive Chan Huan Yong, 46, resigning. Both men also resigned from their roles as executive directors on the SHS board.
The EGM, which lasted less then an hour and attracted no questions from the floor, in turn reinstated SHS founder Thomas Lim as both an executive director and chairman, also with a similar margin of 93 per cent.
Mr Lim left the firm following clashes with Mr Tan in March over business strategy. He did not stand for re-election as chairman at the April 29 annual general meeting (AGM) and resigned from his directorship roles that same day.
Mr Lim told the media on Tuesday that he backed off because Mr Tan had secured 33 per cent of shareholders' votes in March to oust him at the April AGM. He also claimed that Mr Tan had told him to step down or be voted out.
While Tuesday's EGM may have settled the boardroom tensions, there may still be problems on the corporate floor.
Mr Tan was a co-founder of Tat Petroleum, which was acquired by SHS in two tranches in 2007 and 2010. He has been managing the business for the last 28 years.
Some key staff had hinted last week that they might leave if Mr Tan was ousted at Tuesday's EGM.
Among them was chief operating officer Timothy Callery, who told The Straits Times that he had come out of retirement after working for Exxon Mobil to help Mr Tan five years ago.
"It's not easy to replace someone at the top job and no future plans for Tat Petroleum have been communicated to us (as of the EGM)," Mr Callery said yesterday.
He is adopting a wait-and-see approach before deciding if he will stay with the company.
Some clarity over Tat Petroleum may stem from another boardroom move on Tuesday.
This saw Mr Ng Keng Sing, 53, appointed an executive director of SHS.
He has over two decades of experience in the petroleum industry and has been delegated by the board to manage the refined petroleum arm.
Mr Lim told The Straits Times on Tuesday that he trusts that Mr Ng and the professionally-led management can expand Tat Petroleum, which distributes refined petroleum products.
Mr Ng added that while he will need more time to access Tat Petroleum's business and operations, he "likes challenges" and is confident of coming up with a plan for the unit.
He intends to review the feasibility of Tat Petroleum entering more mid- and upper stream petroleum distribution options.
Mr Ng, who has no shares in SHS, said he will focus on Tat Petroleum.
SHS called for a trading halt on Tuesday pending announcements of the material changes to its board of directors.
Its shares last closed at 28 cents on Friday.
rjscully@sph.com.sg

Get a copy of The Straits Times or go to straitstimes.com for more stories.