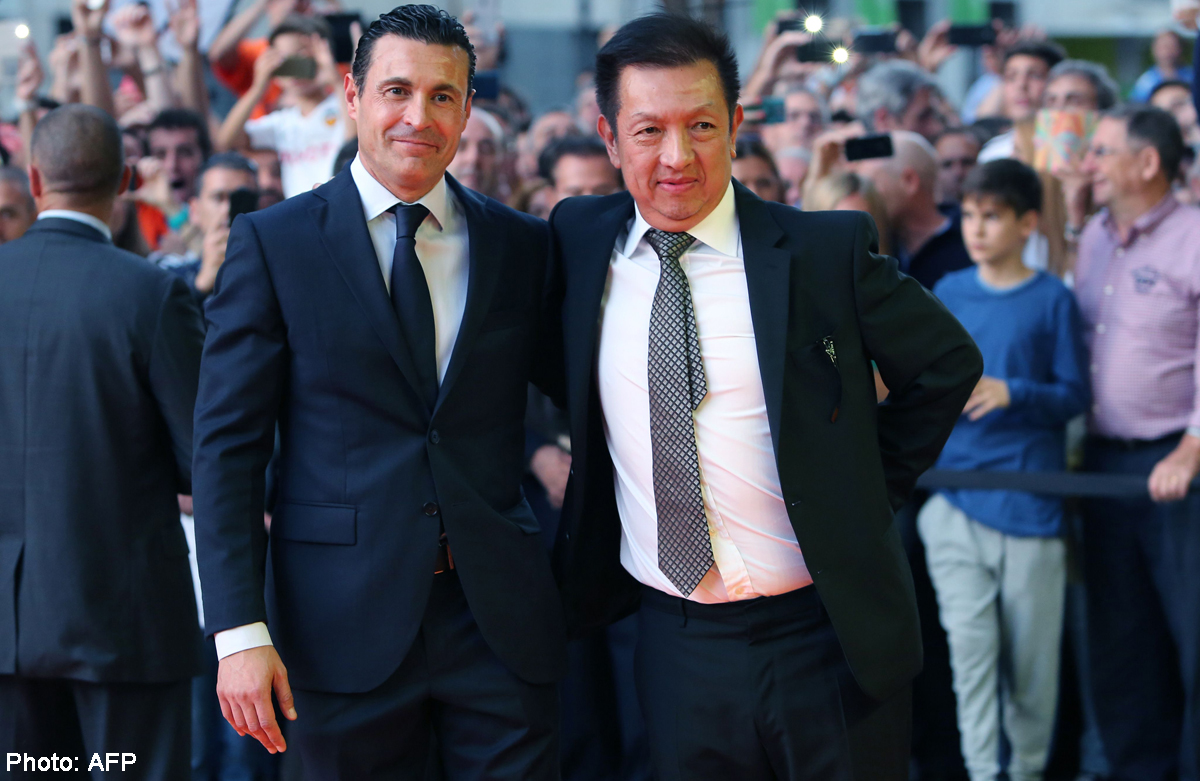 It is a scene any Singaporean footballer can only dream about - a huge crowd chanting his name amid a big stadium in Europe.
Last Saturday, however, it was billionaire investor Peter Lim, who is set to finalise his ownership of Spanish La Liga side Valencia, who experienced that.
A YouTube video uploaded by the club shows the billionaire arriving at the Mestalla Stadium last Saturday night for the home game against Elche, which Valencia won 3-1. It has since garnered more than 17,000 views.
Earlier that day, it was confirmed that he had reached an agreement with Bankia - the Spanish bank that held most of the club's €200 million (S$323 million) debt - on the restructuring of the club's finances. That deal, in turn, has paved the way for him to buy a 70 per cent stake in Valencia.
Stepping out of a luxury sedan, Lim was giving a warm handshake and hug by Valencia president Amadeo Salvo. Cameras zoomed in on the masses of fans, who chanted the Singaporean's name feverishly, as if they were welcoming a new star striker.
Accompanied by his wife, former actress Cherie, Lim posed for photographs before being escorted to a balcony in the stadium, where he and Salvo waved to the delighted fans below.
The 61-year-old, estimated to be worth US$2.05 billion (S$2.6 billion) by Forbes Singapore, has bought Valencia for €420 million in total, with €200 million to clear the club's debts and £170 million to complete construction of a new stadium.
He has also splashed €45 million on two Benfica players - striker Rodrigo Moreno, 22, and midfielder Andre Gomes, 20.
Without a league title in 10 years and a trophy since the Copa del Rey and Spanish Super Cup in 2008, Valencia were crippled by debt until Lim started buyout talks a year ago.
Rejuvenated by the hope offered by the Singaporean, Valenncia have surged up to fourth in the 20-team La Liga on 20 points, two points behind leaders Barcelona.
meng@sph.com.sg
This article was first published on Oct 29, 2014. Get a copy of The Straits Times or go to straitstimes.com for more stories.