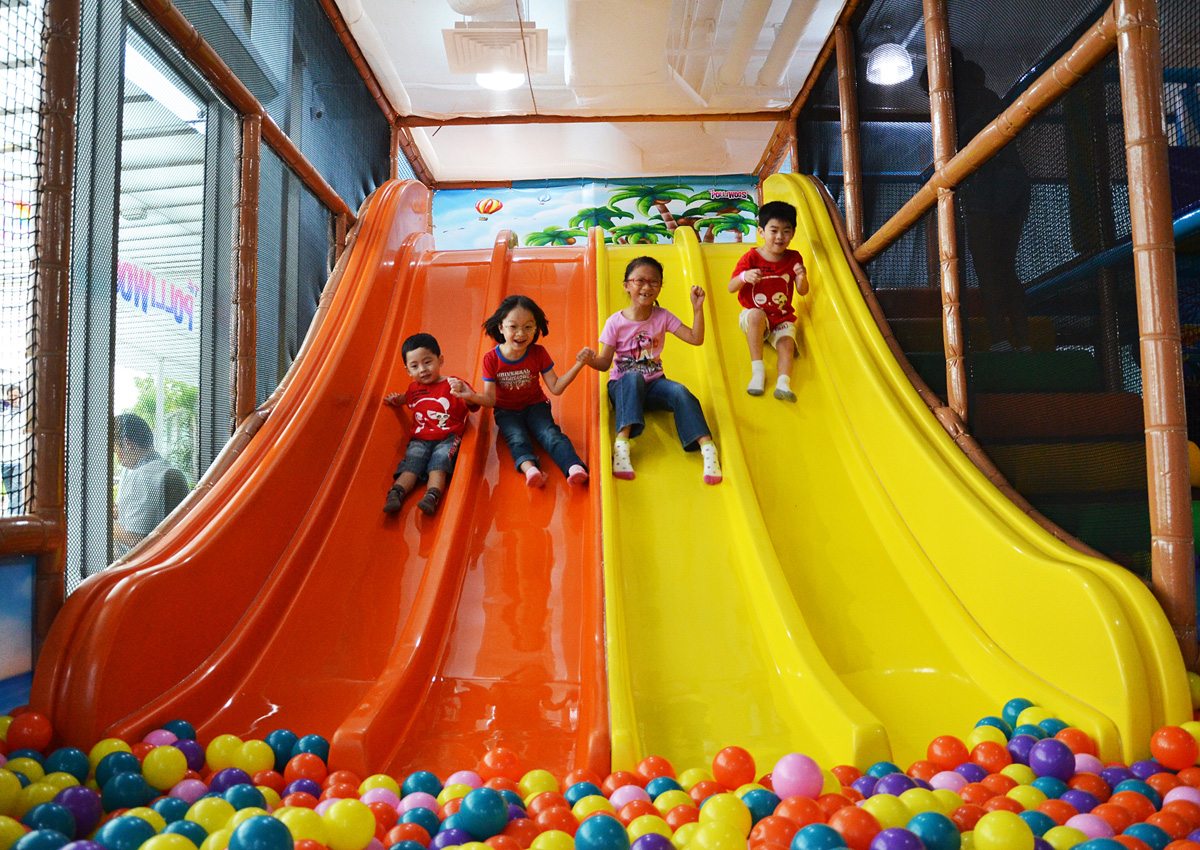 1 Learn about your body
What does it feel like to be swallowed? How squishy exactly is the intestine?
Find out the answers to these questions and more at the Science Centre's multi-sensory Human Body Experience exhibition, where visitors can step into the mouth of a 6m-tall human face, feel the soft texture of the stomach lining and experience being "swallowed" as they squeeze their way through the throat.
With an array of light, sound and pneumatics (pressurised air) special effects, it is hard for visitors to fall asleep during this biology lesson.
Where: Science Centre, Hall B
When: Indefinite
Admission: Adult $15, child $12 (three to 12 years old)
Info: Go to www.science.edu.sg/ exhibitions/Pages/hbx.aspx
2 Kitchen smarts

Let your children pick up some useful kitchen skills. Baking school Creative Culinaire will hold classes for kids aged six to 12, where they will learn how to make chocolate as well as bake a chicken, and others.
Safra also has two baking workshops for children aged three to 12.
Creative Culinaire's September holiday Junior classes
Where: 17 Eng Hoon Street, 01-03 Eng Hoon Mansions
When: Various
Admission: $50 for chocolate, kueh, tarts and decoration classes; $100 for Junior Chefs Cook-out class
Info: www.creativeculinaire. com.sg/
Safra's baking workshops
Where: Passion Fruit Gem workshop - Safra Jurong; Baked Doughnuts workshop - Safra Toa Payoh
When: Sept 5 (Passion Fruit Gem), Sept 13 (Baked Doughnuts)
Admission: $26 (member), $32 (guest)
Info: Go to www.safra.sg/
3 Build and bond
Bond with your kids by building sandcastles at workshops conducted by Castle Beach at East Coast Park every weekend.
Participants have to buy one of the two building kits, which cost $42 and $50.
The four-hour workshop starts with a 10-minute demonstration on how to use the building kits, after which families can spend the rest of the time working on their sandcastles.
Where: East Coast Park, Car Park E2
When: Every Saturday and Sunday, 3 to 7pm
Admission: Buy a $42 or $50 building kit to take part
Info: Go to www.castlescanfly.com/
4 Rowing workouts

Sign up for the Singapore Canoe Federation's kayaking orientation programme, a three-hour course that teaches basic kayaking techniques and water safety tips. There are no age restrictions.
More advanced paddlers can head to the Water Sports Centre at the Singapore Sports Hub, rent a kayak and paddle at their own pace.
Only walk-in registrations are allowed. Children must be at least nine years old and all who are aged 12 and below must be accompanied by an adult.
Singapore Canoe Federation's kayaking orientation programme
Where: MacRitchie Reservoir or Kallang Water Sports Centre
Admission: $30 a person
Info: E-mail gohes@scf.org.sg
Canoe & Kayak Rental at The Water Sports Centre
Where: Singapore Sports Hub
Rental hours: 7am to 7pm (last rental at 5pm)
Admission: $8 to $18 for two hours, $18 to $39 for full day
Info: Go to www.sportshub.com.sg/
5 Outdoor fun
Get out your picnic mat, head to the Singapore Botanic Gardens and enjoy an evening of Brazilian music at PianoBotanica, a concert organised by the Brazilian Embassy in celebration of the friendship between Brazil and Singapore.
The gig features Brazilian flute and piano duo Bastos & Borges.
Families can also look forward to the NParks' Community Garden Festival, which takes place on Sept 5 and 6 at various locations.
Participants can try their hand at making sand art terrariums, harvesting vegetables and riding ponies.
PianoBotanica
Where: Shaw Foundation Symphony Stage, Singapore Botanic Gardens
When: Sept 6, 6 to 7pm
Admission: Free
Info: Go to www.nparks.gov.sg/
NParks' Community Garden Festival
Where: Various locations
When: Sept 5 and 6
Admission: Free, those attending have to pay for some activities
Info: Go to www.nparks.gov.sg/
6 Scale new heights

Your child can improve his sense of balance and coordination through The Rock School's Fun Climb or Hire-an-Instructor classes. The sessions are for those aged four to 14.
Families with older children can try the walls at Climb Central (right) in Kallang Wave Mall, an indoor air- conditioned sport climbing venue.
The Rock School
Where: Bedok Community Centre, 850 New Upper Changi Road
When: Check website for classes
Admission: $30 for Fun Climb, $25 for Hire-an-Instructor classes
Info: Go to therockschool.sg/
Climb Central
Where: B1-01 Kallang Wave Mall, 1 Stadium Place
When: Monday to Friday, 11am to 11pm; weekend and public holiday, 9am to 9pm
Admission: First-timer packages cost $26 to $56 for a full-day pass
Info: Go to www.climbcentral.sg/
7 Sliding fun
If you are looking for some outdoor fun, head to the first Sentosa Fun-Fest. The main attraction at the nine-day beach festival is a 12m inflatable slide, roughly the same height as a four-storey HDB block.
Also, look out for the slippery horizontal slide that Sentosa dubs its version of the high-speed Winter Olympics sport bobsleigh .
Where: Siloso Beach, Sentosa
When: Sept 5 to 13 (tickets for Sept 5 are sold out)
Admission: Adult $26; child (three to 12 years old) $18, bundle for four people $79 (usual price $104)
Info: Go to www.sentosa.com.sg/en/sentosafunfest/
8 One-daycamp
eXplorerkid is holding a one-day camp for children aged four to 12, with arts and craft activities as well as a baking session.
Play centre The Polliwogs has holiday programmes for kids aged three and above. Each one lasts two hours and revolves around Singapore themes. Activities include dance and story-telling.
eXplorerkid's School HolidayCamp
Where: eXplorerkid @Downtown East, third floor, E!hub, Downtown East, 1 Pasir Ris Close
When: Sept 11,10am to 6pm
Admission: $60 (member), $80 (guest)
Info: Go to www.explorerkid.com/
Celebrating Singapore Seriously-Fun HolidayProgramme
Where: The Polliwogs@Suntec City (3 Temasek Boulevard, Suntec City Mall 02-724, Tower4) and The Polliwogs@Vivo City (1 Harbourfront Walk, 03-12 Vivocity)
When: Sept 7 to 11
Admission: $15 a programme
Info: Go to www.thepolliwogs.com
9 Animation wonderland

Find out how animated movies are made at the ArtScience Museum's DreamWorks Animation: The Exhibition, which gives a behind-the scenes peek into box-office hits including Shrek, Kung Fu Panda and How To Train Your Dragon.
Those looking for some excitement will like Dragon Flight: A Dragon's-Eye View Of Berk, a 12m, 180-degree projection installation that takes visitors on a panoramic ride on the back of Toothless, the dragon from How To Train Your Dragon.
New pop-up stations, which offer free face paintings, free film screenings and popcorn, have been set up for the September holidays.
Where: ArtScience Museum, Marina Bay Sands
When: Till Sept 27
Admission: Adult $14 to $21, child (two to 12 years old) $13
Info: Go to www.marinabaysands.com/museum/dreamworksanimation.html
10 Drama classes
If your kids are fans of American children's book writer Mo Willems, Act 3 International's drama workshops are perfect for them as they are inspired by the author's Caldecott Honor-winning stories.
The annual prize recognises the most distinguished children's picture book by an American.
Children aged two to nine will learn how to speak confidently in front of a group of people through the dramatisation of stories such as Pigeon, Go To Sleep!.
Parents can find out what their children have learnt during a 20-minute sharing session on the final day of the workshop.
Where: One-Two-Six Cairnhill Arts Centre, 126 Cairnhill Road
When: Sept 6 to 13
Admission: $60to $180
Info: Go to act3international.com.sg/holiday-workshop-sept-2015-mo-willems/

This article was first published on August 28, 2015.
Get a copy of The Straits Times or go to straitstimes.com for more stories.