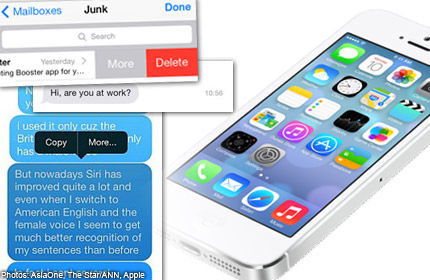 Like the complete and utter geeks that we are, some of the Bytz team stayed up till well past 2am trying to update our iOS devices to iOS 7. Then we sat up till 3am finding out more about Apple's new operating system for mobile devices.
Here are seven tips we learned from our short amount of time with iOS 7:
Deleting messages in iMessage
Because of the new cleaner interface, some functions have been moved around or are less obvious than before.
Case in point is iMessage - where previously you could tap on Edit at the top of the screen to delete individual messages or clear the entire conversation thread, it's no longer immediately clear how to do this in iMessage.
To delete indvidual iMessages or clear a whole conversation thread in iOS 7, just tap and hold on a message, which will bring up a "Copy | More.." pop-up menu.
Choose "More..." and you will be given the option to delete individual messages or the entire conversation thread.
Automatic App updates
One of the features that iOS 7 introduces is an automatic app update function which will download and update your apps for you without any interaction on your part.
If you're worried about the battery drain, don't - apps will only download and update when iOS 7 detects that your device is connected to power and to a WiFi network.
When you first visit the Updates section in the App Store, iOS 7 asks whether you want to turn this feature on.
However, if you decide that it's not for you and want to toggle it off or back on again later, just go to Settings\iTunes & App Store and under Automatic Downloads, enable the "Updates" toggle.
Hide Newsstand
While Apple's Newsstand app is very useful for the larger iPad screens, it's almost completely useless on small screened devices like the iPhone.
The problem with iOS 6 was that Newsstand couldn't be put into a folder like every other app and the OCD amongst us had to find other creative hacks to hide the offending app.
Well, it seems our cries have been heard by Apple - in iOS 7, you can easily put Newsstand into any folder just like any other app. Yay!
Swipe your e-mail messages
The new e-mail view in iOS 7 is a lot cleaner and more minimalistic, but again, like with iMessage, some features are not at first obvious.
For example, in your e-mail app's Inbox view, you can drag a an e-mail message from right to left with your finger to expose more options, such as to Trash the messsage or to directly reply, forward, flag or move the message to a folder.
Block calls and messages
This feature should make a lot of us very happy - iOS 7 now allows you to block calls and messages from specific contacts.
There are two ways to do this - the first method requires you to go to your contact list and select a contact by tapping on it. Then scroll down to the bottom and tap on the "Block this Caller" button.
You can also go to Settings\Messages\Blocked and add or remove callers in the blocked list.
Check that iMessage timestamp
Sometimes, you receive an iMessage or a text message and you're not sure when it arrived.
Well, iOS 7 now allows you to check the timestamps on every text message - while in your message thread window, just drag your finger from right to left to "peek" at the timestamps for each message in the thread.
Activation lock
Apple has instituted a major new security feature in iOS 7 that not only remotely wipes your iOS device if it is stolen, but also locks it so that nobody will be able to use it again unless they have your iTunes username and password.
This feature is automatically set up for you if you already have an iCloud account and associated it with your iOS device.
However, there is one setting that you need to check to make sure this feature is on.
Go to Settings\iCloud and scroll down to the "Find my iPhone" option and make sure the switch is enabled.
Once this is enabled, if your iPhone/iPad/iPod touch is stolen, all you have to do is to go to iCloud.com on your PC or Mac and login with your iCloud username and password.
In the Find my iPhone section at iCloud.com, you will get an option to remotely erase your iOS device and basically brick it until the iCloud username and password is entered.
Since this Activation Lock happens on Apple's servers, the iOS device theoretically cannot be hacked to unbrick the device.
If you still have hopes of recovering your iOS device, you can also alternatively set it to Lost Mode, which will passcode lock the device and set a message of your choosing on the screen, such as "If found, please return this device to XXX."