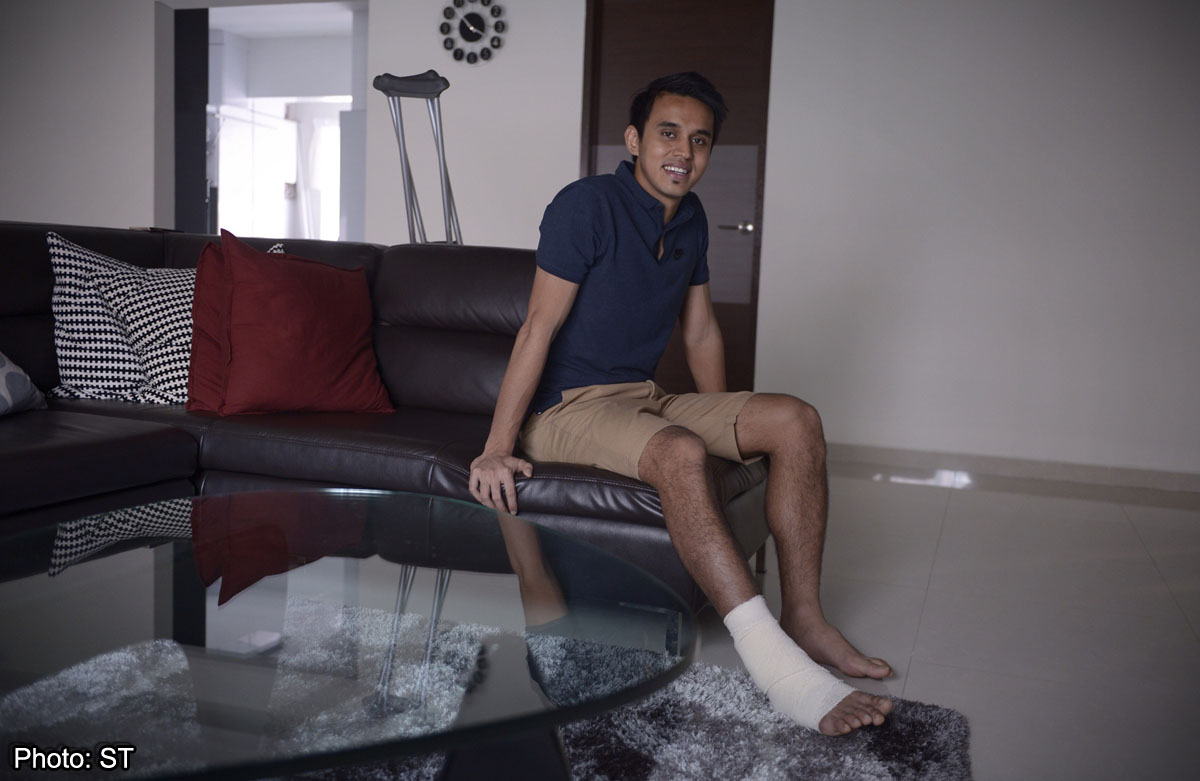 SINGAPORE - One of the abiding images of Singapore's campaign at November's ASEAN Football Federation (AFF) Suzuki Cup was the sight of Shahdan Sulaiman clutching his mangled right ankle in agony.
Yet, two weeks later, the midfielder was back in the gym to start the long slog back to match-fitness.
On Thursday, he passed another milestone on that road when a metal screw holding his broken ankle in place was removed.
Just six weeks ago, he was warded in Raffles Hospital wondering if his career was over after fracturing his fibula and dislocating his ankle in an accidental collision with team-mate Khairul Amri. That horrific injury required surgery to insert eight screws into his leg.
Speaking to The Straits Times in his Pasir Ris home, the genial footballer said: "When I was in the hospital and had time to think about how badly twisted my ankle was, I thought this was the end of my career.
"The doctor said I would recover in six months, I wasn't sure I could play professionally again."
The gloom surrounding his injury has since made way for optimism.
On Thursday, the playmaker went under the knife to remove a six-centimetre screw holding his ankle in place. His protective cast was also taken off but he still relies on crutches.
But as Shahdan revealed, he started to do weights training in the gym twice weekly two weeks after his fracture.
He had asked national fitness coach Aleksandar Bozenko and team physio Nurhafizah Abu Sujad for a training programme.
The 26-year-old said: "The doctor gave me three months' MC. But I was itching to do something after two weeks.
"I can't possibly be sitting at home for three months.
"I'm relieved as it means I'm one step closer (to playing again). My doctor also said my recovery is on track although it feels strange to be out of the cast."
Nervously cracking his knuckles as he recounted the past six weeks, Shahdan said: "The first week was the worst. I would wake up in the middle of the night with a throbbing pain, and because I can't really move, I can only lie there and take it.
"Emotionally, it was difficult. Dealing with the doubts, the question marks, was tough. I know the leg will heal if I don't do anything silly but I keep thinking if I will be the same player again."
Shahdan, who is noted for his passing, has since increased his weights training to thrice weekly.
Besides the 90-minute gym sessions, he spends most of his time at home with wife Suzielya Jamil and son Shaqeel Ilhan, who is one.
He credits his surgeon, Dr Sittampalam Krishnamoorthy, and the Lions trio of Bozenko, physio Nurhafizah and strength and conditioning coach Matthew Jones for helping him.
He is also grateful for the faith shown in him by new employers LionsXII, who signed him despite his injury.
A verbal agreement was struck before the AFF Cup but the team honoured their word by offering him a contract after his injury.
While he is itching to get back on the pitch, Shahdan is opting to take things slow.
He recounted an incident earlier in his career when he rushed his return from a hamstring problem, only to reinjure it.
For now, he has marked out June 3 as his comeback date when the LionsXII play Sarawak at Jalan Besar Stadium.
Said Shahdan: "I miss playing football. The time out has made me stronger and I will be doing all I can to make it a successful comeback."
siangyee@sph.com.sg

This article was first published on Jan 10, 2015.
Get a copy of The Straits Times or go to straitstimes.com for more stories.