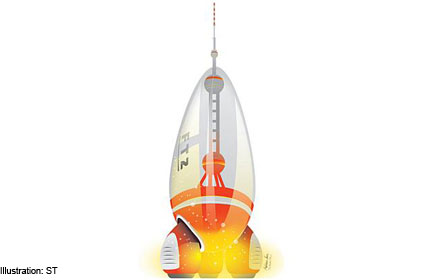 It has been just over a month since Shanghai's free trade zone was launched to much fanfare on Sept29, lauded as one of China's most significant economic experiments to date.
As the first such zone within mainland China, the 28.78 sq km territory will allow the exchange of goods without tariffs and with easier customs approvals, providing a big boost to trade.
More importantly, it will serve as a testing ground for new reforms that lift curbs on interest rates and the use of the yuan. It will also reduce administrative red tape, and open up a wider range of sectors - especially in domestic services - to foreign investment.
No specific time frame has been set for each of the reforms, but principles tested in this economic laboratory over the next three years are meant to be extended eventually nationwide.
Over time, the groundwork in Shanghai, it is hoped, will ease China into three longer-term goals. These are full convertibility of the yuan; the removal of all interest rate restrictions; and the opening of the tightly-controlled services trade, to become a major driver of growth.
Shanghai is not the first guinea pig in attempts by China's economic leaders to unbuckle the country's financial and trade markets. Shenzhen's Qianhai zone also offers some preferential policies for financial services and foreign investment, though these are not as comprehensive.
Meanwhile, Beijing has implemented a slew of other incremental financial freedoms leading up to China's Third Plenum this month. The key policy meeting is touted to be a landmark event where plans for deeper reforms - building on the free trade zone - are expected to be unveiled.
In July, the People's Bank of China scrapped the floor on lending rates. And last month, Beijing followed this up by removing the minimum capital rules for creating new companies, thus making it easier for smaller and private businesses to be set up.
But Shanghai's free trade zone offers reforms on a different scale and ambition, leading many to call it a potential game-changer.
"We believe the importance of this pilot free trade zone could potentially be on a par with China's special economic zones in the 1980s and its commitment to join the World Trade Organisation in 2001," said Barclays economists Jian Chang and Joey Chew.
A game-changer?
Analysts who believe the Shanghai zone will prove a milestone in integrating China with the global economy point to some marked improvements in the zone's business environment.
First, foreign companies and investors will be allowed to compete with local firms on a level playing field in most industries in the free trade zone. This is an unprecedented move that reduces the government's role "to that of a record-keeper", as Credit Suisse analyst Dong Tao puts it.
Instead of prescribing permitted investments, Beijing will take a "negative list" approach, where foreigners will be allowed to invest unless specifically prohibited from doing so.
Some 18 services segments will also be opened up for more foreign investment. This is a departure from previous free trade zones that focused largely on goods for export. These include banking, shipping, legal, telecommunications, cultural, education and medical services.
Financial reforms are eagerly awaited, especially the freeing up of interest rates and full yuan convertibility. This would allow foreigners to freely exchange their currencies for yuan to buy Chinese assets. Locals could also invest abroad without needing permission.
Companies will also be able to obtain business licences more quickly and easily - from 29 days down to four. The change signals a shift in the government's management approach, from one of "pre-event" controls such as approvals and licensing to a "post-event" style of regulation, said Mr Dong.
"In our view, this is the most significant reform effort made so far by the new leaders in Beijing," he added.
While the free trade zone "cannot address all the structural problems that China faces today, and probably cannot lift growth much in the short run", it is "an impressive step in the right direction" by re-engaging private investment through reforms, he noted. "This move suggests the new leaders are making an important change in policy thinking by placing reforms ahead of stimulus measures."
Over-hyped?
But not everyone is convinced that the free trade zone is all it is cracked up to be, with some analysts sceptical about the pace and reach of any reform progress.
One oft-cited disappointment is the failure to reduce China's 25 per cent corporate tax to a preferential 15 per cent within the zone, as had been widely anticipated.
"The detailed plan announced so far is less 'breakthrough' to some extent, with some highly anticipated policy incentives, such as a 15 per cent corporate tax rate, not included in the first version of the general plan," said OCBC economist Tommy Xie.
And while the negative list for foreign investments is hailed as a breakthrough to loosening government control, the list of limitations still runs 10 pages long. There are over 200 restrictions, including on telcos, media and banking, although the government has said it will be shortened over time.
This is one key reason the zone has been off to a slow start so far, with foreign banks reportedly unsure of the benefits of setting up a branch there.
Even companies that have registered to open in the zone are said not to understand fully how it will work. The rules are still short of details, especially on how the zone will interact with the broader Chinese economy.
In a country where signs are often more closely watched than data, the absence of the zone's chief backer, Premier Li Keqiang, from its opening ceremony was also seen as a bad omen.
"None of the top leaders were present, not even a vice-premier," Mr Bo Zhiyue, a senior research fellow at the National University of Singapore, told Bloomberg Businessweek. This was interpreted as a signal that Beijing's political elite may be divided on how reforms are to proceed.
Meanwhile, few economists expect the zone to give much immediate benefit to China's economy.
"Near-term impact on top-line growth is likely to be relatively minor beyond the initial investments into physical structures and systems as companies rush in to make their presence felt," said UOB economist Suan Teck Kin.
"This is because of the experimental nature of this new programme as well as initial kinks to be ironed out."
HSBC head of China equity strategy Steven Sun, however, is taking a longer and cheerier view.
"Rome wasn't built in a day," he said. "This is a three-year project that, if successful, will be rolled out nationally."
A rising threat
To the extent that the free trade zone advances the People's Republic's ambitions to become a regional commercial hub, it also poses a threat to the existing Asian financial centres of Hong Kong and Singapore.
OCBC's Mr Xie has identified three key areas Shanghai could emerge as a competitor to Singapore. These are shipping, the trading of commodities futures, and treasury services for large companies' day-to-day capital management.
First, the establishment of the free trade zone may help speed up Shanghai's efforts to become an international shipping centre, Mr Xie said. Shanghai overtook Singapore as the world's busiest container port in 2010, but lags in its legal framework and services standards - areas that are being specifically enhanced in the zone.
Second, China will likely allow the establishment of futures delivery warehouses in Shanghai, challenging Singapore and Busan, which now dominate the business of storing metals in the region.
A third danger, but a less immediate one, is that multinationals that now rely on Singapore to take care of their treasury services may direct their business to Shanghai instead, once restrictions on capital are removed, Mr Xie said.
But there are potential benefits too. Singapore's DBS, one of only two foreign banks approved so far to operate in the free trade zone, views the zone as creating opportunities for the bank as more firms and investors set up there.
The success of Shanghai's free trade zone will depend on how committed China's leaders are to reform. More clues about that will be revealed at this weekend's Third Plenum. The momentum for change is already under way; all eyes will be on China to deliver on the hype.
fiochan@sph.com.sg

Get a copy of The Straits Times or go to straitstimes.com for more stories.