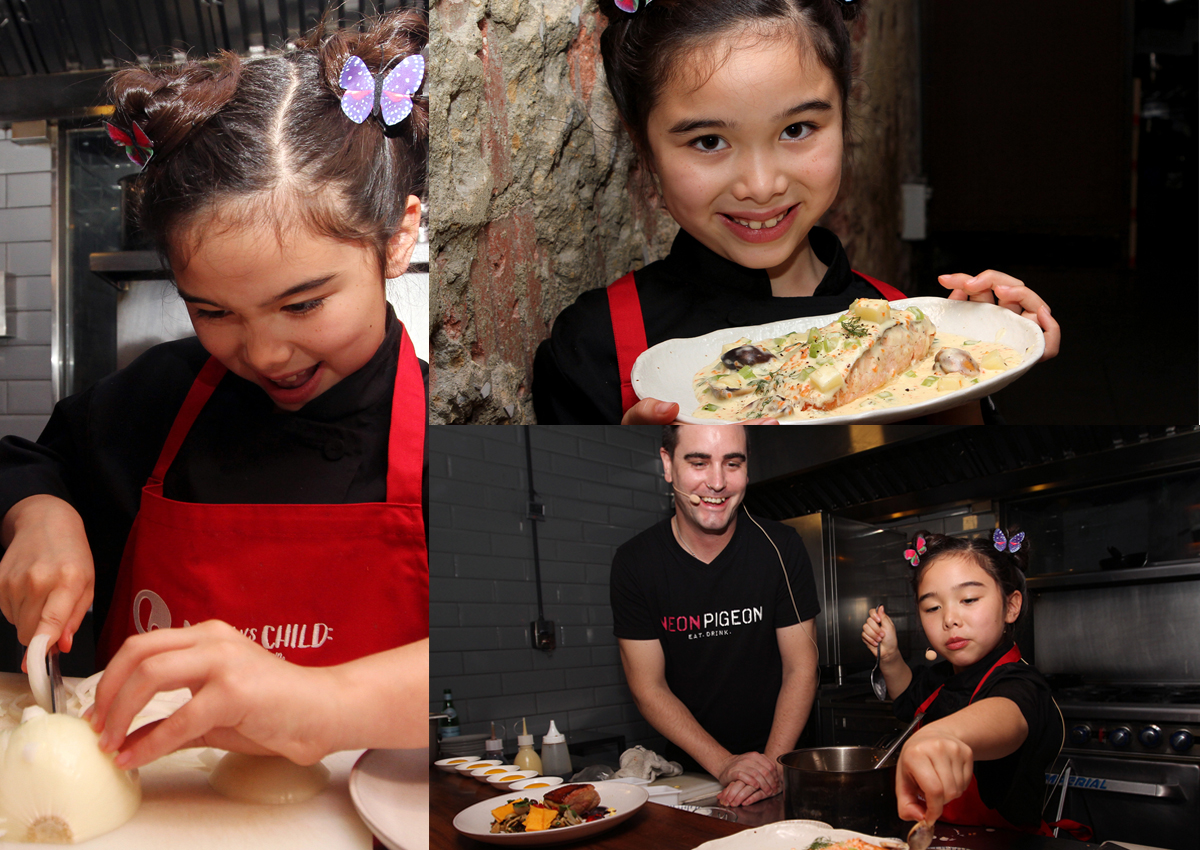 Her favourite foods include steak tartare and caviar.
And her favourite dishes to make are Tournedos Rossini - a French steak dish - and filet mignon.
Chinese-American culinary prodigy Estie Kung is only eight years old, but already has posh tastes.
She gained fame as the youngest contestant on reality cooking series Man VS Child: Chef Showdown, where executive-level adult chefs compete with a team of young cooks, the oldest among them just 14.
It premieres on Lifetime (StarHub Ch 514) on Jan 26 at 7pm.
The Los Angeles native was in town to promote the show and at yesterday's press event, held at local restaurant Neon Pigeon, she went head to head with one of its chefs in a 20-minute cooking challenge, where she prepared a pan-seared salmon with New England clam chowder sauce with ease.
She is living her dream as a chef and even has plans to release her own children's cookbook.
Her culinary journey began when she was a three-year-old helping her mother in the kitchen.
Estie told M: "The first dish I cooked by myself was called Surprise Pie when I was four.
"There's a Rice Krispies Treats crust filled with chocolate pudding and there's whipped cream on top. It's all pre-packaged so I just put it all together."
Since then, her palate has evolved and she enjoys the finer things in life, like going to fancy restaurants.
Estie's mother, Mrs Laura Kung, said: "When she was younger and her older sister couldn't babysit for us, my husband and I would bring her along on our dates (to the restaurants).
"A lot of times we didn't think she would eat the food because she was really little but she did.
"There were things she didn't like and things she did so she had a lot of opinions about it and it was actually really interesting for us."
Mrs Kung added: "We, and even the judges (on Man VS Child), joke that Estie will grow up to be a horrible date."
Estie chimed in: "I'm a messy eater who likes expensive food so I'll be the worst date in the world."
However, she still hopes to improve her skills and master the art of cutting sushi.
"It's like ripping a piece of paper completely straight in half. It's that hard," she said.
natmeah@sph.com.sg

This article was first published on January 20, 2016.
Get The New Paper for more stories.