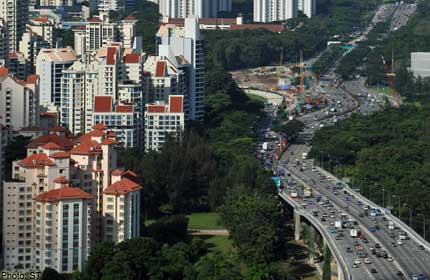 SINGAPORE - Rising numbers of holidaymakers around the world are using Internet booking sites to stay in homes as a cheaper, more interesting alternative to hotels, including in Singapore.
But this is illegal here, the authorities have warned home owners.
Renting out a room or a whole unit short-term is in breach of private and public housing rules, and owners can face tough penalties if they are caught doing so.
The Housing Board, which has stepped up enforcement on what it called "transient subletting" since the start of last year, noted that short-term home rental is a recent phenomenon.
Last year, it received 20 complaints from the public on short-term leasing. This year, in the first seven months, it had another 11 cases.
In total, HDB investigated 106 cases last year, and this year, 73 cases up to July.
The Urban Redevelopment Authority (URA) did not give figures for what it termed "transient occupiers".
But last year, it found about 1,800 cases of unauthorised private home use, including short-term stays. In the first seven months of this year, it had about 980 such cases.
URA said these were mainly unauthorised conversions of private residential property to workers' dormitories or boarding houses.
Both HDB and URA said short-term leasing is banned as it might disturb and inconvenience others in residential estates.
But if the stays do not involve money, the owners are not breaching the rules.
Residents who occasionally allow relatives or friends to stay over should be in the clear, as are those hosting friends via websites like Couchsurfing. But they must ensure that they do not trouble their neighbours.
Sites such as Airbnb, Roomorama, Travelmob and Wimdu list Singapore units for rent.
Many units require a minimum stay of just a few days - some only a day. Most appear to be condos.
Home occupiers can list their places on these websites for free to earn extra cash.
But not everyone realises that such arrangements flout HDB and URA rules: Six months is the minimum subletting period here.
A host who declined to be named said he was unaware that short-term stays are not allowed.
He added that he is unsure if he will keep advertising.
Many customers are unaware too.
Said finance executive Alice Yong, 25, who booked a condo unit for family members visiting Singapore for a few days: "The site was quite well-established and popular. I did not think it would be allowed if it was illegal."
Stiff penalties apply for the breaching of subletting rules. HDB can impose a fine or even compulsory acquisition of the flat and guests can be evicted.
Private home owners can be fined up to $200,000 by URA or jailed for up to 12 months or both.
When contacted, Airbnb said that it requires users to comply with the laws and regulations of the host's country or city. It has met "governmental agencies to seek clarification on the relevant laws", it added, but did not elaborate.
Roomorama co-founder Teo Jia En said it also has conditions stating that the host should be acting in line with local rules. She added that even though Roomorama is based in Singapore, its focus is overseas as Singaporeans are keen travellers.

Get a copy of The Straits Times or go to straitstimes.com for more stories.