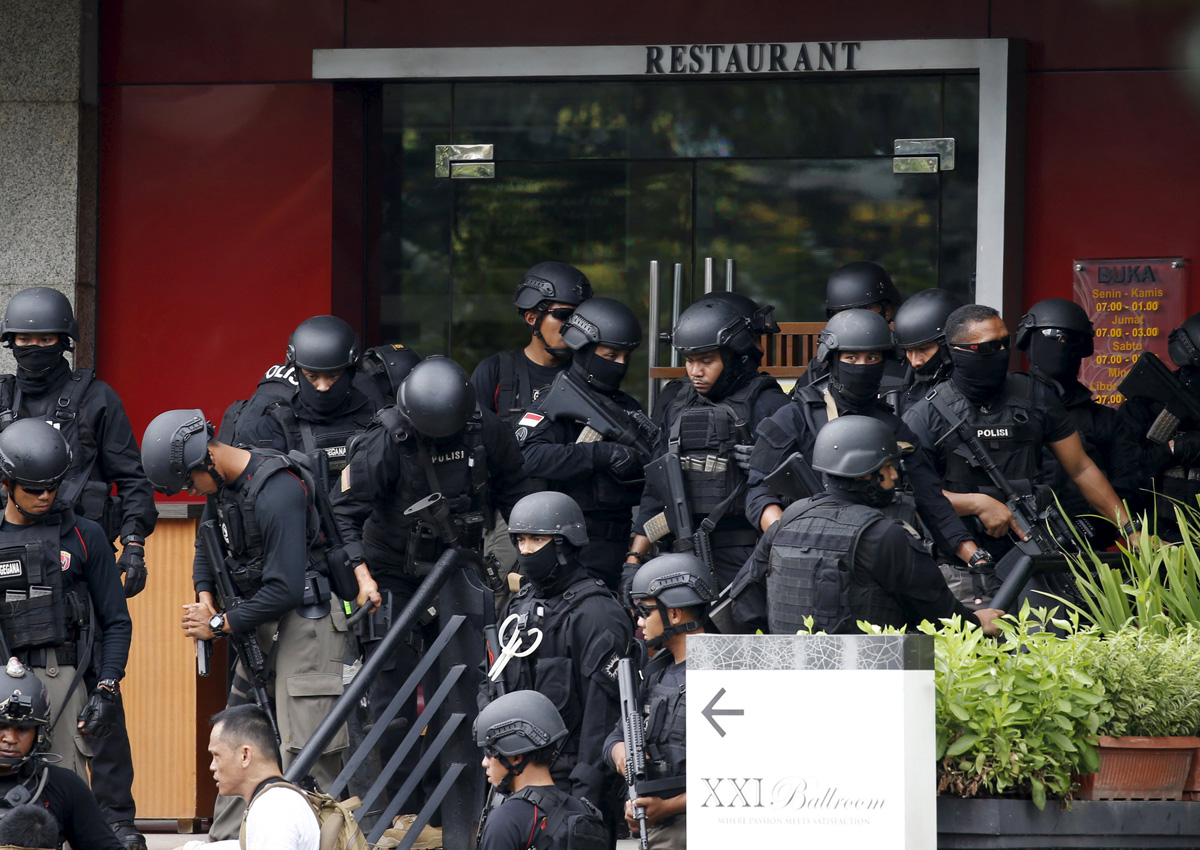 Indonesia is home to the world's largest Muslim population but, as recent attacks in Turkey and Pakistan have shown, that matters little to members and supporters of the Islamic State in Iraq and Syria (ISIS) terror group.
Indonesian police fingered local militants with ties to ISIS as the perpetrators of yesterday's attack on a busy downtown area in central Jakarta that left seven dead and more than 20 injured.
Hours later, ISIS publicly claimed responsibility for the siege.
The attack comes just weeks after the country was put on high alert after its intelligence agencies picked up chatter of an impending attack in its capital city.
Thousands of police and military officers were deployed to secure the country over the Christmas and New Year weekends. Another 2,000 personnel were sent to the jungles and mountainous areas of Poso in Central Sulawesi to hunt down the East Indonesia Mujahidin (MIT) group led by Santoso, the country's most wanted terrorist.
Yesterday's attack also follows a series of arrests from an extended nationwide counter-terrorism campaign against groups like the MIT.
Security experts say Indonesia's tough stand against extremist groups is one reason that it remains a target of local militants and this is not limited to those linked to ISIS.
Jakarta has seen over a dozen terrorist attacks in the past 15 years, carried out mostly by extremists with ties to the Jemaah Islamiah (JI). That yesterday's attack took place just two days after influential cleric Abu Bakar Bashir made his first public appearance in court in five years was not lost on observers.
Though JI's capabilities have been significantly diminished in recent years, some of its militants may still be capable of carrying out an attack.
Al-Qaeda leader Ayman al-Zawahiri recently also declared that South-east Asia, with its strong ties to the West, was ripe for attacks, particular against Western targets in their cities that typically have secular governments.
Indeed, yesterday's attackers struck during the busy lunch hour at a junction notorious for heavy traffic on weekdays. The junction of Jalan M.H. Thamrin and Jalan Wahid Hasyim is close to various ministries, shopping malls and eateries, and only a short drive away from the United States Embassy and a United Nations office.
Jakarta blasts: timeline of Islamist attacks in Indonesia https://t.co/gDKb8ACb5v pic.twitter.com/2jdUNQ0NIU

— AFP news agency (@AFP) January 14, 2016
Counter-terrorism and security expert Susan Sim says the capacity and will to kill has always been there among those who see themselves as jihadis in Indonesia.
"That capacity was degraded when JI bomb-maker Noordin Top was killed after the 2009 attacks (on Jakarta hotels), but others stepped up to inherit his mantle, the longest-surviving terrorist leader in Indonesia thus far being Santoso," she added.
"And he's been attracting wannabe jihadis who decry JI as all talk, no action because JI has been focusing on building up its capacity."
The MIT has mounted several attacks on police officers in Poso and attempted to blow up churches and mosques in Central Java in the past few years, even before ISIS gained prominence in the region.
Ms Sim, a former intelligence analyst and now a vice-president (Asia) at New York-based The Soufan Group, said that while ISIS seems happy to claim credit for yesterday's attack, it is still unclear if the latest siege on Jakarta had been directed by ISIS in any way.
She also said that it remains to be seen if any of the perpetrators were Indonesians who had returned from fighting in Syria.
Estimates from security agencies in Indonesia, Malaysia, Singapore and the Philippines show that at least 900 from all four countries have travelled to join ISIS in Syria. Most of them - about 700 - are from Indonesia, though some agencies have published lower numbers.
Indonesia's National Intelligence Agency has been tracking at least 100 citizens said to have returned from the Middle East after joining ISIS, while its counter-terrorism unit Detachment 88 has been running surveillance on 60 to 70 of these returnees to date.
Terrorism analyst Adhe Bahkti believes that these returning fighters will continue to pose a clear and present danger over the long term.
"If their jihad in the Middle East is successful, they would be a threat to Indonesia; but if they fail and return home, they would be an even greater threat as they would want to express their anger back home."
Experts say yesterday's attack may just be a sign of things to come, not just for Indonesia but also for the region.
"The threat from ISIS is far more real than we thought," said Mr Adhe.
"The attack tells us we don't have to wait for years for Indonesian ISIS militants who have returned home to strike," he added.
Ms Sim says the Thamrin incident will draw the attention of ISIS to the militant groups in Indonesia, which have been pledging allegiance only to be ignored.
All this means that the attack in Jakarta may just be the beginning of more attacks to come in this region.
tkchan@sph.com.sg

This article was first published on Jan 15, 2016.
Get a copy of The Straits Times or go to straitstimes.com for more stories.