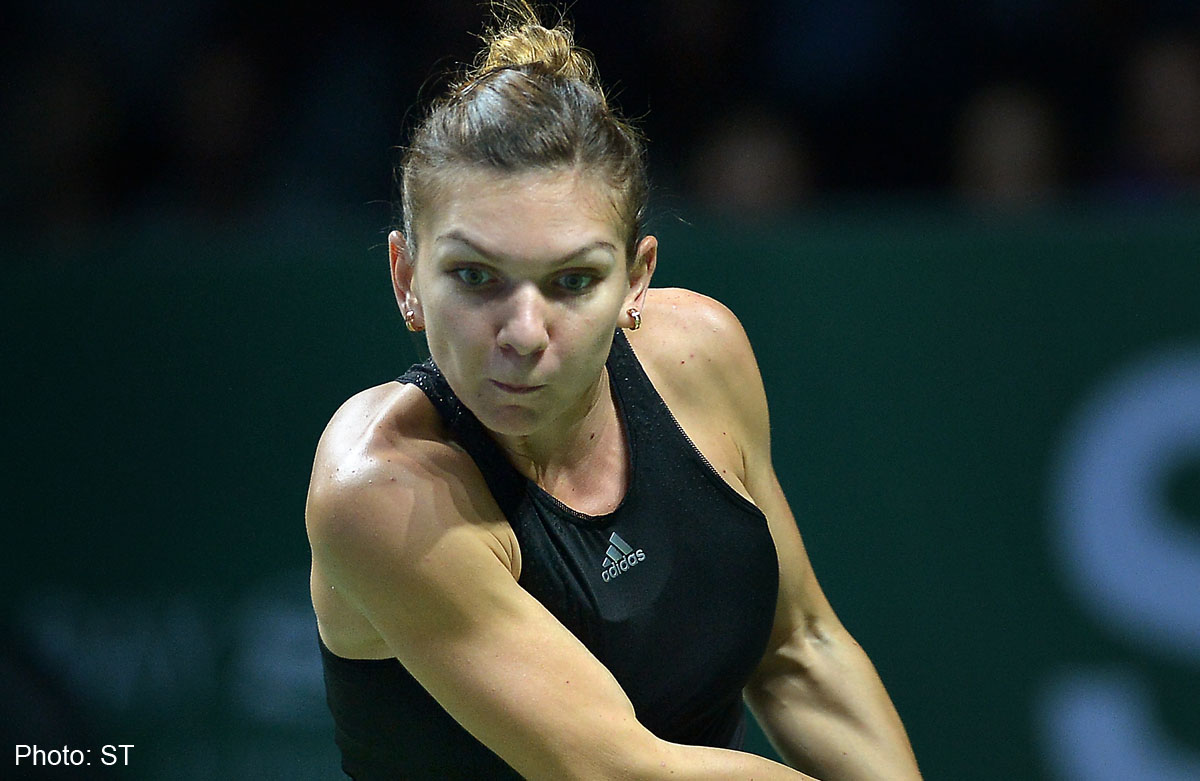 Before yesterday, Simona Halep had never taken so much as a set off any opponent ranked in the top three, much less a match.
Before yesterday, Serena Williams had only been "bagelled" - losing a set 0-6 - seven times ever. Over 19 trophy-laden years.
Before yesterday, the last time Williams won just two measly games over a match was in 1998, when the American was still a 16-year-old teenager whose fashion statement was rows of beads hanging from her hair.
But yesterday happened. And today, Romania's Halep has the biggest scalp of her young career, trouncing Williams, arguably one of the game's greatest players, 6-0, 6-2 at the BNP Paribas WTA Finals Singapore.
The triumph, not surprisingly, surprised even the victor herself.
Said Halep: "After this match I learnt many things. I learnt that I have to believe in my chance and just go on court to play my game."
"It means a lot, this match."
On the important moments I played really well. So after today, my confidence went (much higher)."
Fearless in facing an opponent she had failed to beat in three previous meetings, Halep was solid in pushing Williams behind the baseline.
The 23-year-old, who said she was "not scared" and "relaxed", also held off six break points while breaking five times. It was a performance that earned praise from even Williams after the match.
She said: "Personally I've never seen her play like this. Ever. I've seen her play a lot. You got to step up to the plate. She did, and I didn't."
The 18-time Grand Slam singles champion, meanwhile, was clearly off her "A" game. Reflecting on the slew of mistakes - she committed seven double faults and 32 unforced errors - Williams even described her own performance as "embarrassing".
She said: "My forehand was off today again. I guess it went on an early vacation. My serve was at best in the 10-and-under division in juniors.
"I had an extremely slow start. When you're playing top players, you can't have those slow starts."
Ana Ivanovic's straight-sets victory over Canadian Eugenie Bouchard in yesterday's other singles tie meant that Halep - while in a very good position to do so - has mathematically yet to qualify for the semi-finals.
Which two from the Red group get to progress to the next stage will depend on how the final round-robin matches - played today and tomorrow - go. With still one more match tomorrow against Ivanovic to go, Halep, who will enter the last four if Eugenie Bouchard beats Williams tonight, is not getting ahead of herself just yet.
"First I have to forget this day... I want to keep my mind on the floor, close to the floor, and just to keep working," she said.
"It means a lot, this score, but still doesn't mean everything. It just was a match, was a day. I have many more matches ahead."
"I have to forget about this and continue the tournament."
"Tomorrow is another day, so I have to keep working again... But after the tournament, I will party for sure."
maychen@sph.com.sg
Singles round robin and doubles q-final 3 (StarHub Ch203/Ch205 & 76.25MHz, 1.30pm and 7.30pm)

This article was first published on Oct 23, 2014.
Get a copy of The Straits Times or go to straitstimes.com for more stories.