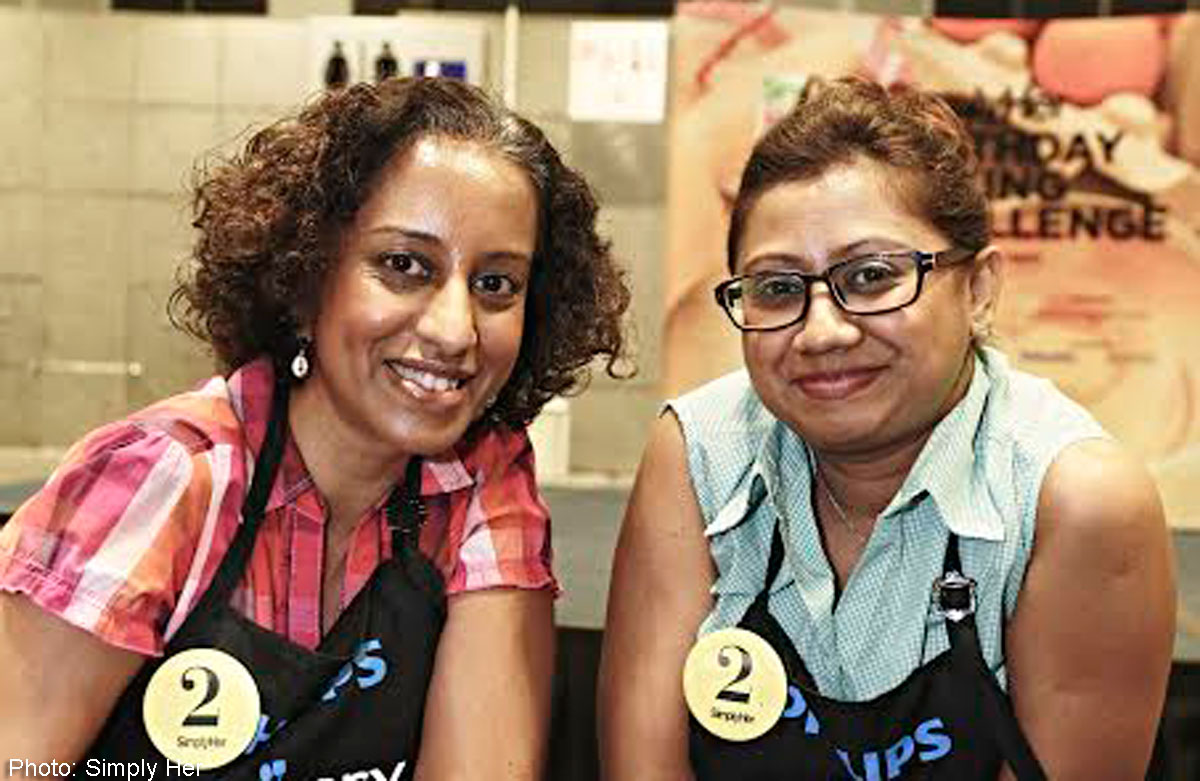 SINGAPORE - Simply Her, a lifestyle magazine of SPH Magazines Pte Ltd, awarded three winning teams in its birthday baking challenge on Nov 8 at Suntec Singapore Convention & Exhibition Centre.
Eight pairs of amateur bakers had less than two hours to bake a cake to mark the magazine's tenth birthday by using a Philips Avance XL Airfryer HD 9240/30.
The cakes were judged based on taste, design and presentation, variety of ingredients, work organisation, hygiene, teamwork and timing. The first prize went to Ida Betryl Cecil, 37, and Sunitha De Silva-Cant, 44, who baked a Chocolate Cake with Chocolate Buttercream Frosting. The cake was decorated with fondant daisies and letters that spelt "Happy Birthday Simply Her".
Ida, a senior manager, and Sunitha, a head of development, took home $1,000 cash plus a Rest and Relax Package from Grand Copthorne Waterfront Hotel with a weekend buffet dinner for two at Cafe Brio's worth $1,005. The two winners, who were former colleagues, also received a Philips Avance XL Airfryer HD9240/30 worth $539.
Chef Steven Ong, Assistant Director, Culinary Studies (Pastry & Baking) at SHATEC, said: "They scored highest overall, based on the criteria. I thought they were very professional. In fact, towards the end, they probably sensed that they were going to win."
Ida said: "We can't believe we won but we worked hard for it." She and Sunitha practised baking with an Airfryer only once before the competition. The baking enthusiasts said they picked a chocolate cake because they felt it would be something that Simply Her readers would enjoy.
Second prize went to Audrey Loke, 34, and Elaine Chan, 29, who made a Green Tea Sake-Misu Cake. Lastly, the third prize went to Wendy Ang, 58, and her niece Carina Ang, 18, who made a carrot cake they called Karton Rose Te Amo.
Apart from Chef Steven, the panel of judges included Maureen Ow, Food and Travel Blogger of www.misstamchiak.com, representing Philips, and Lim Tsiao Hui, Consumer and Lifestyle Editor of Simply Her.
Simply Her had shortlisted the contestants from close to 40 entries, based on their proposed recipes and photos of the cake they planned to bake.
The event was held in collaboration with the School of Life exhibition from Nov 7-9 at Suntec Singapore Convention & Exhibition Centre, Halls 401-402.
stephluo@sph.com.sg