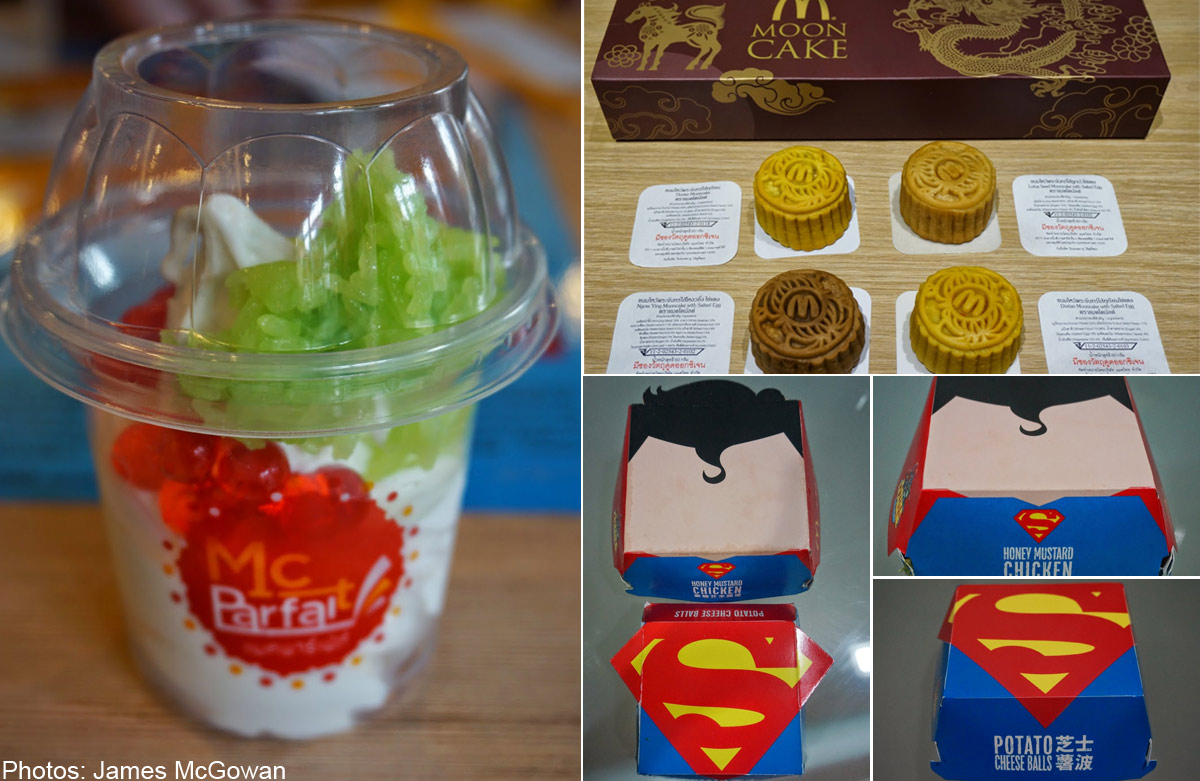 SINGAPORE - For many of us heading overseas this Christmas, a local attraction or shopping district is likely to be the first destination in mind once we step out of the airport.
But for this 26-year-old Singapore expatriate, it's strangely enough the nearest local McDonald's he can get to pronto.
James McGowan from Windsor, Canada has made it one of his missions in life to try the various unique McDonald's food items from around the world - even when he is not in the country.
Blogging at the web address www.travellingmcds.com, the digital marketing executive has written about his adventures taste-testing special McDonald's menu items from over 50 countries in the past three years.
And he doesn't just beeline for McDonald's branches in foreign soil. If he can't get to the country in time to order the limited-edition items himself, he gets his friends and relatives overseas to buy it, freeze it and keep it for him until they come to Singapore or he flies to wherever they are.
That's exactly what he did for one of the latest Mac items featured on his blog - the McMoonCake from Thailand.
The mooncakes came in four flavours - lotus seed paste with salted egg yolk, mixed nut with salted egg yolk, durian, and durian with salted egg yolk - and are available only during the Mid-Autumn Festival every year.
For the record, he thought the mixed nut with salted egg yolk flavour was "genuinely tasty" and the durian with salted egg flavour was "absolutely disgusting".
The number of McDonald's meals he gets to try depends largely on how much he travels or how often he can persuade someone to bring him something from their home country or wherever they may be travelling to.
"I stock up on special sauces and shakers [seasoning packets] to review here in Singapore when my travelling has hit a bit of a lull. I try and do a review a week, so I probably eat at least four items a month," he said.
He heats up "flown in" items from friends and family in a pan, which he says helps with the taste. While burgers which have travelled less than six hours taste more or less the same, he acknowledges that those which have been frozen longer tend to have patties "a little weak on flavour".
Pies on the other hand taste the same no matter what they've been subjected to, he noted.
What made you decide to embark on your quest?
I've always loved travelling. When I turned 16 in 2005, I started to travel on my own. Like many people, I would take photos of all the interesting food I ate on my trips. I started visiting a single McDonald's in every country that I visited and quickly noticed that the photos of the meals were getting far more interest than the rest of my regular photos. I would eat McDonald's casually (but still continue to take photos) until 2011, when I decided to start the blog.
Did you eat McDonald's as a child?
It wasn't something we ate all the time, but I did eat it as often as any other child. Strangely enough, the only thing on the menu I would eat back when I was young was the standard Cheese Burger with only lettuce. Now I want the strangest burger I can find!
In your expert opinion, what do you think of Singapore's McDonald's menu?
The first couple years I was here, the promos weren't that good. But in the last year, they've stepped it up with a range of new 'local' burgers.
They aren't that exciting most of the time, but they are still worth trying. My biggest complaint is the price. McDonald's is just so expensive here for what you get. I believe it's now the most expensive in Asia surpassing Japan.
In the three years [I have been blogging], I've yet to try a breakfast menu promo item here in Singapore.
Can you recommend some must-try McDonald's items from around the world?
I would recommend items that you can only get in a single country. Thailand has rice dishes, Japan has the McHotdog for breakfast and Canada has a seasonal Lobster Burger. I could go on and on.
Do you have any regrets about items you missed out on trying?
Of course! I see items all the time that I'd love to try, but either I won't be travelling to that country or even worse - when I do go there and I miss out on a promo that has either started after I leave, or finished right before I arrive. I've always been unlucky and never been able to try an Oz burger in Australia (a beef burger with Beetroot). I've missed it by a couple days at least three or four times now.
What does your wife say about your hobby?
She's enjoying it more and more. She at least tries every item I review now.
At first she thought I was a bit crazy to ask someone to buy a burger and fly it around the world to Singapore for me to eat, but now she's just as interested as I am to try new items and even tries my flown-in items.
Has your personal pursuit ever impacted your health?
McDonald's is never going to be the healthiest option on the planet. When reviewing a new burger, I usually order it without fries and a coke, so that cuts down on the calories quite a bit. That, and I'm usually sharing a single burger with my wife.
Especially when travelling, it's very rare that we have a McDonald's meal. It's usually a 'snack', coupled with walking anywhere between 10 to 40km a day. It has allowed me to stay healthy, even with this strange hobby. Since starting the blog in 2011, I've yet to gain a single kilogram.
Your method of obtaining McDonald's items is quite unique. Any memorable experiences?
I've had completely random strangers email me and say that they are flying into Singapore and would like to bring me something. That was a bit strange at first.
I've had McDonald's corporate from India and Denmark send me samples to review. But most of the time, I have to source all items completely on my own and recruit friends and family to help out.
A while back, there was a pie in Canada that was only available for a limited time. So I had my mother freeze it for four months and carry it over to Singapore the next time she came for a visit.
What are your other favourite foods?
Both my wife and I love seafood, but are huge fans of anything spicy. We rarely eat out in Singapore, since it's so expensive. We find that money is better spent travelling.
Once we passed that honeymoon phase of eating cheap food from hawker centres, we mostly cook at home now. If we do eat out, we have Indian or Malay food - those are our favourite cuisines here.
My wife cooks most evenings. She's Korean, so she handles the Korean cooking and doesn't allow me to help. Therefore I'm relegated to chopping and washing. If I cook, it's usually Western food. I get the most praise for my Chilli.
What are your future plans?
We just finished a number of trips in the last two months to Australia, Brunei, Thailand, the Philippines and Malaysia. Over the next month, we'll be going to Kazakhstan, Korea, Japan and Taiwan. Not sure where we'll end up next year, but I already have a couple trips in mind.
Hopefully I'll time them perfectly with a couple promotional items from their local McDonald's!
James McGowan has reviewed over 250 items from 50 countries and counting. If you love his work and would like to find out more, head on over to his blog at www.travellingmcds.com. You can also follow him through his Twitter or Facebook account for regular updates on his Mac adventures.
Are you flying to Singapore and would like to bring James something to review? Perhaps you have an item from your country you would love to send over it. Email James at travellingmcds@gmail.com.
yamadak@sph.com.sg