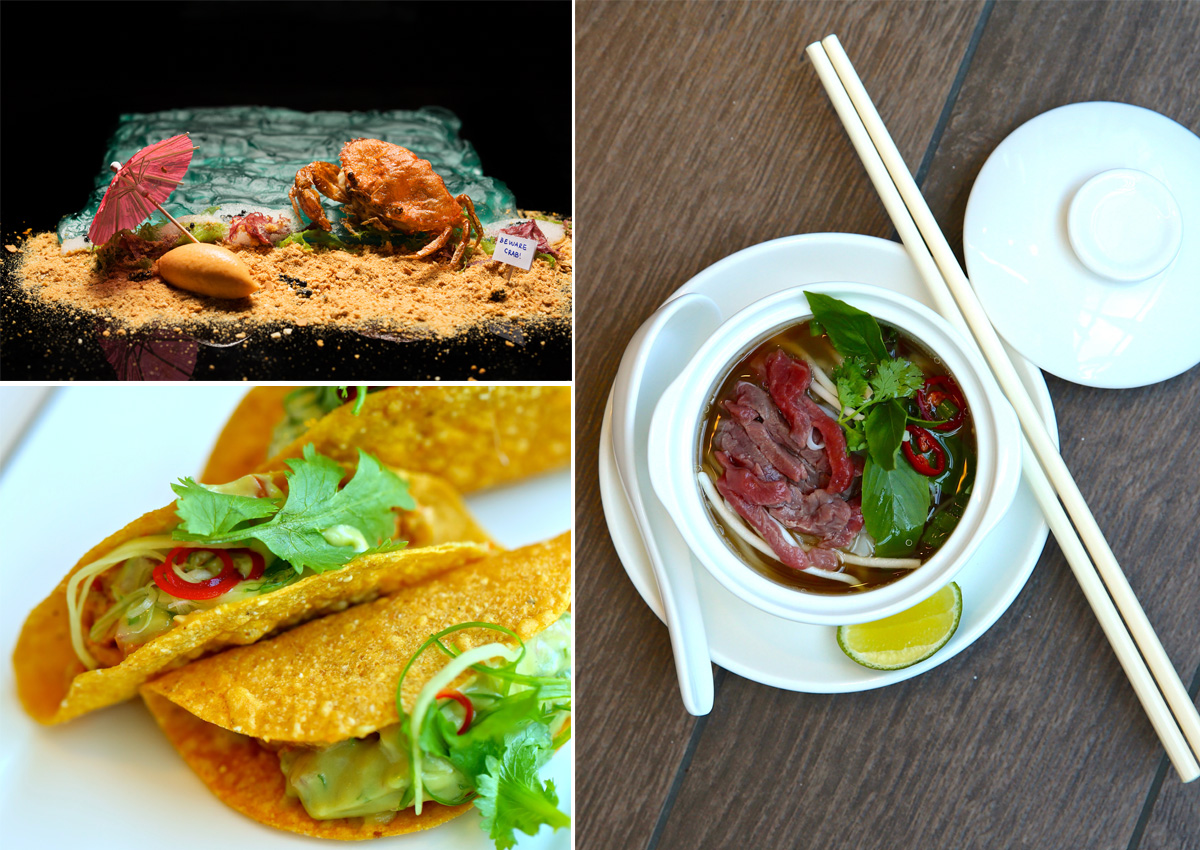 The Singapore Formula 1 Grand Prix (GP) is all about the heart-pounding blur of loud race cars whizzing round and round on our roads, right? Well, if the smell of burning rubber isn't appetizing to you, maybe the aroma wafting from Chef Han Li Guang's take on the classic Hainanese curry rice will do the trick.
Alongside his Quinoa with Chicken Mousseline and Clay Potatoes, the chef from mod-Sin restaurant Labyrinth will also serve up his unique versions of chilli crab (hint: it involves ice cream), rojak puffs and chendol xiao long bao to the approximately 2,000 guests watching the GP calendar's only night race from the air-conditioned comfort of the Sky Suites.

A twist on chili crab. Photo: John Heng
This will be the first year the 29-year-old is catering at the event; his team will make 1,800 tasting portions of each of the four dishes listed above.
He said with a laugh: "As a chef, I think the food is just as important as the racing. I'm sure the F1 drivers wouldn't agree."
There appears to be an emphasis on local talent in the catering this year, although celebrity chefs such as renowned French chef and restaurateur Jean-Georges Vongerichten - who was in town for the race last year - will be flown in again.
Director of food and beverage operations for the Singapore GP Sunil Shamdasani said: "We wanted to see an exciting mix of modern fusion cuisine, local flavours with a twist, as well as the latest food trends."
The Sky Terrace, an open deck for Sky Suite guests, will have three Sky Chef stations which will serve dishes made à la minute from Labyrinth, Italian restaurant Gattopardo, and modern-Australian restaurant Osia at Resorts World Sentosa.
Over at the Paddock, local pastry chef Janice Wong from 2:AM Dessert Bar will serve up her decadent desserts as well as art installations made out of lollipops, accompanying artisanal dim sum items such as portobello and porcini siew mai and foie gras xiao long bao.
Right beside the Sky Chef stations will be Sky Hawker stations, which will offer true-blue Singaporean choices like mee siam, prata and laksa, all to be washed down with a steaming glass of teh tarik.
Mr Shamdasani said: "Because this year is SG50, we really wanted to showcase Singapore. We wanted to cover the entire spectrum of local cuisine - not just the premium items - and it's going to add a real twist to this year's experience."
The F&B team decided last November that they wanted the focus to be on local dishes in honour of Singapore's 50th birthday, and began preparations for culinary competition TrackChef early this year; this brought together chefs from six five-star hotels and apprentices from At-Sunrice Global Chef Academy to design the hospitality menu for this year's race.
The inaugural culinary competition was judged by award-winning chefs Otto Weibel, Eric Teo and Martin Woo. Chefs from the InterContinental and Marina Mandarin hotels bagged the winning place with dishes such as Vietnamese beef noodle soup with sliced Angus beef carpaccio and sweet basil, and coq au vin.

Coq au vin (L) and Vietnamese beef noodle soup with sliced Angus beef carpaccio and sweet basil (R). Photos: Singapore Grand Prix
Mr Shamdasani said: "From tea-infused desserts such as yuzu clipper ever-green tea mousseline to the Hainanese chicken taco with avocado, sour cream and coriander, the competition truly pushed the benchmark on our culinary offerings."

Hainanese chicken Taco. Photo: Singapore GP
Rounding out the Singaporean menu is the specially-created Pitstop Lager, made from a local orchid hybrid with calamansi and longan by Archipelago Brewery, part of the Asia Pacific Brewery.
On the importance of giving their guests a culinary experience they won't forget, Mr Shamdasani said: "We're very passionate about what we serve. While people come for the race, we definitely want them to talk about the food and drinks they had here.
"It's about giving them something to look forward to for the next year, and we're going to continue to use a good mix of foreign and local chefs so we can continue growing and learning."
Chef Han added: "I think being at F1 is all about the atmosphere, which dining is a huge part of. When the race is broadcast globally, there's a focus on the Singapore skyline which serves to market Singapore to tourists. I think giving local food coverage at an event like this is a step in the right direction because foreign guests in our country will have yet another reason to return."
avantin@sph.com.sg
For more information on the 2015 Formula 1 Singapore Airlines Singapore Grand Prix, please visit http://www.singaporegp.sg/

This article was first published on September 18, 2015.
Get The Business Times for more stories.