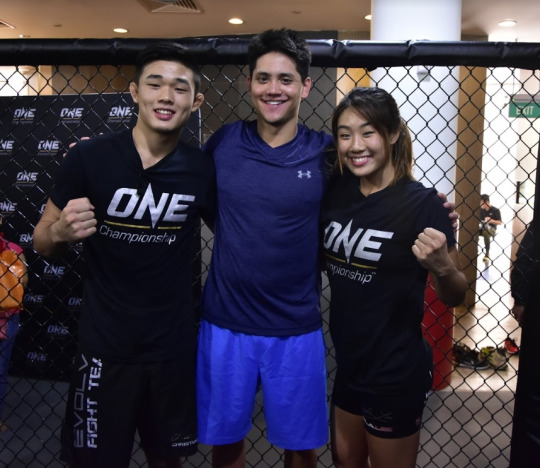 From the unforgiving waters of the 50-meter long swimming pool, Singapore's only Olympic gold medalist Joseph Schooling has brought his exquisite sporting talent to a mixed martial arts (MMA) cage. ** **
Schooling was the main highlight of an MMA seminar spearheaded by ONE Women's Atomweight World Champion "Unstoppable" Angela Lee and younger brother Christian on Thursday, November 24, at the Evolve MMA Gym in Far East Square.
Schooling, who primarily came home to Singapore to be part of the Singapore Swimming Association's golf charity event this past Tuesday — an event which raised $525,100 in support of the group — had an MMA crash course with the Lee siblings as he was taught the basics of the world's fastest-growing sport.
Christian and Angela imparted to Schooling some basic MMA techniques as the swimming prodigy engaged in a number of striking and grappling drills, including how to throw punches and kicks in the proper form, and even how to latch on a rear naked choke.
Christian handled the striking aspect of the public workout, teaching Schooling the proper execution of straight punches, uppercuts, kicks, and knees.
Meanwhile, Angela imparted the trade secrets of her highly-regarded submission skills to Schooling. ONE's reigning Atomweight World Champion holds five submission wins in her immaculate 6-0 MMA record.
Lacing up a pair of MMA gloves for the first time, Schooling revealed that it was a different but welcome experience for him, having had no background in martial arts. From all accounts, Schooling savored the opportunity to train with world-class MMA competitors like Angela and Christian.
Schooling mentioned that Angela Lee is one of his favorite MMA fighters. Angela carved her niche in the sporting scene this year by defeating MMA veteran Mei Yamaguchi to win the inaugural ONE Women's Atomweight World Championship this past May.
When asked what he thought about the whole MMA workout, Schooling responded, "It's really great cardio. I just did it for 20 minutes and I'm already out of breath."
Angela, however, was quite impressed with the swimmer's physical fitness.
"Joseph [Schooling] is a strong athlete, which I find very impressive. I know Olympic swimming doesn't involve anything even remotely near fighting, but he just has that natural power. I was able to feel it while I was holding the pads," Angela said.
While Schooling looked every bit of the new guy at the gym, Angela made it a point to let everyone know that Schooling may have what it takes to train in MMA full time, and maybe even traverse the path of a fighter.
"Being a fighter or a world champion in MMA is not an overnight success. A lot of hard work goes into it. No one is ever born a champion. A lot of people don't see what goes on behind the scenes," Angela said. "But Joseph is really strong and flexible, his body composition is perfect for martial arts. He's a natural."
The highly-touted Olympian is set to return to the United States on Friday, November 25, to resume his studies at the University of Texas as well as his preparation for the 2017 FINA World Masters Championships in Budapest.
The 21-year-old swimmer made history at the recently-concluded 2016 Rio Olympics as he became the first Singaporean to capture a gold medal in sport's greatest competition.
Schooling clocked in at 50.39 seconds in Rio to win the 100-meter butterfly category, beating childhood hero Michael Phelps and making it to the Olympic podium in first place.