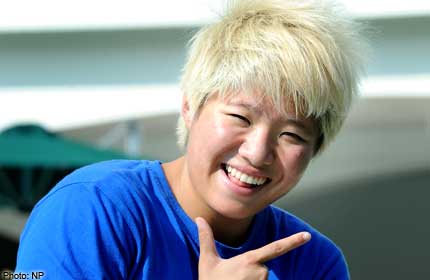 BARCELONA - Singapore's campaign on the second day of the Fina world championships in Barcelona, Spain, ended in the heats.
The nation's three representatives did not make the cut for Monday's afternoon session at the Palau San Jordi arena.
Tao Li, 23, timed 1:03.31 in the 100m backstroke after finishing 33rd out of 50 competitors.
The United States' rising star Missy Franklin qualified in pole position with 59.13.
Samantha Yeo, 16, Singapore's fastest female breaststroke swimmer at the moment, timed 1:11.17 in the 100m.
She finished 36th out of 60 competitors and her timing was off her personal best of 1:10.49 she produced last month.
But head coach Ian Turner was happy with her debut at the world meet.
He said: "Samantha is a work in progress and she has done a sterling job in her first appearance at the world championships. She is one for the future and exposure at this level will do her a world of good."
Joseph Schooling, Singapore's final representative on Monday, also missed out on his personal best in the 200m freestyle.
He timed 1:50.15, missing out on his own national record of 1:49.47 registered in May.
He was 34th out of 69 competitors.
British swimmer Robert Renwick was the fastest qualifier in 1:46.88.
The Singaporean will begin competing in his preferred butterfly events from Tuesday, with the 200m and the 100m on Friday.
Turner is hoping that, with the 200m free over, the United States-based schoolboy can get his nerves out of the way and concentrate on the fly events.
Singapore's other representative in today's events is Quah Ting Wen, who will swim in the 200m freestyle.

Get a copy of The Straits Times or go to straitstimes.com for more stories.