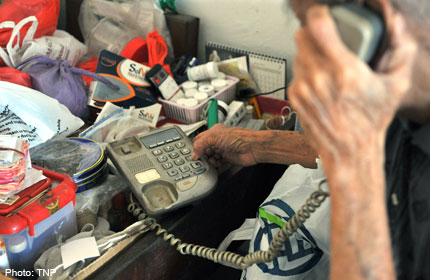 SINGAPORE - In the past two years, Mr Lim Mui Chin, 85, has called for an ambulance more than 10 times.
"I pick up the phone and dial 995 every time I get an asthma attack and feel that I need help," said the retired mechanic.
Mr Lim is just one of the 76,024 who have made calls for the Singapore Civil Defence Force's (SCDF) ambulance service in the first six months of this year.
This is an increase of nearly 6,000 - up from 70,129 in the same period last year.
At a press conference held at its headquarters yesterday, the SCDF said the number of emergency calls received between January and June this year was 73,146 - 5,661 more than what they received in the same period last year.
Spike in emergency calls
Dr Ng Yih Yng, chief medical officer of the SCDF, said the growing population, coupled with the increasing number of elderly citizens like Mr Lim, led to the spike in ambulance calls this year.
He said: "Each senior citizen today has fewer number of younger citizens to depend on, so they resort to calling ambulances. "There is also an increase in cases of chronic illnesses, and many of the elderly are the ones who are affected.
"With the growing ageing population, the number of calls in the coming years are only expected to increase," he said.
To deal with the increasing demand for ambulance services, the SCDF is also planning to engage 10 more private ambulance vehicles by the end of the year.
This will be particularly useful for senior citizens like Mr Lim.
The bachelor, who lives alone in a one-room flat at Kreta Ayer, said he has no one to turn to in an emergency.
He has a younger brother, but said they do not visit each other.
"Whenever I feel breathless I don't know what else to do, so I'll just call for an ambulance," he said.
Said Ms Florence Loh, 50, general manager of the Kreta Ayer Seniors Activity Centre: "Many of the elderly in the area live alone. While some will come to our centre and tell us they are unwell, there are a number who choose to keep to themselves.
"And their first reaction to an emergency is to dial 995."
Note: For non-emergency cases, dial 1777 for an ambulance.

Get The New Paper for more stories.