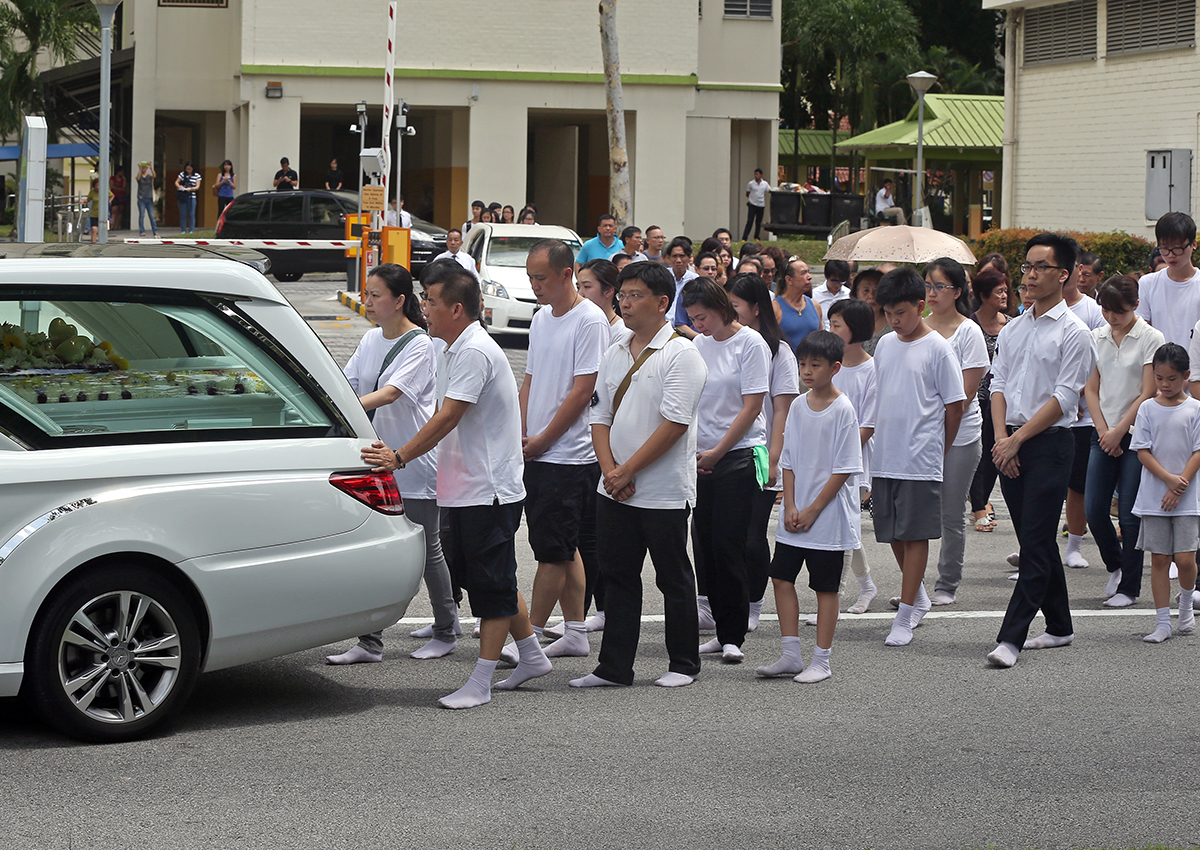 SINGAPORE - Businessman Robin Poon, 50, and his wife, Cecilia Yep Lay Choo, 51, were school sweethearts.
They started dating in their final semester at the former Singapore Technical Institute in 1985.
About 10 years later, they welcomed their only daughter, Kimberly. The family of three lived in a semi-detached house near Jalan Bahar, with two relatives.
Madam Yep, described as homely, would watch Korean shows with her daughter, 22, a Singapore Institute of Management logistics undergraduate. The family of three would go for lunch weekly.
Friends said the Poons were a portrait of domestic bliss - until Madam Yep's silver Mercedes E250 convertible plunged into the Alexandra Canal, as she was leaving a mall carpark on Sunday night.
She and Kimberly, the only passenger, died on the spot.
Yesterday afternoon, they were cremated at Mandai crematorium following a three-day wake at Woodlands Street 41, where Madam Yep's older brother lives.
The Poons had their weekly lunch as usual on the day of the accident. Mr Poon went for a work appointment that evening while mother and daughter went shopping at Valley Point mall in River Valley.
At the crematorium yesterday, family friends said the Poons were close, low-key and modest despite their wealth. Mr Poon runs a car workshop while Madam Yep worked as a human-resource manager at a maritime logistics firm.
"They treated everyone respectfully and never had any airs," said a family friend who had known them for about 30 years. He declined to be named.
About 100 well-wishers sent off the two women's white coffins when they left the wake for Mandai at 1.30pm yesterday. Most were teary-eyed and carried bouquets.
Mr Poon, his mother and mother-in-law did not attend the cremation as they are not allowed to, according to Buddhist tradition.
The Straits Times understands that Mr Poon will go back to work next week to meet a deadline.
Said the family friend: "We are all very worried about Robin. He tries to put on a brave front but he told us in private that he is hurting."
awcw@sph.com.sg
limyihan@sph.com.sg
nghuiwen@sph.com.sg

Get MyPaper for more stories.