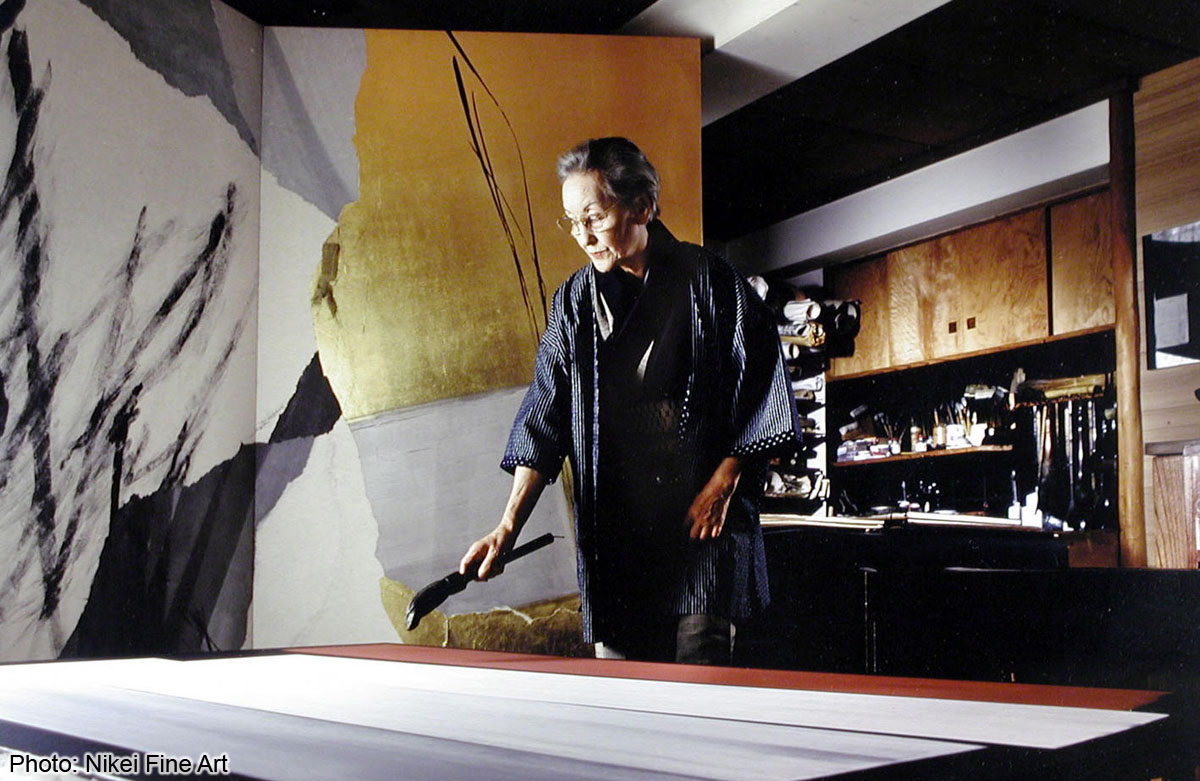 At 100 years old, renowned Japanese artist Toko Shinoda continues to paint. But only when she fancies.
The artist is famed for elegant paintings with a minimalist bent that are grounded in Japanese calligraphy. She has also drawn praise as a trailblazer in abstract art for bridging tradition and modernity in Japanese ink wash paintings.
In an e-mail interview translated by her assistant, she says: "I do not have any regular schedule and paint only when the mood strikes me. From time to time, I pick up my brush and work as I please. I have no specific agenda for work, especially at my age."
She adds: "Having reached this ripe old age, I feel no obligation, even to myself, to work every day. But when I feel like it, I still enjoy the accomplishment of creativity."
A new exhibition at Nikei Fine Art's galleries at Raffles Hotel Arcade and Sentosa Cove will feature 50 paintings and prints from her extensive body of work. The pieces on display were made between 1964 and 2011 and are priced for sale between $3,500 and $38,000.
This show is not her first solo exhibition in Singapore. She previously held one at the Singapore Art Museum in 1996.
The centenarian, who does not let age "get in the way of the things I want to do in life", is likewise uncompromising when faced with possible obstacles in her path.
When asked if she had met with any challenges as an artist who worked in an unconventional style in the 1950s, and in a field dominated by males, she says: "I never enjoyed the word 'challenge' in anything that I did in my life as an artist. I simply did what I wanted and painted what I liked and felt that the rest was for the critics to decide.
"I think it could be said that I devoted myself to my work according to my own rules."
The longevity of her artistic career similarly stems from this independent streak and unwavering dedication.
She says: "I never joined any art group or movement since I didn't want to be limited by rules that such membership might dictate."
Her tireless devotion to her craft has also kept her from marrying. "I have often said that my paintings are like my children," she says.
The fifth of seven children has said it was her father, a tobacco company employee with a passion for calligraphy and Chinese poetry, who introduced her to the art at the age of six. She took lessons in traditional calligraphy and classical Japanese poetry and at the age of 27, staged the first one-woman exhibition at Kyukyodo, the storied Japanese paper specialist boutique in Tokyo.
She went on to stage solo shows in the United States, France and Germany but remains largely unaffected by the plaudits she has received, including comparisons to Picasso made by critics.
"I think it goes without saying that that kind of flattery is indeed pleasant, and it is good to be well-regarded at that level," she says. "But honestly, I have always wondered by what standards I was being judged."
She recounts that she was once given an award by an organisation which she had never heard of and they made the announcement in a newspaper without first consulting her. "I refused to accept either the money or the award and demanded that they print a retraction in the papers since I did not want to be judged by someone whose values I was unaware of," she says.
She adds: "I just do art for myself and this is what I have been doing nearly all of my life."
One hundred years and counting.
lijie@sph.com.sg
View it
TOKO SHINODA: A CENTENARIAN CELEBRATION
Where: Nikei Fine Art, Raffles Hotel Arcade, 328 North Bridge Road, 01-34, and Sentosa Cove, 31 Ocean Way, 01-21, Quayside Isle
When: Till Jan 10, 11am to 7pm (Tuesdays to Sundays), closed on Mondays
Admission: Free

Get a copy of The Straits Times or go to straitstimes.com for more stories.