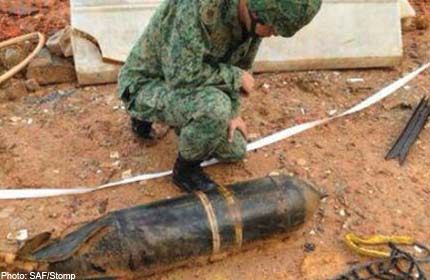 SINGAPORE - Combat engineers and the Explosive Ordinance Disposal (EOD) team from the SAF have uncovered a 100kg armed war relic that is more than 60 years old at a construction site in Seletar yesterday.
SAF said on The Singapore Army Facebook page that they were activated yesterday to assess the war relic - an aerial bomb - which had been buried at the construction site.
"The Explosive Ordnance Disposal (EOD) team was activated after a 100kg, unexploded war relic was found in a construction site north-east of Singapore earlier today. The team immediately responded to the call of duty and assessed the war relic. The aerial bomb was found to be armed and buried for more than 60 years. Our EOD Team will be disposing it on-site tomorrow," it said in a Facebook post dated 8.20pm on Sept 2.
In an update this morning, the SAF said that they are preparing for their EOD Team to carry out a safe and controlled detonation on site.

Visit STOMP for more stories.