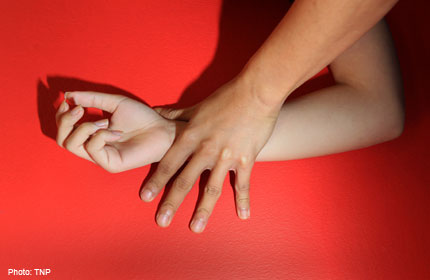 MALACCA - An 11-year-old boy has been accused of raping a six-year-old girl at a babysitter's home.
The attack is reported to have happened on Nov 7 and a medical report has just been released showing that the girl's hymen had a fresh tear.
Police are now investigating what could be the youngest rapist in the country.
Both children were at the babysitter's at about 2pm that day when a neighbour, who asked to be identified only as Shima, 43, noticed that the house in Alor Gajah was unusually quiet.
The babysitter had gone to a nearby grocery store, so the neighbour entered the house through the back door and went to investigate.
Suddenly, the young girl dashed out of a room and was partially naked.
"She was crying and looked stunned," Shima said.
After calming the girl down, the neighbour had a look around the house and saw the boy, the babysitter's stepson, hiding behind the door of another room.
"He was wearing only his pants," said Shima. "He told me he was preparing to attend religious class."
Suspecting something amiss, the neighbour then phoned the girl's mother, 35, and related the incident.
When the mother asked her daughter what had happened, she replied that the boy had lain down on top of her and then she felt a terrible pain in her private parts.
The mother lodged a police report that same day.
Police are investigating the case under Section 376 of the Penal Code for rape.
The girl, the second of three children, has been going to the babysitter since she was a toddler with her elder and younger siblings.
The two other children were taking an afternoon nap when the incident occurred.
Malacca Action Group for Parents in Education (Magpie) chairman Mak Chee Hin believes the boy could have been acting out what he had seen in a pornographic movie, possibly on the Internet.
"It is hard to believe that an 11-year-old could go to that extent," he said.
There have been some cases of children copying unsavoury acts that they had seen on certain websites, he said.
Mak called for making web-filtering and blocking software compulsory to prevent children from accessing pornographic or other inappropriate websites.
"Or we should set a minimum age for web surfers," he added.