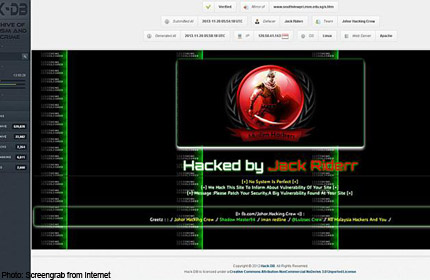 The websites of 13 schools were hacked yesterday, on a day when two ministers came out strongly against the recent cyber attacks.
Capping an incident-packed day, the Singapore Art Museum (SAM) also admitted that personal details of thousands of patrons on its online mailing list had been compromised a fortnight ago. The authorities said they were still investigating if its website had been hacked.
The school sites were reportedly hacked between 3.30pm and 5pm, the Ministry of Education said in a statement last night. "We have referred the matter to the police for investigation and are working to restore the affected websites," a spokesman added.
They were a mix of top institutions and neighbourhood schools. One - that of Raffles Girls' School (Secondary) - was operational in the evening, but the rest were still down at press time last night.
The other schools are: Bukit Timah Primary, Canberra Primary, Compassvale Primary, Greendale Primary, South View Primary, West View Primary, Woodlands Ring Primary, Henderson Secondary, Kent Ridge Secondary, Maris Stella High, St Gabriel's Secondary, and St Andrew's Junior College.
It is understood that all were hosted on the same server and maintained by the same vendor, and was hacked by a person or group signing off as "Jack Riderr".
A search on a hackers' database shows "Jack Riderr" as being from a "Johor Hacking Crew". He also posted screenshots of how the websites looked after they were defaced; they showed a man brandishing a sword with the words "Muslim Hackers" below.
When contacted, some principals said they were not aware that their schools' websites had been hacked.
Earlier yesterday, SAM said the names, e-mail addresses and, in some instances, nationalities of 4,000 individuals were illegally published on a New Zealand-based website on Nov 5.
It coincided with the day global hacking group Anonymous threatened to unleash a "legion" of hackers on Singapore's infrastructure if the Government did not revoke licensing rules for news websites.
The museum said it was unable to share information earlier as time was needed to verify and establish the extent of the incident.
Law and Foreign Minister K. Shanmugam, meanwhile, said at a forum that hacking had to be treated seriously in view of how heavily countries now rely on IT infrastructure.
Hacking is "nothing short of terrorism" if it endangers lives, like when air traffic controls are hacked into, he added.
Communications and Information Minister Yaacob Ibrahim said in a Facebook post that any cyber attack or threat is a "threat on the people", whether the intent was malicious or mischievous.
limze@sph.com.sg
leepearl@sph.com.sg

Get a copy of The Straits Times or go to straitstimes.com for more stories.