$14,000 income ceiling for families, singles who want to buy Plus flats on resale market: Desmond Lee
SINGAPORE — Only families and singles who earn $14,000 or less a month can buy Plus flats on the resale market in the future, as part of tighter restrictions to keep homes affordable and ensure fairness in the public housing system.
Plus flat owners also cannot rent out their entire flat at any point, even after the 10-year minimum occupation period (MOP) is over, said National Development Minister Desmond Lee on Monday (Aug 21).
Providing details of resale conditions for Plus flats, Mr Lee said the rules will moderate demand and keep such homes affordable and inclusive over time.
He noted that about eight in 10 Singaporean households earn $14,000 or less a month — the prevailing income ceiling to buy Build-To-Order (BTO) flats.
Plus flats are a new category of flats located in choicer locations within each region across Singapore, such as those near the MRT station or town centre. These flats will be launched for sale only from the second half of 2024.
Prime Minister Lee Hsien Loong had announced on Sunday that all BTO flats will be categorised into Prime, Plus and Standard flats from the second half of 2024 in an overhaul of the current framework of classifying estates as either mature or non-mature.
The new framework will not affect existing home owners or those who have already booked flats as BTO projects that have been launched will not be reclassified.
On Monday, Desmond Lee said the significant changes to how HDB classifies and sells new flats are to uphold key objectives of affordability, a good social mix in every town and region, and fairness.
At least one buyer must be Singaporean in order to buy Plus and Prime flats on the resale market.
There will also be a 30-month wait-out period for private property owners who wish to buy a resale Prime or Plus flat, said Mr Lee at a post-National Day Rally conversation session at the Lifelong Learning Institute.
Currently, there is no income ceiling restriction to buy a resale flat, except for Prime flats, which have yet to hit the resale market.
Standard flats, which remain the majority of the housing supply, will not have an income ceiling set for resale buyers.
Plus and Prime flats will come with a 10-year MOP, longer than the five years for Standard flats. Prime and Plus flat buyers will have to return additional subsidies when they sell their flats on the resale market for the first time.
Lee noted that the changes will not apply to the 1.1 million existing HDB flats, which will continue to be under existing rules. 
"This means that Singaporeans who fall outside the $14,000 income ceiling will still have access to the existing 1.1 million flats, as well as Standard flats, when they enter the resale market," he said. 
Lee said Prime flats are built in the most prime, central locations in Singapore — in the Greater Southern Waterfront area, as well as towns in and around the city centre, such as Queenstown, Bukit Merah and Kallang/Whampoa.
Plus flats will be offered at choice locations within each region or near the core central region, particularly in attractive locations near transport nodes and amenities, he added.
HDB will launch more projects in locations such as Ang Mo Kio, Bishan, Clementi, Toa Payoh, Bedok, Queenstown, Bukit Merah and Kallang-Whampoa, and some of these will be Plus projects, Mr Lee said.
He added that several projects in Mount Pleasant and Bayshore are good candidates for the Plus model, and there will potentially be Plus projects in existing non-mature estates in future.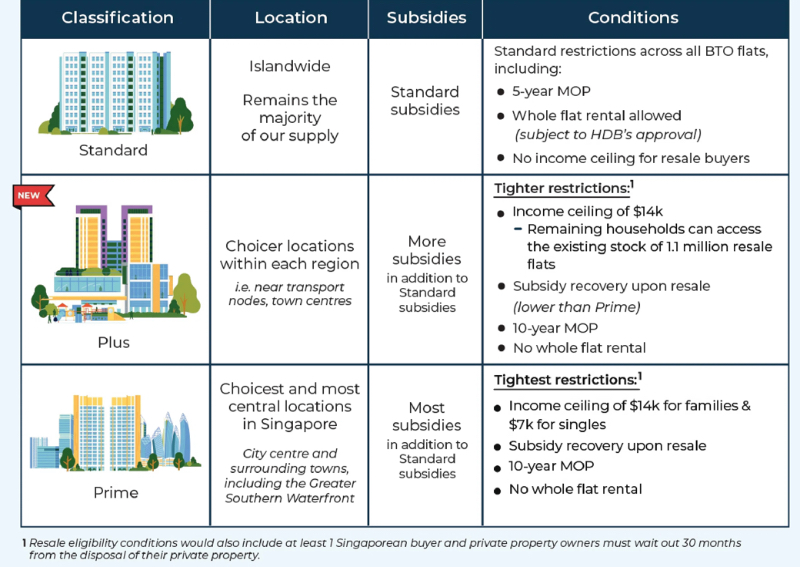 To illustrate how Plus flats will help with affordability, Mr Lee gave the example of two couples looking for a four-room flat in the central region that is near transport nodes.
In today's market, such choice BTO flats are priced around $650,000 before grants if offered as ordinary flats in mature estates, he said.
Couple A, who together earn $9,000 a month, are eligible for an Enhanced Central Provident Fund (CPF) Housing Grant (EHG) of $5,000, and will not need to top up an additional amount using CPF or cash to buy this flat.
They will use about a quarter of their monthly income for the mortgage, and pay about $250 in cash. Couple B earn $7,000 as a household and are eligible for an EHG of $25,000.
Mr Lee said this flat would be out of reach for Couple B, who would need to use almost one-third of their monthly income — above the mortgage servicing ratio of 30 per cent of a borrower's gross monthly income. They would also need to top up $52,000 in cash or CPF, and pay around $400 in cash a month.
When this same flat is offered under the Plus model, the tighter resale restrictions and additional subsidies will bring its price down to around $550,000 before grants, Mr Lee noted.
Couple A would now pay less than a quarter of their monthly income and zero cash to service their mortgage.
For Couple B, the flat is now within their reach as the $52,000 additional top-up is reduced to zero, and they would pay slightly more than a quarter of their monthly income and $250 in cash a month.
The Plus model helps make flats in good locations affordable to a wider range of Singaporeans, Mr Lee said. He also gave the assurance that HDB will continue to build a wide range of flat options for every budget and need.  
Besides allowing HDB to price new Prime and Plus flats more affordably, Mr Lee said the new classification will ensure resale prices are kept within the reach of more Singaporeans.
"This will ensure more social mixing and reduce the risk of social stratification based on where you live. This is a fairer system." 
ALSO READ: PM Lee announces new public housing model Plus: 'Choicer locations' but tighter resale restrictions
This article was first published in The Straits Times. Permission required for reproduction.