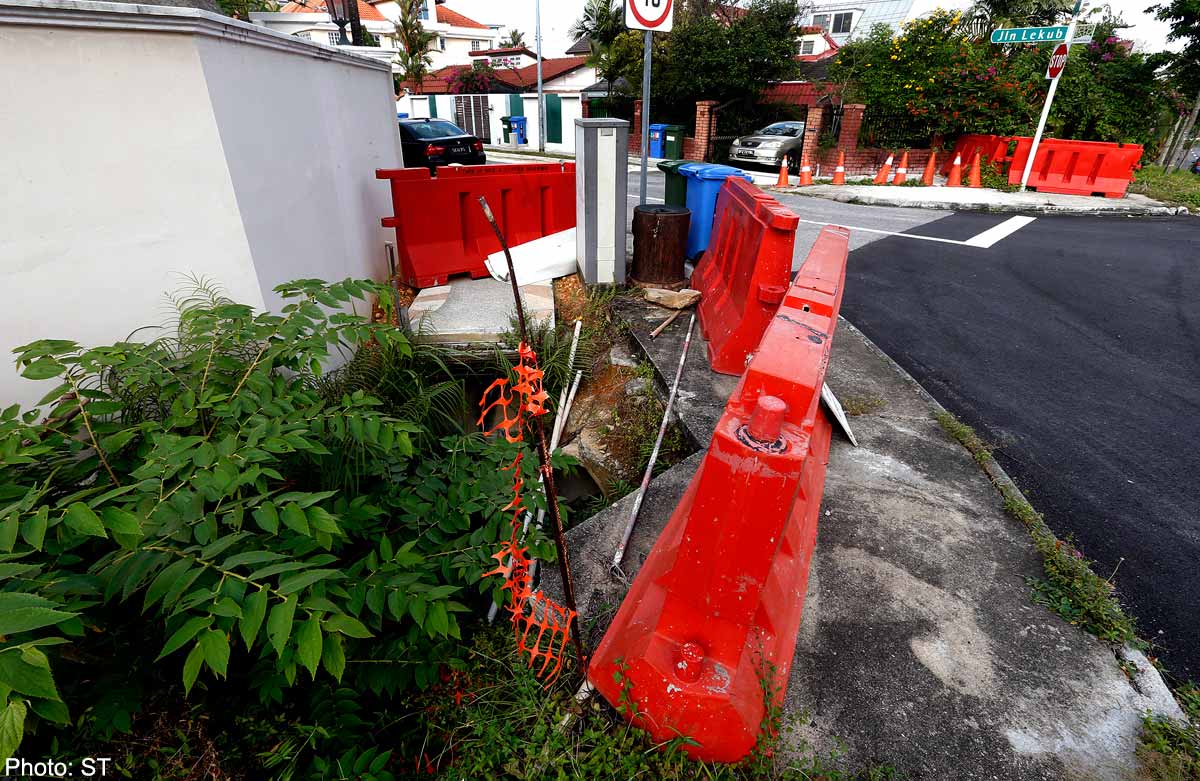 The contractor responsible for the stalled $29 million project to widen Braddell Road has come under fire for delays in two more public projects.
Home-grown Hexagroup has to widen, deepen and pave over 14km and 11km of drains in the Seletar and Lorong Melayu estates respectively, after winning two tenders from national water agency PUB in 2011.
But it has not been able to finish either on schedule. Industry sources say the 18-year-old company has been facing cash-flow issues.
Work in both estates were supposed to be completed by the end of 2013, but an extension until the first quarter of this year was granted after it was unable to meet the deadline.
"In the last few months, we noticed that work has slowed down due to manpower shortages faced by Hexagroup," said PUB.
Most of the drains had already been covered and paved over when The Straits Times visited the Seletar estate on Wednesday. Work was still ongoing along Seletar Road.
On some street corners, drains were open and barricaded, with rusty steel bars poking through the concrete.
Residents said these drains had been left open for almost half a year and posed a safety hazard. "It's also choked with plants," said self-employed Sandy Sim, 50, pointing to an open drain beside her corner terrace in Jalan Lekub.
It is large enough for a man to fall into.
Other residents said workers from the firm had told them that it did not have enough money for their salaries.
"I asked the workers why work had stopped and they told me, 'Boss never pay'," said 72-year-old retiree Kim Ng, adding that she had also been told by the firm's representatives that it was facing manpower issues.
Both Madam Ng and Madam Sim have called the contractor and authorities to complain, but said nothing has been done.
Calls to Hexagroup's office, and the firm's director and shareholder Lim Hong Leong's home went unheeded.
The company enjoyed a profit of $50,116 in 2006. But in 2007, it posted an after-tax loss of $4,605, according to government business records.
Hexagroup did not make any more profit-and-loss statements to the Accounting and Corporate Regulatory Authority after that year.
Meanwhile, the PUB said it was exploring options to get the work completed, including getting a new contractor.
"In the meantime, PUB will ensure that daily housekeeping and pest-control work at the areas where work has yet to be completed will continue," said its spokesman.
dansonc@sph.com.sg

This article was first published on Jan 23, 2015.
Get a copy of The Straits Times or go to straitstimes.com for more stories.