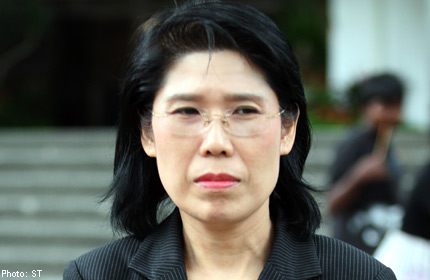 SINGAPORE - The audio recording presented in court was supposed to exonerate Stephanie Chee Jok Heng, after she was found guilty of cheating several charities she headed out of more than $5,000.
Instead, it landed the 54-year-old in jail for two more years on Thursday after the recording was found to be a fake.
Criticising her for trying to subvert justice, District Judge Mathew Joseph said: "Giving false evidence is a serious offence. It can have serious consequences on the integrity of the judicial process..."
In 2010, Chee, the former general manager of Parkway Healthcare Foundation and Senior Citizens' Healthcare Centres in Toa Payoh and Geylang, was sentenced to 13 months in prison for cheating the three charities. Between March 2003 and April 2004, she tricked them into reimbursing $5,760 in personal expenses through false claims.
During the trial, she claimed that most of the money was paid to piano teacher Seoh Bee Luan. But Ms Seoh testified that she never did any work for the charities and never received any payment vouchers from Chee.
As part of the accused's appeal, Chee tried to submit an audio recording that she claimed would prove Ms Seoh was lying. In the recording, the witness was alleged to have told Chee on Oct 21, 2010, that she had received money for her work for an old folks' home run by Parkway Healthcare. She was also heard admitting that she had lied during the trial as she did not like the accused. Chee lost her appeal in February 2011 after the tape recording was not accepted as evidence.
But that was not the end. Police investigations uncovered that Ms Seow never made those remarks. Instead, an audio forensic firm in the United States confirmed that the two-minute recording was a carefully prepared fake made of parts of conversations Chee had with Ms Seow.
Telephone records showed that Chee, who could have been jailed for up to seven years and fined for falsifying evidence, made three calls to the witness, all less than a minute. She later admitted that she had recorded these phone calls, then paid a stranger to make the tape.
In 2010, Chee, who has a doctorate and is a qualified nurse, was part of a widely-watched legal tussle with prominent neuroscientist and paraplegic athlete William Tan Kian Meng over loans and property.
Dr Tan, who had claimed that he was in an intimate relationship with Chee, had to pay back $292,000 to her, but was awarded about $468,000 from their shared purchase of a condominium.
khush@sph.com.sg

Get a copy of The Straits Times or go to straitstimes.com for more stories.