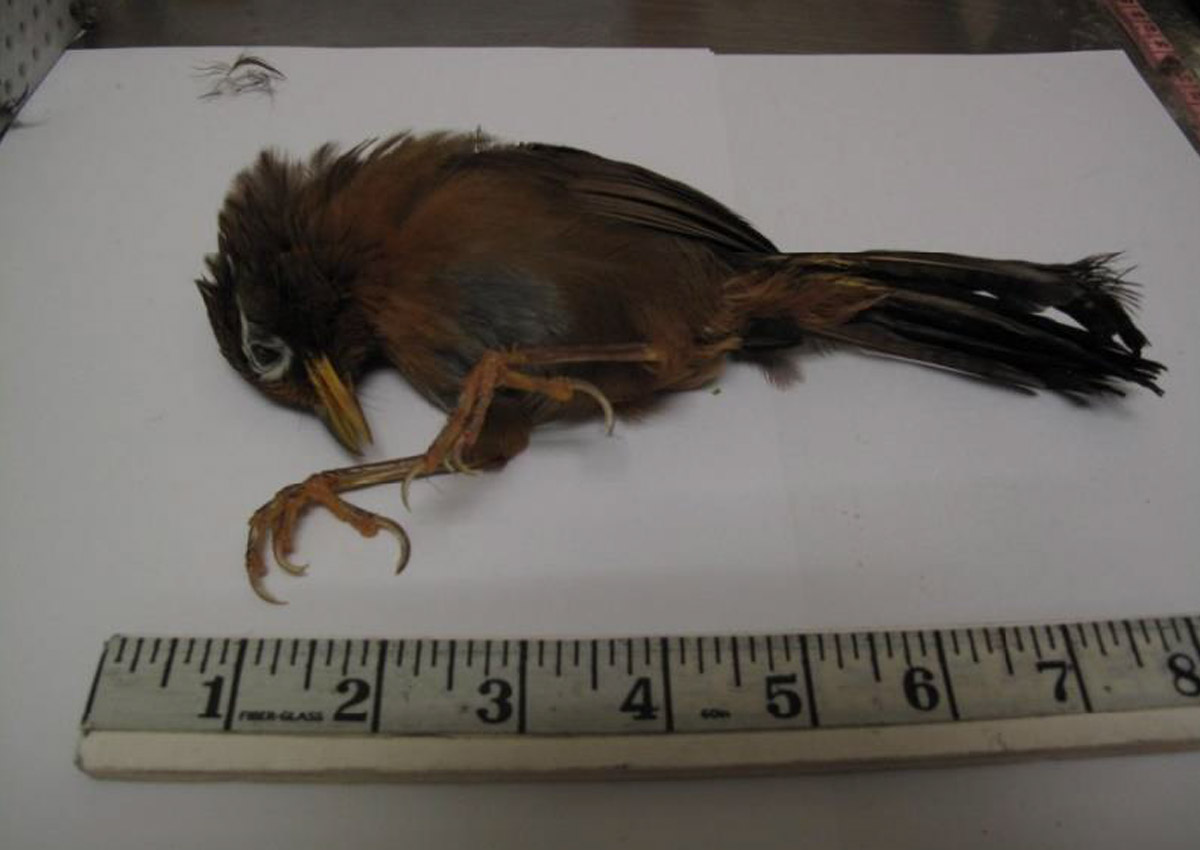 Two Vietnamese men were sentenced to six months' jail for smuggling 12 endangered songbirds into Singapore in early December.
They were also sentenced to four months' imprisonment for animal cruelty, the Agri-Food and Veterinary Authority of Singapore (AVA) and Immigration Checkpoints Authority (ICA) said in a joint statement on Thursday (Dec 29).
On Dec 9, ICA alerted AVA after detecting 12 live birds in two luggage bags that arrived on a flight from Vietnam to Singapore.
The birds were found in white plastic containers, covered by personal belongings in the luggage.
The men were subsequently detained and the bags were seized for investigation.
Photo: AVA
AVA identified the birds as Chinese Hwamei (Garrulax canorus), a protected species under the Convention on International Trade in Endangered Species of Wild Fauna and Flora (CITES).
After being confined for about 12 hours without food and water, one of the birds died.
The remaining 11 were tested for avian influenza. A bird was euthanised after it tested positive for Influenza A virus (H3N8) while the rest are being monitored in quarantine for signs of exotic or zoonotic diseases.
Photo: AVA
As one of the few countries in the region that is free from bird flu, Singapore has strict import regulations.
AVA said that ornamental birds can only be imported from countries that are free from bird flu, and must undergo isolation for 21 days in the country of export. They must also be tested free from bird flu before import.
Upon arrival in Singapore, the birds are checked again for clinical signs of diseases, and samples are taken for bird flu, amongst other diseases.
Those found guilty of importing animals or birds with a permit from AVA will face a fine of $10,000 and/or a jail term of up to one year.
If convicted of importing CITES-protected species without a permit, offenders will face a fine of up to $50,000 per species and/or a jail term of up to two years.
In cases where the animals or birds were subjected to unnecessary suffering or pain, the offender will also be liable to a fine of up to $10,000 and/or a jail term of up to one year.
minlee@sph.com.sg