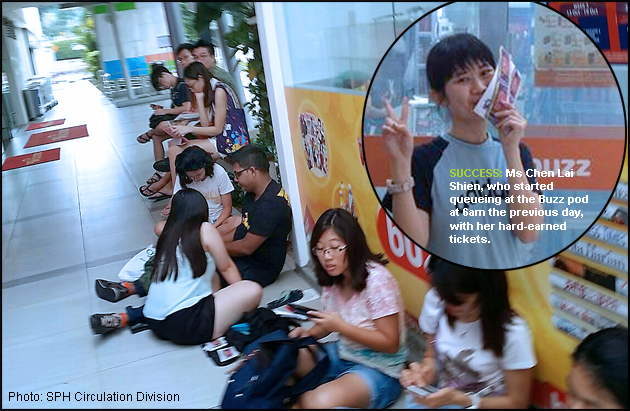 Redemption for tickets to the Running Man Fan Meet started only at 8am on Monday.
But one ardent fan of the hit variety series left nothing to chance and started queueing at 6am the previous day. Yes, more than 24 hours before the redemption began.
The ticket giveaway is part of The New Paper's No Tricks, Just Treats Halloween promotion campaign, which offers readers the chance to redeem event tickets by collecting coupons found in the paper.
Other exclusive Halloween treats include tickets to events like Sentosa Spooktacular and Hello Kitty Run, but it is the tickets to the Running Man Fan Meet that have been the most popular.
Ms Chen Lai Shien, who is unemployed, started queueing on Sunday morning at the Buzz pod at Eunos MRT station.
IN DEMAND
The 35-year-old said she went there that early because she knew how in demand the tickets would be.
She said: "I've been to similar redemptions before and know how crazy fans can be for tickets, so I didn't take any chances and went as early as possible."
Housewife Zaitan Hafhim, 40, who started queueing at the Buzz pod at Eunos MRT station with her daughter from 10pm on Sunday, said they decided to go early because of the limited tickets available.
She said: "I heard that there were only 10 tickets per outlet so we decided to play it safe."
Given the overwhelming response so far, fans are encouraged to start queueing earlier for the final redemption on Oct 20 in order to avoid disappointment.
Those who fail to redeem tickets in the initial draw need not be disheartened. Four VIP running man tickets are also available in the Grand Draw.
You can take part in the Grand Draw by simply dropping 20 TNP coupons into the Grand Draw box at the Buzz pods or by buying a set of Limited Edition Kiss Hello Kitty Candy Tins.

This article was first published on October 16, 2014.
Get The New Paper for more stories.