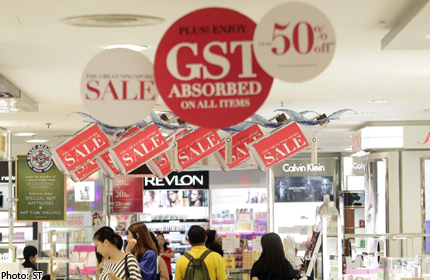 SINGAPORE - Shoppers spent about US$1.5 billion (S$1.9 billion) with their MasterCard credit cards during the Great Singapore Sale (GSS) this year from May 31 to July 28.
Singapore-based cardholders contributed to the bulk of the MasterCard receipts, spending US$1,035 million, an 11.3 per cent increase from a year before.
Last year, Singapore-based cardholders spent about US$930 million during the GSS period from May 25 to July 22.
The increase was possibly due to the introduction of brands which were previously unavailable in Singapore, said MasterCard Singapore general manager Julienne Loh.
In earlier reports, MasterCard said that from May 31 to June 30 during the GSS period this year, its Singapore-based cardholders spent a total of US$554.5 million, the bulk of which was spent in the country itself.
In a statement yesterday, MasterCard said that the number of transactions by Singapore-based cardholders also grew 11.1 per cent to 9.2 million.
Growth in overall spending during the GSS, including spending by visiting MasterCard cardholders, held steady at 5.7 per cent, with the number of transactions increasing by 12.1 per cent to 12 million, compared to last year.
Spending by visiting MasterCard cardholders dipped by 4.8 per cent to US$456.7 million during this year's GSS.
However, transactions for this group grew 15.7 per cent to 2.8 million. Cardholders from Australia, Malaysia, Indonesia, Japan and China emerged as the top five foreign spenders at this year's GSS.
Online spending on MasterCard cards for the same period grew 25.6 per cent to US$326.7 million - accounting for close to a quarter of the total amount spent - while the number of online transactions grew 25.5 per cent to 3.7 million.
Singapore Retailers Association (SRA) president Jannie Chan said: "The SRA, as organisers of the GSS, is pleased that despite largely uncertain times, events like the GSS continue to promote retail activity for the industry."

Get My Paper for more stories.