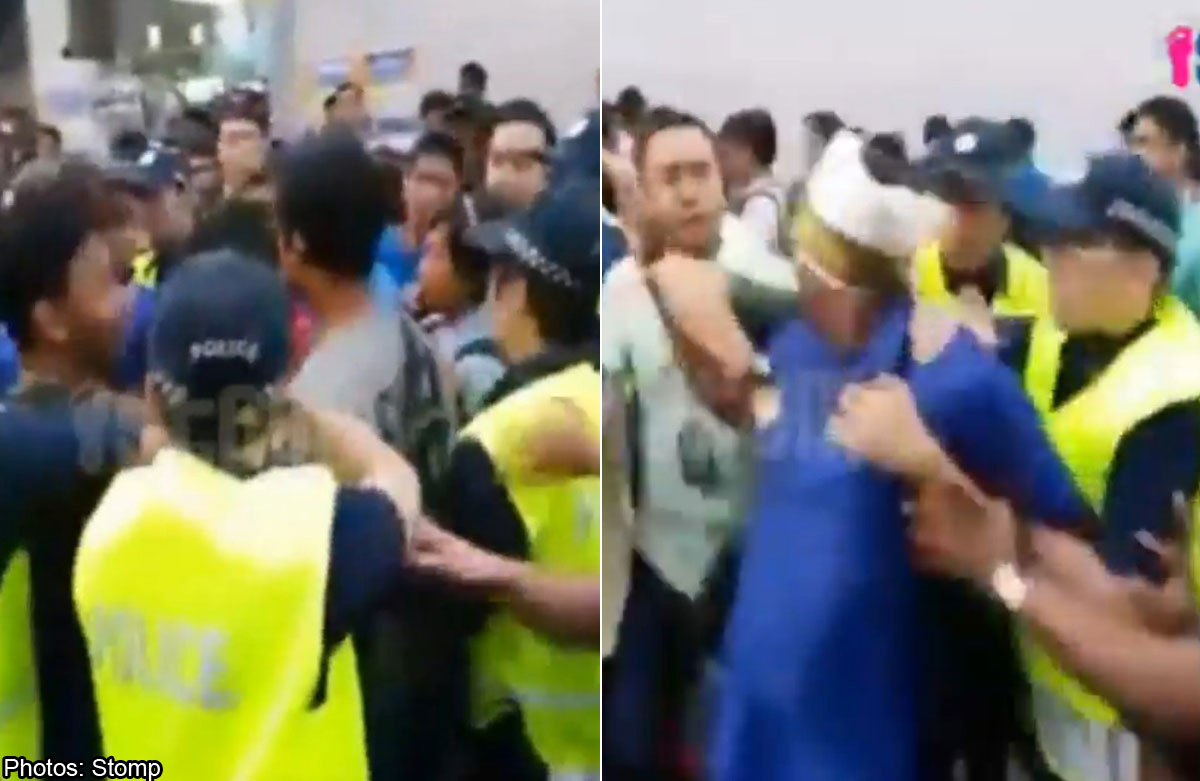 There was shouting, fighting and total confusion as a huge clash involving the police and the public occurred during the Thaipusam festival along Desker Road yesterday, Feb 3, at about 6.30pm.
Two contributors had both witnessed the incident and sent videos to citizen journalism website Stomp.
According to one contributor, the commotion occurred along Desker Road during the Thaipusam festival proceedings.
It is unclear what happened to spark the clash.
In the video, there seems to be a mix of plainclothes and uniformed police officers, as well as a very angry crowd.
In the midst of shouting and shoving, a woman was even pushed to the ground.
Police have responded to the clash at the Thaipusam procession along Desker Road, stating that it started when a group of people were uncooperative.
It resulted in three people being arrested and three police officers getting assaulted.
Here is the Police Response in full:
"During the Thaipusam procession on 3 February 2015 at about 6.50pm, Thaipusam organisers requested a group of people to stop playing drums at the junction of Serangoon Road and Desker Road, as doing so contravened the conditions of the police permit for the event.
"However, the group was not cooperative and police were called in. When police officers were speaking to the group, a 33-year-old man from a separate group came forward and confronted the police officers in a rowdy manner.
"Despite numerous warnings to calm down, he persisted with his disorderly behaviour and was placed under arrest.
"While one of our officers was effecting the arrest of the man, another two men, aged 32 and 28, came forward to stop the arrest, with the 32-year-old assaulting three officers in the process.
"The three men, all Singaporeans, also used vulgarities against the officers. All three men were believed to have been drinking earlier as they smelt strongly of alcohol.
"They have been arrested and investigations are ongoing.
"One injured Police officer was conveyed conscious to TTSH and is in stable condition.
"The prohibition of musical instruments during processions is not a new requirement and has already been in place since 1973.
"Police have disallowed the use of music during procession to deter public disorder which may be caused by rivalries between groups and to minimise the impact of the procession along the procession route.
"The police would like to appeal for witnesses of the incident to come forward to provide more information."

Visit STOMP for more stories.